Bankers Life woes continue as IU falls 77-62 to Louisville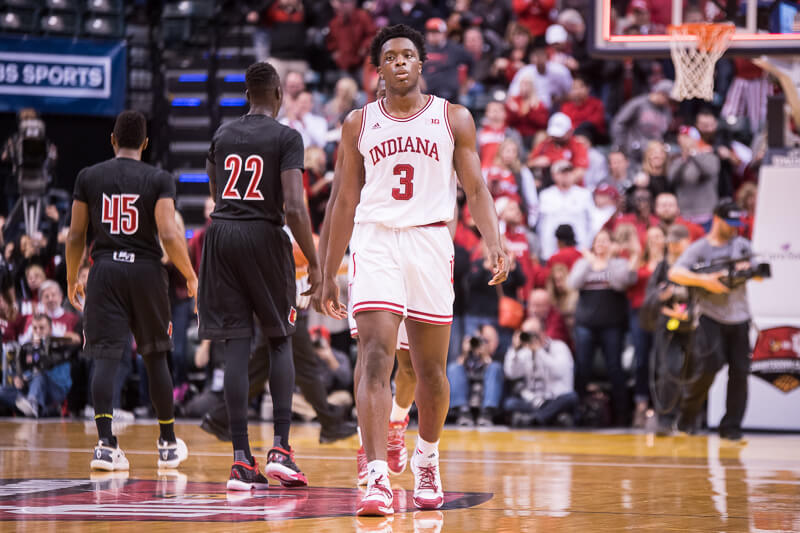 INDIANAPOLIS – For the third straight game, Indiana struggled in front of a pro-Hoosier crowd at Bankers Life Fieldhouse.
Early turnovers and a stagnant offense were the story of the first half as Indiana dug a 12-point deficit and couldn't overcome it. The result was IU's fourth loss of the season, 77-62 to Louisville.
The Cardinals put on a defensive clinic, holding Indiana to just 32 percent shooting. Missed 3s, missed layups and missed free throws made it hard for IU to get any rhythm or momentum. The Hoosiers had multiple possessions end with shot clock violations. IU only had 27 points in the first half, its lowest first half scoring output of the season.
"We weren't cutting off the post," coach Crean said. "That's where we got out of character. We're not a dribble team. We need to be a driving team. We're going to find that on film where our over-dribbles came from because somebody didn't cut when they were open, especially when the court was spread."
The defense wasn't much better as Indiana allowed Louisville to shoot 59.4 percent on 2s and 42.1 percent on 3s. Louisville's 1.17 points per possession was its third best offensive output of the season.
OG Anunoby, who came off the bench, led IU with 14 points. James Blackmon Jr. had his first double-double of the season, with 10 points and 11 rebounds.
"We didn't make our open shots today," Blackmon Jr. said, "We just have to tighten up the things we can control."
Robert Johnson had his worst offensive performance of the season, going 1-of-13 from the field. From behind the arc, IU was just 4-of-21 (19 percent).
"There's not too many times where we're going to shoot as bad as we did tonight," Blackmon said. "We've just got to focus in on defense and follow the game plan a little better."
Whenever IU had momentum rolling, things were quickly halted by the Louisville defense. De'Ron Davis gave the Hoosiers life, adding eight points and hustle on both ends of the court. At times, Davis looked better than Thomas Bryant. Bryant and Davis each finished with eight points, but Davis was more effective in the post. Bryant struggled again to finish shots.
"He's not making the moves quick enough," Coach Crean said. "He's opening his chest, and we've been working on that, and he kind of went back to it a little bit today. When you're playing against people who like to block shots, you've got to go right to their chest."
Defensively, the Hoosiers had no answer for Louisville's Donovan Mitchell or Deng Adel. Mitchell finished with a career-high 25 points and Adel had 17.
The lone bright spot statistically for Indiana was on the glass as the Hoosiers grabbed 19 offensive rebounds for 21 second chance points.
But after losses against IPFW, Butler, Nebraska and now Louisville, the story remains the same.
"When we're not shooting the ball well, we have got to outgrow quickly not playing as well as we need to play on defense," Crean said. "If there's a common theme, it's that we struggle when our shooting isn't where it needs to be, and we don't continue to come down and bust out those stops. That needs to be fixed."
Filed to: Louisville Cardinals