What to Expect: Louisville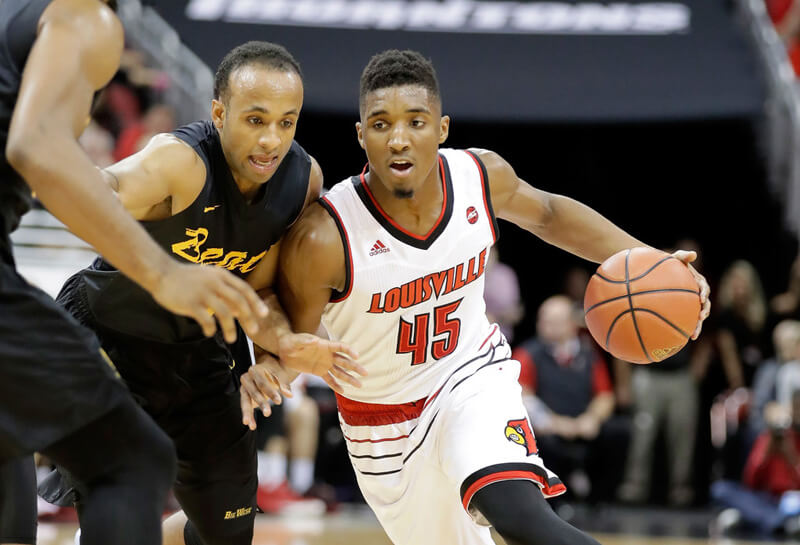 Indiana will attempt to rebound from a disappointing 87-83 home loss to Nebraska by traveling north to Indianapolis to face Louisville on Saturday. The matchup, which is being billed as the "Countdown Classic," is the 18th all-time meeting between the two programs. Indiana leads 10-7.
CBS will have the broadcast at 12:30 p.m. ET with Spero Dedes and Bill Raftery on the call:
At its best, Indiana has beaten Kansas and North Carolina. And at its worst, Indiana has losses to Fort Wayne and Nebraska. Figuring out which version of Indiana will show up on a game-to-game basis is a difficult task.
The Hoosiers will get a mental and physical test on Saturday in Bankers Life Fieldhouse. Louisville, which owns a win over Kentucky and the nation's best defense, is a program that thrives on pressure, physicality and wearing opponents down over the course of 40 minutes. It's an approach that Rick Pitino has built a Hall of Fame career with.
Indiana responded to its loss to Fort Wayne with a brilliant performance a couple of games later against North Carolina. How will the Hoosiers respond to the Nebraska loss?
MEET THE CARDINALS
Louisville isn't an explosive offensive team, but with the nation's best defense, they don't need to be. The Cardinals are driven by a trio of perimeter players who are each averaging in double figures: Quentin Snider, Donovan Mitchell (pictured) and Deng Adel.
Snider is the team's leading scorer at 11.6 points per game and he also leads the Cardinals with 3.7 assists per game (3-to-1 assist-to-turnover ratio). He's a below average 3-point shooter (33.8 percent), but has three performances where he's shot 50 percent or higher on 3s. According to Synergy Sports, Snider is most effective as the ball handler in pick-and-roll situations. He's scored 49 points in 56 of those possessions, which ranks in the 71st percentile nationally.
Mitchell, a 6-foot-3 sophomore, is second on the team in scoring at 11.5 points per game. He's shooting just 28.8 percent on 3s and 42.9 percent on 2s. Of the regulars in Louisville's rotation, Mitchell has the second lowest offensive rating according to Ken Pomeroy's stats. Where he can be effective offensively is off the dribble going to the rim. Mitchell is shooting 54.3 percent at the rim, according to Hoop-Math.com.
Adel, a 6-foot-7 wing, was viewed nationally as a breakout candidate entering his sophomore season, but has also struggled offensively. Adel is shooting just 28.9 on 3s and 40.7 on 2s. In spot-up situations, he's scored 43 points on 50 possessions according to Synergy Sports.
The rest of Louisville's backcourt and wing rotation changes on a game-to-game basis and based on matchups. Freshman V.J. King, a McDonald's All-American, is effective offensively when he plays. King is shooting 50 percent on 3s in limited attempts and can get to the line. King's free throw rate (FTA/FGA) is 50 and he's knocking down 84.4 percent from the stripe.
Penn transfer Tony Hicks, a 6-foot-1 senior, played 19 minutes against Virginia, but just three minutes against Kentucky. Hicks is a high usage offensive player who has been inefficient in limited minutes. He's turnover prone (28.4 TO%) and is just 3-of-13 on 3s. Redshirt freshman Ryan McMahon is a undersized shooter (36.8 percent on 3s) while senior David Levitch, who is 6-foot-3, can also knock down the perimeter shot (5-of-11 from deep).
Louisville's frontcourt is deep with size, but doesn't really have a standout piece offensively. Junior Jaylen Johnson and senior Mangok Mathiang are the starters, but both played less minutes than their backups (Raymond Spalding and Anas Mahmoud) against Virginia.
Johnson is an aggressive rebounder who currently ranks third nationally in offensive rebounding percentage according to KenPom. Johnson has scored 40 points off of 30 offensive rebounding possessions, according to Synergy. Based on what Nebraska's Ed Morrow did to the Hoosiers on the glass, Johnson is a key matchup. Given his free throw shooting (51.5 percent), Indiana needs to give fouls if Johnson has a clear path to the basket.
Mathiang is a low efficiency offensive player (41.9 percent) who is also a suspect free throw shooter (62.2 percent). In 33 post-up possessions, Mathiang has scored just 23 points. Like Johnson, he'a also a very good offensive rebounder (13.6 OR%) and is the team's second best shot blocker (6.6 block percentage).
Spalding, a 6-foot-10 sophomore, has been a great finisher at the rim, but is suspect if you let him take the 2-point jumper. Spalding is 80.5 percent at the rim, but just 21.5 percent on 2-point jumpers. Mahmoud has a team-high block percentage (14) and is making 64.7 percent of his 2s.
TEMPO-FREE PREVIEW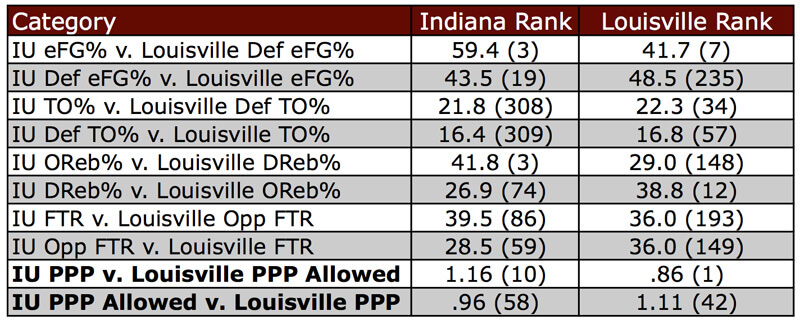 Two teams have scored more than a point per possession against Louisville: Baylor in the Bahamas and Grand Canyon in Phoenix. And one team – Purdue – has made double digits 3s. That doesn't bode well for an offensive explosion for Indiana.
It's a theme on repeat, but turnovers and rebounding loom large for Indiana. Louisville forces turnovers and Indiana doesn't. If the Cardinals get a huge spread in points off of turnovers, it could be a long afternoon in Indianapolis.
Indiana will have to shoot it somewhat well to win, but offensive rebounding and not getting carved up defensively are just as important. The Hoosiers have held an elite offensive team down before (North Carolina), but are coming off a dreadful performance against Nebraska. Louisville isn't as good offensively as North Carolina, but they're far superior to Nebraska. Will the mindset to get stops and challenge plays in the paint and at the rim travel to Bankers Life Fieldhouse? To win, it will have to.
WHAT IT COMES DOWN TO
Louisville is a 3-point KenPom favorite and a 3.5-point favorite in Sagarin. The Vegas spread, expected out later today, should be similar.
Both teams are coming off of losses, but how those losses are viewed is a stark contrast. Louisville lost to a Virginia program that has beaten the Cardinals four of the last five. The Cavaliers are a legitimate ACC title contender. Indiana, meanwhile, stubbed its toe in a major way by losing at home to Nebraska.
That loss, coupled with this game and Tuesday's showdown with Wisconsin, has put some pressure on Indiana. It's conceivable that the Hoosiers could play really well on Saturday and Tuesday and still lose both games. This is a game that could go a long way for Indiana in terms of restoring confidence and eliminating the bad taste from Wednesday. But the Hoosiers must be locked in from the opening tip, which is something that hasn't been a constant this season.
(Photo credit: Andy Lyons/Getty Images North America)
Filed to: Louisville Cardinals