The Minute After: Austin Peay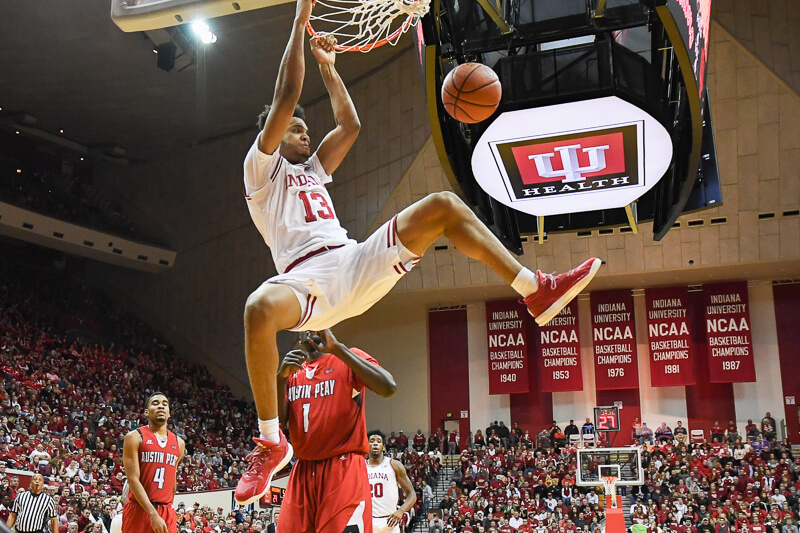 Thoughts on a 97-62 win over the Governors:
In their final cupcake contest of the season, the Hoosiers feasted on the Governors.
We've mentioned a couple times since the weekend that after back-to-back seasons of elite 3-point shooting, Indiana's taken a step back so far in 2016-17. But in their final two non-conference home games this week since then, the Hoosiers have trended upwards from distance, hitting 50 percent (26-of-52) from behind the arc in wins over Delaware State and Austin Peay. Tonight they hit 15-of-26 for a blistering 57.7 percent. Indiana also shot over 60 percent in both games this week, the first time the Hoosiers have done so since the 1998-99 season.
Tonight's barrage was aided by an early zone from the Governors against which Indiana had no problem finding open shooters. Robert Johnson was particularly hot, hitting a career-high six from deep on ten attempts. He finished with 20 points, one off his career-high. Since the Butler loss, there's been some talk about Johnson needing to be more involved offensively. He finished 7-of-14 in both contest at home this week. In both of those games, he took the most shots of any Hoosier.
There had also been talk about Josh Newkirk downshifting his shot attempts in favor of more of a distributor role. Newkirk was terrific at setting up teammates tonight on his way to an 11-assist, 11-point performance. Newkirk found shooters in the half court and teammates streaking to the basket on the break during his 26 minutes of action. Newkirk was also part of the "Don't Hop" moment, perhaps the most entertaining part of a game an Indiana win was a foregone conclusion.
Zach McRoberts plays hard, makes the hustle plays and has proven to be a solid defender at times. However, what McRoberts has had a tendency to do too often is pass up good looks and hot potato the ball to anther teammate, making the extra-extra pass. In the first half, he had a drive from the left corner where he decided against a possible shot at the rim for a pass out to the perimeter. But in the second half, McRoberts got involved streaking down the paint and putting up two shots. The first he was fouled and hit both from the line. The second he splashed in. His four points were a season-high. If he at least proves he can keep defenses honest against him as conference play begins next week, it may help him continue to be a part of the rotation.
Juwan Morgan came down with an ankle injury near the end of the first half, but Alex noted he appeared to be walking fine on it despite not taking the floor in the second half. So it's possible Morgan won't be out for too long, if at all, with the Big Ten opener against Nebraska tipping off this coming Wednesday.
The Cornhuskers will provide a tougher test than this week's contest, as they currently sit at No. 99 in the KenPom rankings, one ahead of Fort Wayne (100).
Filed to: Austin Peay Governors