The Minute After: Houston Baptist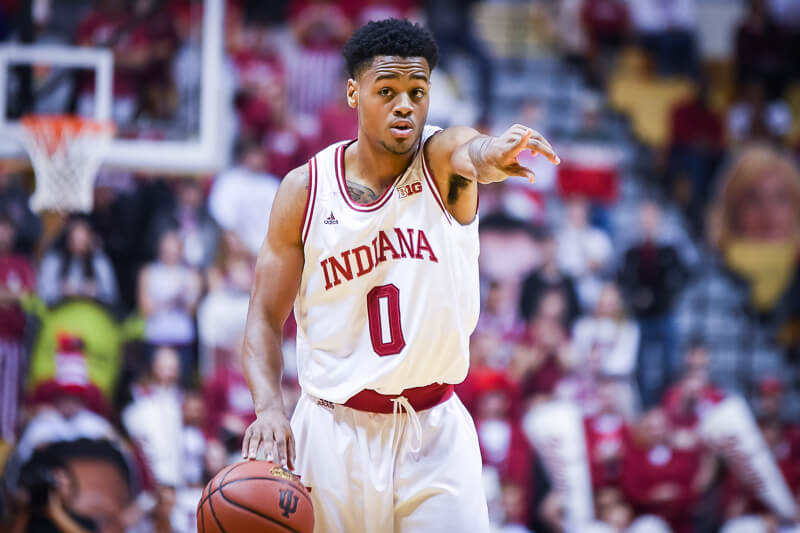 Thoughts on a 103-61 win over the Huskies:
Another guarantee game graced us with it presence on Saturday. And another Indiana blowout ensued.
Just two more remain — sandwiched between next Saturday's Butler bout and the start of conference play against Nebraska on De. 28 — before the 2016-2017 Hoosiers bid adieu to the cupcakes.
Team wise, the numbers paint a lovely picture for the Hoosiers this evening. Indiana scored a blistering 1.37 points per possession. And the Hoosiers, despite a seriously fast tempo tonight at times, were also good with the ball, turning it over on just 15.9 percent of their possessions. Couple the points per possession with the low turnovers and it's how you get a 42-point victory. The Hoosiers also eclipsed the 40 percent mark from distance (12-of-28, 42.9 percent) for the first time since a win over Liberty on Nov. 19 — breaking a five-game sub-40 streak.
James Blackmon Jr. led the charge from distance (4-of-10), while Devonte Green (2-of-4), Curtis Jones (2-of-4), Josh Newkirk (1-of-2) and Juwan Morgan (1-of-2) all hit 50 percent. Robert Johnson hit 2-of-5 to round out the scoring from 3-point range.
Defensively, the Hoosiers continue to show promise, holding the Huskies to just .81 points per possession and swatting five shots. Thomas Bryant had four of those blocked shots, a career-high. The Hoosiers also racked up 22 points off of Houston Baptist turnovers. Indiana entered tonight's contest ranked No. 33 in defensive efficiency per KenPom. Indiana's offense may end up being a touch less elite than the last two season (currently 13th after finishing 6th and 8th, respectively) but a more intimidating defense has the chance to make up for a bit of a dip in offensive production.
After a stretch of great play the last couple outings, De'Ron Davis found himself in foul trouble and eventually fouled out in this one. So he played only nine minutes and mustered just three points and three rebounds. Zach McRoberts threw a number of great passes (four assists) and his willingness to dive on the floor for a loose ball set up Indiana with a possession which led to a Blackmon Jr. transition dunk. Jones continues to show he deserves minutes (11 points, three rebounds, two assists). Beyond his four blocks, Bryant posted a near double-double (nine points, 13 boards). Freddie McSwain has his best game as a Hoosier (eight points, four rebounds, one steal). Tim Priller even got in the mix tonight, scoring four points in three minutes of action.
OG Anunoby warmed up before the contest and according to Tom Crean has been cleared to play. With the stakes of this game low, it looks like the decision was made to keep Anunoby out of the contest as a precaution. The good news is the sophomore should be back for Butler next Saturday up in Indianapolis.
The Bulldogs (KenPom No. 20) lost by a point at Indiana State earlier this week for their first loss of the season. But they have some nice neutral court wins against Vanderbilt (KenPom 77) and Arizona (KenPom 22) and also just defeated Cincinnati (KenPom 21) at home this evening.
The Hoosiers will get a week to prepare. And with Anunoby back in the fold, should be more at full strength against a Butler squad not to be taken lightly.
Filed to: Houston Baptist Huskies