Davis emerging as significant factor in IU's rotation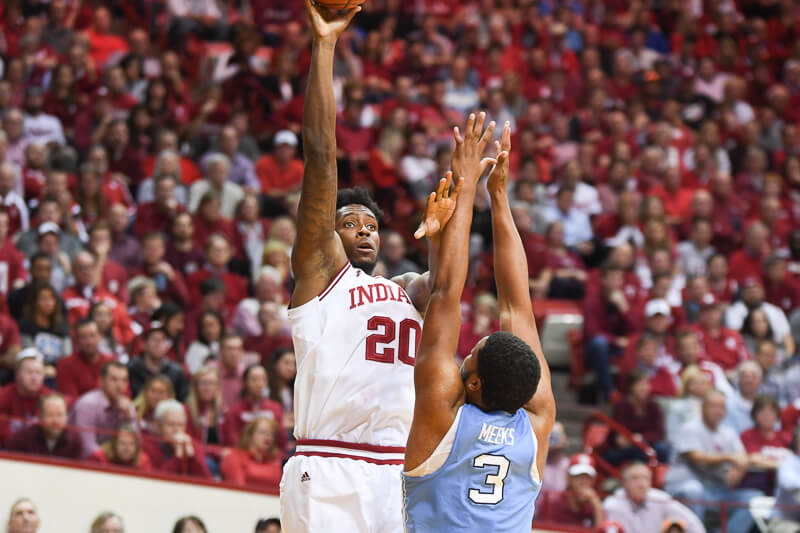 Indiana's 2012-2013 team featuring Cody Zeller and Victor Oladipo is regarded as Tom Crean's best in his first eight seasons in Bloomington.
That group won the Big Ten outright, earned a No. 1 seed in the NCAA tournament and won 29 games before falling to Syracuse in the Sweet Sixteen.
This season's team may not have two lottery picks or the experienced veteran leadership that Jordan Hulls, Christian Watford and Derek Elston provided, but it does have the potential to build something that team didn't possess: a quality bench.
By the end of the 2012-2013 season, Indiana was largely playing a 8-man rotation with Will Sheehey, Remy Abell and Jeremy Hollowell off the bench. Of those three, only Sheehey was the player who produced with any consistency.
Through eight games, this Indiana team appears to have more upside on the bench. Juwan Morgan, who had been coming off the bench before the injury to OG Anunoby, can play multiple positions effectively. Freshman Curtis Jones went for 15 points in IU's season opening win over Kansas in Hawaii. Most recently, another freshman is charging hard into the rotation: De'Ron Davis.
The Colorado Mr. Basketball got a late start to his collegiate career after missing the summer in Bloomington, but has rounded into form over IU's last three games.
In wins over North Carolina, SIU Edwardsville and Southeast Missouri State, Davis is averaging 11 points, 3.6 rebounds and 1.6 blocks in 15.3 minutes per game.
More importantly than the raw numbers, Davis owns the seventh best player efficiency rating among Big Ten players according to John Hollinger's player efficiency ratings. And his offensive rating of 128.2 is the second best of IU's rotation players (behind Juwan Morgan) according to Ken Pomeroy's stats.
At 6-foot-10, Davis isn't an explosive athlete, but he understands positioning, footwork and is an excellent passer for a big man. He's also done a solid job of blocking shots without fouling, a sign that he understands timing is arguably the most important factor in blocking and changing shots.
His versatility, along with the comfort level Indiana has with Thomas Bryant on the perimeter, has led to lineups including both Davis and Bryant together. In previous seasons, it's been rare for the Hoosiers to utilize two big men in the same lineup.
"The next big thing, along with De'Ron being able to play those (longer) stretches is to be able to play with Thomas inside of those stretches even better than what they have as we move up the ladder here," Tom Crean said on Sunday. "We're proud of the week that he had."
Once Anunoby returns from injury, Indiana will be able to mix up lineups to best suit certain matchups. The Hoosiers started three guards against both Kansas and UNC, but have also started Anunoby, Morgan and Bryant together in two games.
The continued development of Davis should give Crean even more flexibility moving forward. That flexibility didn't necessarily exist back in 2012-13, when Indiana utilized a smaller rotation and the same starting lineup in 35 of 36 games.
"There's a lot of room for improvement. I'm not married to a lineup," Crean explained. "With that being said, we'll see how it goes. I'm happy with his attitude and improvement. I know how much he wants it. He's smart. And he's just getting used to playing when he didn't have the summer to prepare for it."
Filed to: Deron Davis