Five takeaways from Indiana's win over Southeast Missouri State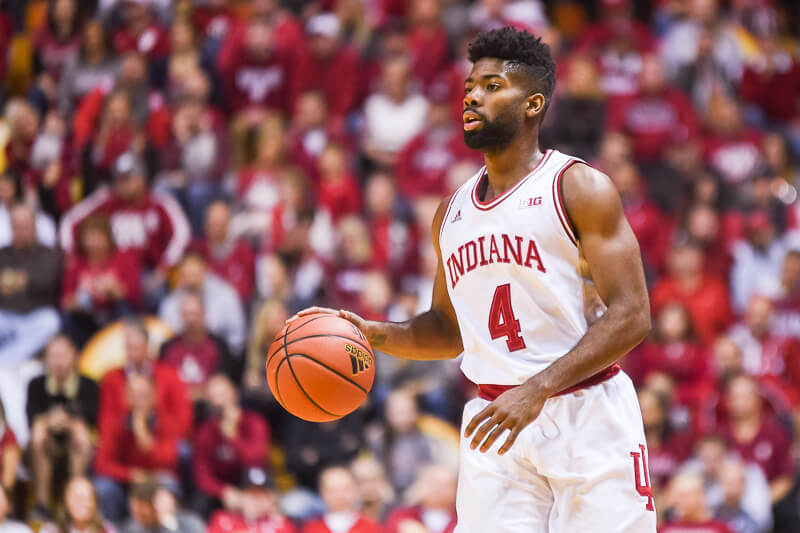 Indiana recorded its seventh win on Sunday afternoon, an 83-55 beatdown of Southeast Missouri State at Simon Skjodt Assembly Hall.
Here's a look at five takeaways from the win over the Redhawks:
· Johnson's strong start continues: Junior Robert Johnson turned in another solid performance on Sunday afternoon with 17 points, seven rebounds and two assists in 30 minutes.
Through eight games, Johnson has been one of Indiana's most efficient offensive players. He's shooting 43.2 percent on 3s and 69.7 percent on 3s for an effective field goal percentage of 67.1, which ranks 42nd nationally. He still hasn't solved the turnover issue (22.1 TO%) that's been present throughout his career, but Johnson is off to a very good start in his third season.
"Rob controls the tempo on the floor," freshman De'Ron Davis said of his teammate. "And he controls everybody pretty much. As a team we're working on our communication. But Rob really controls the tempo."
· So far, Indiana's 3-point shooting isn't what we've seen in recent seasons: As Ryan pointed out in The Minute After, Indiana's 3-point shooting this season has regressed.
Is it a trend that will continue?
Indiana's 2011-12, 2012-13, 2014-15 and 2015-16 teams all ranked in the top 10 nationally in 3-point shooting. In that five-year stretch, the only team that didn't shoot it well from distance was the 2013-14 group, which missed the postseason altogether.
This year's team is currently hitting 38.2 percent of its 3s, which is 67th in the country. It's a number that should improve assuming Juwan Morgan and OG Anunoby make a reasonable percentage. And even if the Hoosiers don't finish the season as one of the nation's best 3-point shooting teams, they can make up for it with elite efficiency on 2s and on the offensive glass.
· Bryant takes just two shots, but still makes significant impact: Sophomore Thomas Bryant looked frustrated at times on Sunday afternoon at the lack of post touches he received.
Bryant was posting up hard most of the game, but Indiana wasn't finding good angles to get him the ball. But rather than letting the lack of touches take him out of the game, Bryant went to work in other areas of the game. This was the result:
The second NCAA Division I player this season to register at least 7 points/10 rebounds/3 assists/3 steals/4 blocks in a game: @nolimittb31 pic.twitter.com/kF0mm1nBBf

— Indiana Basketball (@IndianaMBB) December 5, 2016
· Quietly, Indiana's defense proving to be above average: It's not generating a ton of discussion, but eight games in, the Hoosiers have the 32nd best defense in the country according to Ken Pomeroy.
Indiana isn't forcing turnovers, but is doing everything else well. The Hoosiers are defending without fouling and opponents aren't getting to the offensive glass, either. It's a small sample size, but IU's effective field goal percentage defense is 12th in the country. Last season, the Hoosiers were 168th.
"We're digging in the post more. We're getting more connected," Tom Crean said on Sunday. "But it's not there 1 through 10 yet by any stretch. And I think that's where we've got to continue to really make strides the best that we can. And so we've seen enough in this week to know that it can be there. We've seen enough to know that it's not there."
· Morgan stepping up in Anunoby's absence: Indiana is expected to get OG Anunoby back soon, but in his absence, Juwan Morgan is gaining confidence offensively.
Morgan is 12-of-12 from the field over his last two games and owns the team's best offensive rating right now according to Ken Pomeroy at 132.4. Morgan is just 2-of-9 on 3s this season, but he's been excellent on the offensive glass and finishing in the paint the last two games.
On Sunday, he finished with 11 points, three rebounds, an assist, a block and a steal in 22 minutes.
Filed to: Robert Johnson, Southeast Missouri State Redhawks, Thomas Bryant