The Minute After: Southeast Missouri State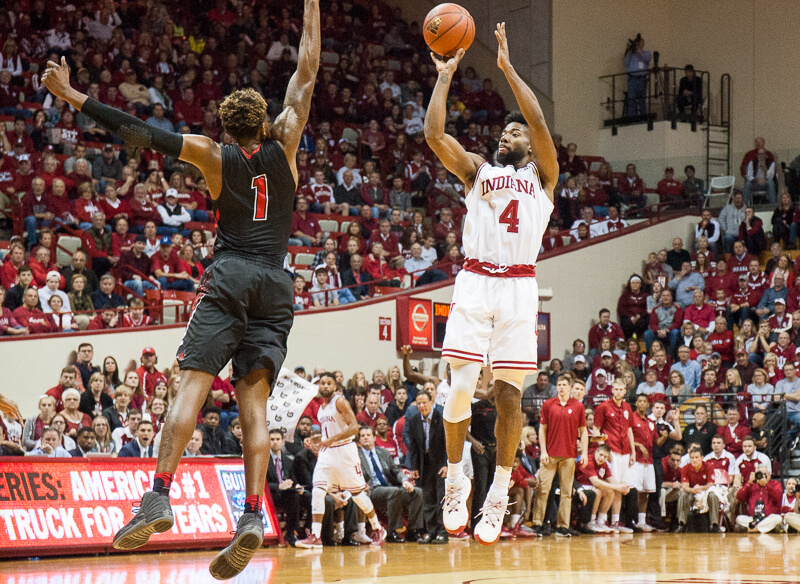 Thoughts on a 83-55 win over the Redhawks:
On its last leg of a four-games-in-eight-days stretch, Indiana slopped its way through the first half of Sunday afternoon's contest. Over the first 20 minutes of the game, Indiana turned the ball over on 33.3 percent of its possessions thanks to some overly happy feet and some serious lack of focus.
Despite turning it over at an alarming rate, Indiana still mustered a solid 1.08 points per possession. When the Hoosiers actually held possession in the first half, the offense hummed with inside-out crisp ball movement for scores all over the court.
Juwan Morgan continued his impressive weekend on Branch McCracken Court. After an 8-of-8 performance (18 points) against SIU Edwardsville, Morgan tossed up another perfect game from the field (4-of-4). OG Anunoby was off crutches today and there are some signs his high ankle sprain injury may not keep him out long term. But in his absence, Morgan has done a great job picking up some of the offensive slack.
This was yet another contest the Hoosiers shot under 40 percent from 3-point range (7-of-20, 35 percent) and it's becoming a bit of a trend. That said, Johnson had a number go halfway down before coming out in the first half. And the looks were mostly pretty good tonight. Over the last two seasons, Indiana has been among the best 3-point shooting teams in the country. Last season, they hit 41.6 percent, good for fourth in the nation. Two years ago, they hit 40.6 percent, good for sixth in the country. Entering tonight's contest, the Hoosiers sat at 38.6 percent, which ranks them 52nd. Still quite good, but not elite.
It's a number to keep an eye on as the non-conference season rolls along.
Indiana racked up eight blocks again this afternoon as it did on Friday night, tying a season-high. In a game he only took two field goal attempts, Thomas Bryant accounted for half of Indiana's blocks (four) with De'Ron Davis (two), Freddie McSwain (one) and Juwan Morgan (one) accounting for the other half. Indiana also racked up 10 steals in the game and scored 16 points off turnovers, more than the 13 the Redhawks got off of Indiana's 18 turnovers. They held Southeast Missouri State to just .77 points per possession.
Curtis Jones had an efficient 3-of-4 (eight points) shooting performance in 13 minutes of action and continues to show nice body control around the basket on the break. Devonte Green got back in the scoring mix a little with five points thanks to a 3-pointer and two makes at the line. And the Hoosiers also had a nice, balanced mix of scorers tonight with four players in double digits. Morgan (11 points), James Blackmon Jr. (11 points), De'Ron Davis (14) and Johnson (17) all chipped in.
Indiana's turnover percentage improved by game's end to 25.2 percent, but that's a number that's still much too high. The Hoosiers ended last season with the nation's sixth best offense despite a turnover percentage of 19.6 percent, which ranked 272nd in the country. This is an offensive system that can still be successful despite a less than stellar turnover rate.
Still, it continues to be a concern and could come back to bite Indiana later in the month when it takes on elite teams in Butler and Louisville.
Filed to: Southeast Missouri State Redhawks