The Minute After: SIU Edwardsville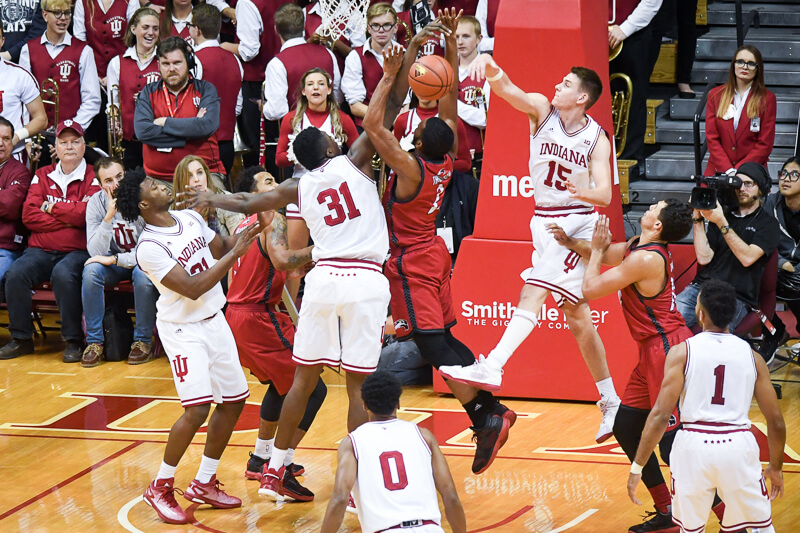 Thoughts on a 83-60 win over the Cougars:
An inevitable sluggish start from the Hoosiers quickly turned.
And by game's end, Indiana had completely dismantled the Cougars, dominating the contest in impressive fashion. In terms of guarantee games, Indiana's defensive performance tonight ranks first. The Hoosiers' talent, size, and length simply overwhelmed SIUE. They entered the contest averaging 5.2 blocks per game. Indiana had eight swats tonight, tying a season-high.
After a breakout game against North Carolina, De'Ron Davis continued his growth in the cream and crimson. Davis notched a career high 14 points while flashing an array of moves down low. The Overland (Colo.) product plays with a maturity uncommon for a freshman who missed crucial time in IU's system this summer. More often than not over the last two contents, Davis takes his time, makes a considerable move away from his initial post position and puts it in the hoop over his defender. He finished the night 4-of-6 from the field and a perfect 6-of-6 from the line, continuing to show great footwork and a smooth free throw stroke.
Though he had just one of Indiana's blocks this evening, he's showing why he left the state of Colorado as the all-time blocks leader. Davis is an intimidating presence on defense with good instincts.
Elsewhere, Juwan Morgan played his best game as a Hoosier in racking up his first double-double in an IU uniform (18 points, 10 rebounds) on a perfect 8-of-8 performance from the field. With OG Anunoby sidelined, the freshmen are going to get more opportunity for minutes before conference season hits. But Anunoby's absence may benefit sophomore Morgan the most. He entered the season to high praise from his teammates and coaching staff about how much better he's gotten from last year. Morgan now has more room to spread his wings as a do-all wing in Crean's system.
Butler and Louisville, two teams above the Hoosiers in the KenPom rankings, loom later this month. With Anunoby's return date uncertain, players like Morgan and Davis stepping up could be huge.
Tempo free wise, Indiana held SIUE to just .87 points per possession. But that number is even skewed a bit as the Cougars kept in their best players and Tom Crean emptied his bench earlier than usual. Tim Priller entered the contest at the 9:18 mark. Grant Gelon and Quentin Taylor also saw action. Indiana started strong with the ball, but faded a bit as the game went on. Even still, Indiana's turnover percentage of 18.9 percent was a season low. Offensively, the Hoosiers posted a strong 1.20 points per possession and shot 87 percent from the line (20-of-23). But even on a night when the offense was high level, the Hoosiers are still shooting it below what we've come to expect from distance, hitting just 31.8 percent for the game (7-of-22).
This grueling stretch of four games in eight days comes to a close Sunday afternoon as the Hoosiers welcome Southeast Missouri State to Bloomington. Indiana then gets a full Monday-Friday of non-game action before hosting Houston Baptist next Saturday.
It's been an interesting, up and down week and a half for the Hoosiers with the Fort Wayne loss and UNC win, but the overall trend line continues up.
Filed to: SIU Edwardsville Cougars