The Minute After: North Carolina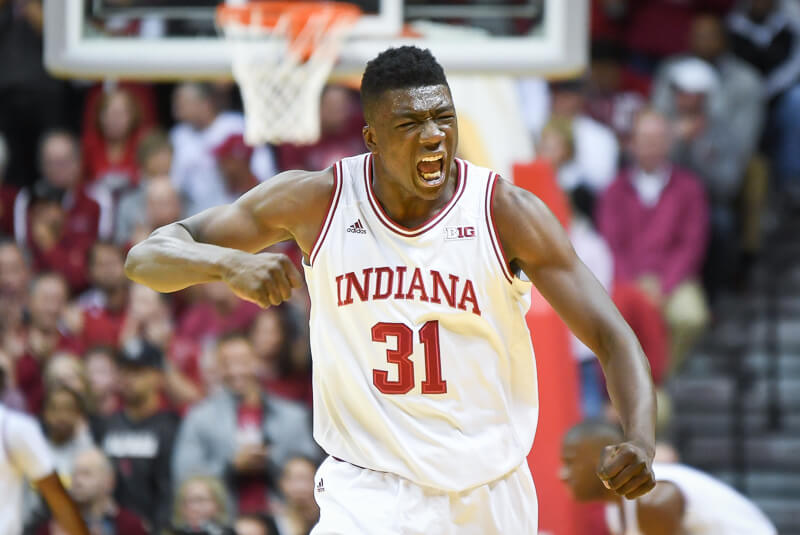 Thoughts on a 76-67 win over the Tar Heels:
It was a big night in Bloomington.
The students lined up for hours on end, fighting to get inside the building. Isiah Thomas and his 1981 championship teammates were in town for a celebration. Chicago Cub Kyle Schwarber played the role of honorary captain, while Jim Cornelison belted out the "Star-Spangled Banner." The revamped Simon Skodjt Assemlby Hall got its national television debut.
It all added to another incredibly raucous environment surrounding Branch McCracken Court, and the Hoosiers responded in a big way.
There was no slow start. No non-communicative, lackadaisical defense. No offense barely moving the ball and not getting into the paint. Indiana attacked North Carolina — playing basketball better than just about any team in the country heading into this one — on both ends and threw the first decisive blow to set the tone. The Hoosiers led this one wire to wire, going up by as much as 17 in the first half while UNC pulled within four to make it interesting late in the second half.
That early spark by the Hoosiers was highlighted by a return to getting 3-point looks out of drives into the paint. They also completely dominated a great offensive rebounding team in North Carolina on the boards, while challenging shots and not letting UNC get much of anything easy on offense.
The Tar Heels were a deer in the headlights with the Hoosiers driving an 18-wheeler right at 'em.
"It was a wonderful crowd, gosh," Roy Williams said after the game. "I'd like to play in front of a crowd like that in the Smith Center every night other than the frickin' Duke game."
North Carolina eventually found their inside game a bit with Kennedy Meeks (10 points) and Justin Jackson (game-high 21 points) hit some 3-pointers as UNC made its run in the second half. And the Tar Heels wound up winning the crucial offensive rebounding battle (31 OR% to 25 OR%) after Indiana completely owned that category in the first half.
But the Hoosiers also held early national player of the year candidate Joel Berry, who came into this one averaging 17.1 points, to just eight points on 3-of-13 shooting. And the Hoosiers also held one of the better offenses in the country to only .94 points per possession.
Josh Newkirk (10 points, three assists), when he played his role, was huge. De'Ron Davis played excellent post defense (two blocks). He also worked his offensive game in the paint to hit a big bucket as Thomas Bryant sat for rest and the Tar Heels threatened late in the contest. Davis has been playing his way into shape since his late arrival in Bloomington so far, but looked very much like a player that is going to be a factor for the Hoosiers going forward.
James Blackmon Jr. (14 points, 3-of-6 from distance, nine rebounds) returned to form and played his heart out. He was on the floor diving for loose balls and hit a key 3-pointer with 3:42 to go to help keep the Tar Heels at distance.
After the game, he said there was "no question" he'd be on the floor tonight.
OG Anunoby played with a resolve and assertiveness that's been missing since he went ill and scored a team-high 16 points on an efficient 6-of-8 shooting performance. He added two blocks and one ridiculous alley-oop finish.
This win marks Indiana's 21st straight at home and brings its record against top 5 team at home to 7-1 since 2011-2012. Impressive stuff.
The Fort Wayne loss still stings a bit, and this team is not without flaws still. But nights like tonight, with a rollicking Assembly Hall faithful behind them, remind you just how special this team can be.
Filed to: North Carolina Tar Heels