What to watch for: Mississippi Valley State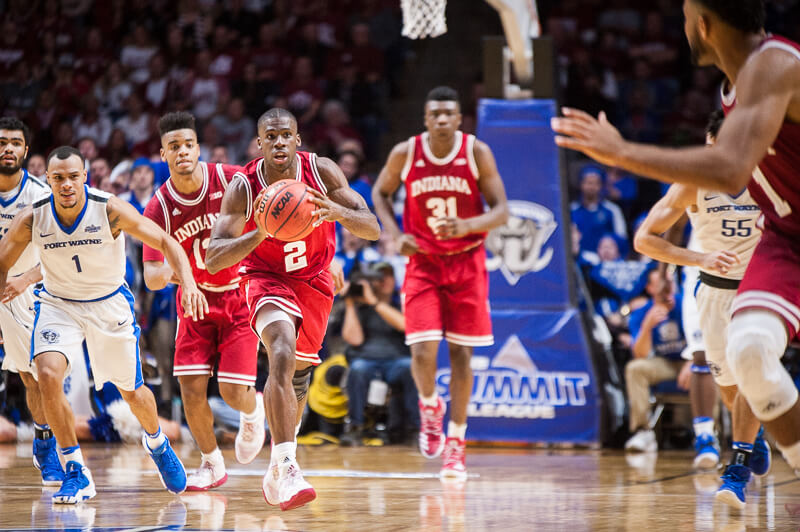 Following a disappointing 71-68 overtime loss on Tuesday night at Fort Wayne, Indiana returns to Simon Skjodt Assembly Hall on Sunday for a matchup with Mississippi Valley State. The Delta Devils are 0-7 this season.
It will be the first of four games in eight days for Indiana. The game will be broadcast at 4 p.m. ET on ESPN3 (streaming) with Jordan Bernfield and Homer Drew on the call.
In lieu of our traditional game preview, here's a look at three things to watch for on Sunday:
· How will Indiana bounce back? It's a foregone conclusion that Indiana will beat Mississippi Valley State, but that doesn't mean there aren't things to watch for when the Hoosiers take the floor.
First, will OG Anunoby be ready to play? His presence, or lack thereof, was a factor in Indiana's loss on Tuesday at Allen County War Memorial Coliseum. Anunoby was scoreless in 13 minutes in the loss. Tom Crean said postgame that the sophomore forward was sick. Indiana is going to need Anunoby at full strength in Wednesday's Big Ten-ACC Challenge game against North Carolina.
Indiana also needs to execute much better offensively as it prepares for the Tar Heels. The Hoosiers scored just .93 points per possession against Fort Wayne. Shots weren't falling from the perimeter and Indiana's ball movement was stagnant for most of the game. While the shooting may be off in certain games, the ball movement and execution needs to become a constant.
And finally, will Indiana do a better job at stopping at dribble penetration? Fort Wayne drove the ball into the lane frequently on Tuesday, which is something Indiana needs to clean up in a hurry with North Carolina looming later in the week.
· On floor leadership and communication: While I noted in Wednesday's podcast that improved communication against an opponent like Mississippi Valley State shouldn't be studied too closely, Indiana still needs to exhibit some type of progress.
Crean was straight forward with his comments in the postgame of the Fort Wayne about the leadership and communication and he vowed to fix the issues.
As uncomfortable as it might be for certain guys on the roster to shoulder some of these responsibilities, Crean is correct when he said that the leadership needs to be primarily player driven. It hasn't been to this point, but it also wasn't early last season when Indiana was beaten twice in Maui and drubbed at Duke.
· Pace and tempo: One of the disappointing numbers coming out of Tuesday's loss was the fact that Indiana only had 65 possessions against Fort Wayne, which is 13 fewer than the Hoosiers had in their win over Kansas.
Both games went to overtime, but the Mastodons controlled the tempo, which was a major reason for the win. The Hoosiers are going to be able to control the pace against Mississippi Valley State, a completely overmatched opponent. But Indiana needs to run efficiently.
Three of IU's guards – Robert Johnson, James Blackmon Jr. and Josh Newkirk – combined for 11 of the team's 15 turnovers against Fort Wayne. And none of the three did a particularly good job forcing turnovers to create offense nor were they able to help the Hoosiers create any offensive advantages in transition.
Indiana shouldn't have any issue getting as many possessions as it wants on Sunday, but the Hoosiers need to limit their careless mistakes, move the ball quickly and play one-on-one late in the shot clock far less frequently.
Filed to: Mississippi Valley State Delta Devils