Hoosiers to continue experimenting as non-conference play rolls on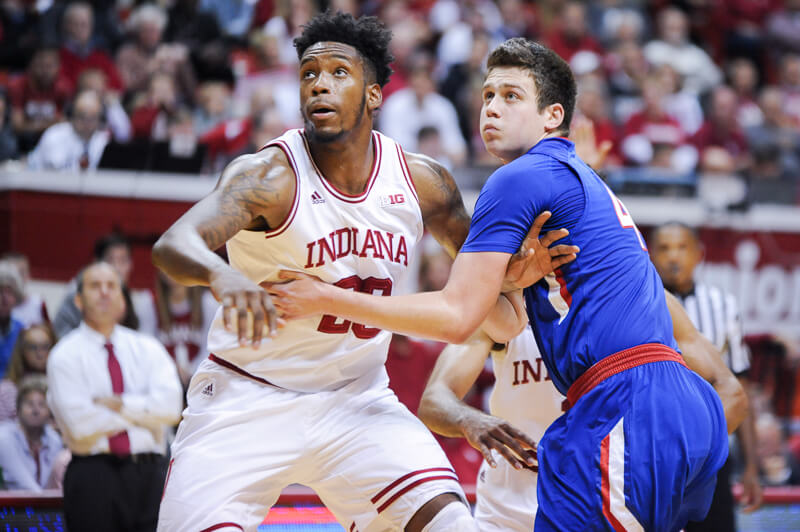 With Indiana heading into the second game of four consecutive games against sub-125 KenPom teams (three of them being sub-225), the Hoosiers are planning to use the next week to continue improving in preparation for its remaining marquee non-conference games.
One thing Indiana has been experimenting with is having De'Ron Davis and Thomas Bryant share time in the frontcourt. Both are willing passers with solid footwork, and although the duo may not be the perfect pairing, Indiana's coaching staff is trying to find if they can play off each other.
"The thing that probably goes unnoticed is now you have two big-bodied screeners," assistant coach Rob Judson said on Friday. "That frees up the perimeter even more and gives an advantage, we're hopeful, with points in the paint. Coach has a number of different sets, a number of different packages for De'Ron and Thomas when they play together. That's something we'll continue to see going forward."
Davis' game is not near as refined as Bryant and his conditioning is not quite where it needs to be, but Indiana is encouraged by what he's done so far. Davis impressed in limited minutes against UMass Lowell, scoring eight points on 4-6 shooting while grabbing three boards and swatting a shot.
"De'Ron has very soft hands, he's a wide-bodied guy," Judson said. "When he catches the ball in the post and has it chinned with his backside (towards the basket), the defender is quite a ways from the ball. He can carve out space in there."
Another aspect Indiana has continued to work on is communication, especially on defense.
"My first two years, our communication hasn't been as good," junior guard Robert Johnson said. "We still have a lot of room to grow but I think guys are really focusing on trying to be better communication wise. We just have a lot of versatile guys that can switch, different lineups with pick-and-rolls and things like that, so that helps."
Johnson added that communication takes a total team effort, and it requires more than just one player to be vocal on the court.
Positionless approach
A lot has been made throughout the early portion of the season about Indiana playing positionless basketball. In many lineups, none of the players on the court have a defined position.
"Positionless basketball is kind of the hot phrase right now, kind of the NBA word," Judson said. "You certainly want to be positionless on defense because the more positions you can guard as a player, the more versatile you are, the better that you are. We have a number of guys that are able to do that on the defensive end."
With a roster full of versatile wings, combo guards, and big men that have solid handles, Indiana is able to switch on defense with ease and share ball handling duties.
"Having combination guards goes along with that positionless basketball," Judson said. "Who's the point? If we're getting pressured by one defender, we can shift it over to the other one."
New points of emphasis lead to more fouls
The start of every college basketball season is always wrought with questions over new rules and what is and is not a foul.
"Early in the year, you always see the new rule points of emphasis that are highly regarded and highly followed," Judson said. "Then, as the year goes on, players make adjustments, officials make adjustments, and the game smooths out."
In light of what seems to be an increase in foul calls, many have called for the college game giving player's an extra foul before disqualification.
"I wouldn't be for that personally," Judson said. "I think our game is great. Five fouls, you have to make adjustments, have to learn to play without fouling."
Filed to: Rob Judson, Robert Johnson