The Minute After: UMass Lowell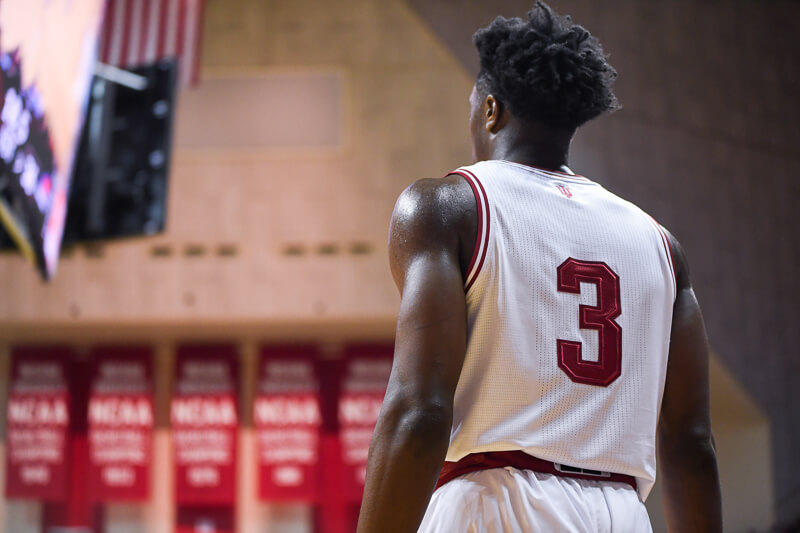 Thoughts on a 100-78 win over the River Hawks:
After an epic, emotional win in Honolulu over Kansas, the Hoosiers returned to Bloomington for their first home game inside the newly renovated Simon Skjodt Assembly Hall to a sparse crowd. They turned ina lackadaisical performance from the start. The defense was passive and its communication wasn't great. UMass Lowell hung around and had the game tied at the halfway mark in the first half, but as one of the better teams in the country, Indiana was eventually going to break away.
And the Hoosiers did just that.
A better defensive stretch the final 10 minutes of the half saw them up 17 at the break (53-36) and that lead got all the way up to 29 points before the Hoosiers settled back down to a comfortable 22-point win over the River Hawks — with fan favorite Tim Priller's putback pushing the Hoosiers to 100 points with just over a minute to go.
James Blackmon Jr. continued his impressive offensive tear to start the season. The junior had 20 points at half on 7-of-9 shooting from the field, which included a 4-of-6 mark from distance. Blackmon Jr. cooled off a little after half, but still ended the night with a game-high 23 points. The Marion graduate has flashed an elite shooting stroke since he arrived on campus, but through Indiana's first two regular season contests it's also clear he's better around the basket.
Blackmon Jr. is a stronger, more aggressive finisher and is finding his way to get free off the ball and getting there via the drive as well. "He's a lot more explosive," Tom Crean said after the game.
The effort seems to be better on defense, but there's still work to be done on that side of the floor and Thomas Bryant let him know it at one point after a missed assignment.
OG Anunoby was also highly efficient in this one — 7-of-11, 15 points — though he hit just 1-of-4 from 3-point range. Despite the 25 percent mark from distance tonight, it's easy to see Anunoby has an improved shot, one he's working on constantly. And his skills are better all over the place on offense. That said, there's still a bit of rawness, a bit of hesitation, a bit of indecisiveness from the emerging sophomore on the offensive end — something that seemed like it was bound to happen with such an increased role, though all the national praise may have clouded that a bit as the season started.
Robert Johnson had a lot of nice takes to the hoop tonight and joined Anunoby in the 7-of-11 club, though he notched one more point (16). Freddie McSwain got 14 minutes of run and got up nine shots. He made just one, missing on a pair of 3-pointers and a couple of long 2s, among others. McSwain's mechanics look improved, but it remains to be seen if he's going to be a consistent shooter in IU's offense or if he's going to get the green light against better competition. De'Ron Davis had some nice moves in the post (eight points) and continues to show good instincts and footwork as he works his way into shape.
Indiana started the game off well in the turnover department with just a 13.9 turnover percentage at half. But the Hoosiers were sloppy after halftime and finished with a turnover percentage of 21.3. The defense against a team like the River Hawks wasn't anything to write home against either, as the Hoosiers let up 1.04 points per possession.
Still, they scored 100 points in back-to-back games to open up a season for the first time since 1992-1993 and there was nothing to suggest this team isn't still oozing with potential.
Filed to: UMass Lowell River Hawks