Five takeaways from Indiana's win over Kansas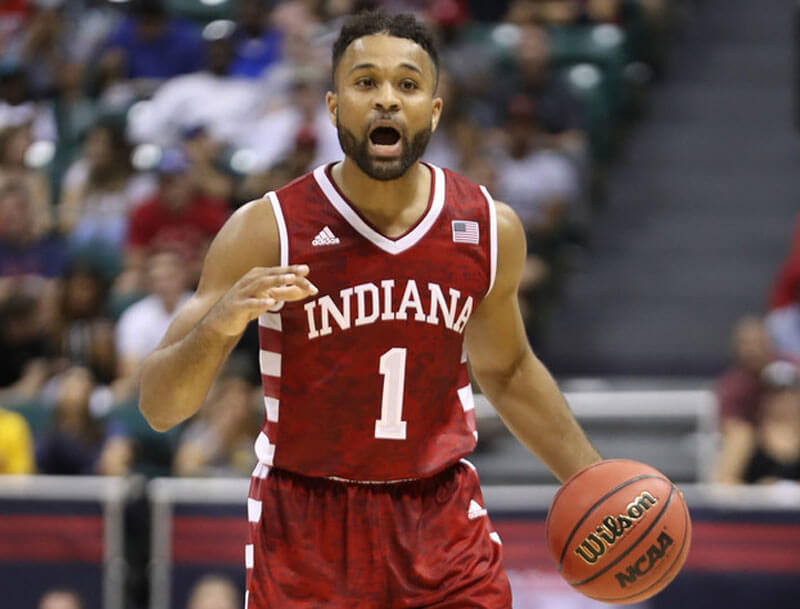 Indiana won a thriller on Friday night. The Hoosiers beat Kansas, 103-99 in overtime, in a back-and-forth classic to tip off the 2016-17 season in Honolulu. It was a win that should serve as a springboard and confidence builder for a team that is still integrating a host of new players.
Here's a look at five takeaways from the victory over the Jayhawks:
· Blackmon Jr. makes a statement in his return: It didn't take long for Indiana sophomore James Blackmon Jr. to let the college basketball world know he's back.
After missing Indiana's final 22 games last season with a knee injury, it was fair to expect some rust from Blackmon Jr. in his first test against elite competition. And in the first half, Blackmon Jr. struggled some defensively and scored just four points.
The second half and overtime, however, were a different story. Blackmon Jr. scored 22 of his team-high 26 points in the game's final 25 minutes and hit some very difficult 3-pointers at crucial times. Coming into the game, it was fair to wonder if Indiana's guards would be able to keep up with Frank Mason and Devonte Graham. Thanks in large part to Blackmon Jr., the Hoosiers more than held their own.
"It felt so good. I've been out for so long," Blackmon Jr. told reporters postgame. "I've missed the game. I missed being out there with my teammates. A couple plays I showed my emotion, but that's how much I love it."
· Big first half for Bryant: Indiana came out shaky offensively as the Hoosiers settled for 3-pointers to start the game. Fortunately several splashed in, including two from an unlikely source: Thomas Bryant.
Overall, it was a solid effort from Indiana's big man, who finished with 19 points and 10 rebounds before fouling out in 28 minutes. But he played his best basketball before halftime with 16 points.
In addition to the hot start offensively, Bryant was a major reason Indiana controlled the glass for a good part of the evening. He grabbed six of Indiana's 18 offensive rebounds. And while those 18 offensive boards turned into just 12 second chance points in total, it was an encouraging sign that the Hoosiers were able to grab 40 percent of their missed shots against one of the nation's elite defensive teams.
· Newcomers show no fear: Every newcomer that Indiana put on the floor made a positive contribution of some kind. Freddie McSwain grabbed a couple of rebounds in limited minutes. Devonte Green splashed in a 3. De'Ron Davis had some key rebounds and two very big free throws. Josh Newkirk dished out four assists in 35 minutes and showed some flashes of why the Indiana coaching staff is so high on his potential.
And there was also Curtis Jones, who Bill Self simply called "number zero" in his postgame comments. It's unlikely that Jones stood out on the scouting report going into the game for Kansas. By the end of the game, Jones was one of the most important players on the floor for the Hoosiers.
With Robert Johnson on the bench with five fouls, Jones scored seven of his 15 points in overtime. He had a very difficult stepback 3 that he splashed in and then put a punctuation mark on the win. After Kansas lost him after a made basket, Jones broke free the other way for an uncontested dunk. The freshman finished his debut with a 5-of-10 shooting performance from the field. He never hesitated nor showed any signs that he was fazed by the moment.
"I think what that says is that the stage doesn't matter to him," Tom Crean said postgame. "I think that's what is really important. At one point, we had three freshmen in there in overtime and they all contributed."
· It's only November, but this is a win that should matter for Indiana: With a non-conference schedule that is heavy on elite teams, but also has plenty of bottom feeders, it's important for Indiana to win some of the marquee contests.
The Hoosiers checked off one of those opportunities against a team that is likely to be ranked in the top 15 all season and is once again the favorite to win its league. This is a win that will be prominent on Indiana's NCAA tournament resume.
More important, however, is the fact that Indiana was able to pull out a win in a game where it made many mistakes and showed its youth over and over. This team is young, talented and its potential to improve is extremely high.
Indiana's departed point guard, Yogi Ferrell, may have summed it up best postgame on Twitter.
This team now has way more talent than we did last year, watch out #iubb

— Kevin Yogi Ferrell (@YogiFerrell11) November 12, 2016
· Plenty to work on going forward: For all of the good things Indiana did in this game, there's plenty to work on moving forward. And with two home games and some practice time before a game in Fort Wayne in 10 days, the Hoosiers will have the opportunity to get back to work.
Indiana had more turnovers (18) than it did assists (15), which didn't happen very often last season. Kansas turned the 18 turnovers into 31 points.
Indiana also struggled to keep the Kansas guards out of the paint. The Jayhawks scored 46 points in the paint with no post presence and most of it was due to Mason driving and finishing (and also getting fouled) all evening.
The Hoosiers also didn't shoot it well on 2-point attempts, which was a major strength of last year's offense. Indiana made 48.4 percent of its 3s last night, but just 40 percent of its 2s. That obviously has to improve in the long run as relying on making close to 50 percent from the perimeter isn't sustainable.
(Photo credit: Darryl Oumi/Getty Images North America)
Filed to: Curtis Jones, James Blackmon Jr., Kansas Jayhawks, Thomas Bryant