Five takeaways from Indiana's win over Bellarmine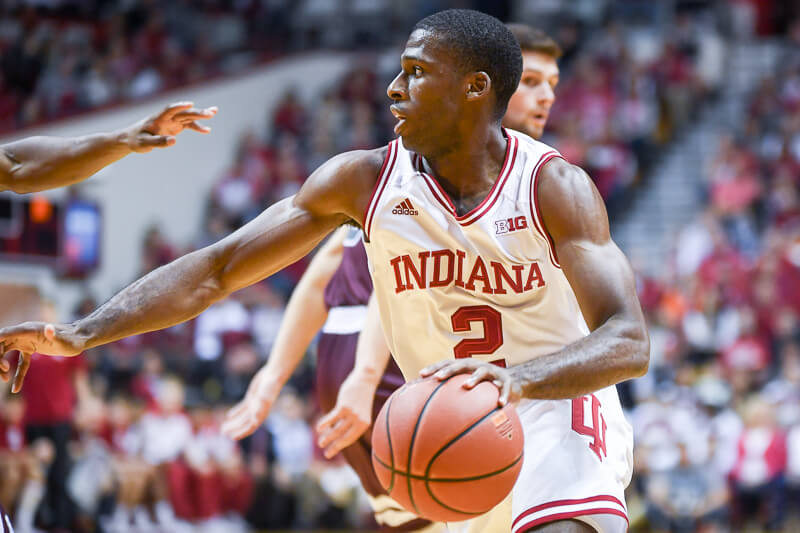 In their second and final exhibition contest, Indiana rolled past Division II No. 3 Bellarmine, 73-49, at Simon Skjodt Assembly Hall on Saturday night.
Here's a look at five takeaways from the win:
· Newkirk showing major promise at the point: It's just two exhibition games, but Pittsburgh transfer Josh Newkirk appears ready to be a major contributor for Indiana.
In two exhibition games, Newkirk logged 51 minutes and dished out 11 assists with just one turnover. And while he hasn't shot it particularly well, Newkirk looks more than capable of commanding Indiana's offense when the ball is in his hands.
"You can see his athleticism has improved tremendously," Tom Crean said postgame. "I've got a friend here that coaches high school in Pittsburgh, known him for 25 plus years, and he said, I don't even recognize this Josh Newkirk, which that's a great compliment."
Newkirk flashed his athleticism on Saturday when he finished a dunk in transition with a defender right on his heels. Given the talent Kansas has in its backcourt with Devonte Graham and Frank Mason, we should learn a lot more about Newkirk on Friday night when the Hoosiers battle the Jayhawks in Hawaii.
· Anunoby dominant offensively: OG Anunoby's 16 points in the opening exhibition game against Hope College may have been a sign of what's to come with the talented sophomore.
Anunoby has received plenty of preseason accolades, but there were questions on how he'd respond to an increased role and more minutes. So far, so good.
Anunoby poured in a game-high 25 points against Bellarmine on 10-of-11 shooting from the field. And he made it look easy around the rim as his length and athleticism was too much for Bellarmine to handle.
"I told Tom, OG is one of my favorite players in all of college basketball," Bellarmine coach Scott Davenport said. "Our players heard it, and they heard it again at half time. He is one of my favorite players in college basketball. I think he is a very special player, and by all accounts, a fantastic young man. My hat is off to him, because he had a monster game. He is one of the best offensive rebounders I have ever prepared for. It is tough, but in my evaluation, he loves to play basketball. He loves to play."
· Indiana struggles from behind the arc, but still wins easily: In previous seasons, this may have been a game that Indiana struggled to put away.
The Hoosiers were dreadful from behind the 3-point line, finishing 6-of-29. But it didn't matter because of the defensive intensity. Indiana was engaged on that end from the opening tip and never let up. As a result, Bellarmine committed 20 turnovers and shot just 35.3 percent on 3s.
"It's real easy sometimes to come out in the second half and take the foot off the gas a little bit," Tom Crean said. "They never did that. We had nine straight stops to open in the second half. We kept them out of the paint. I think they were 5-of-27 when we kept them out of the paint, which is really, really important."
· Davis flashes potential: The numbers don't jump out on the stat sheet, but freshman De'Ron Davis improved upon his performance from the first exhibition.
The freshman from Colorado logged 14 minutes, up from nine in the Hope College win, and was active in the passing lanes and around the rim. Davis isn't an explosive athlete and is still working his way into game shape, but his length and instincts are impressive.
Davis collected three steals, dished out two assists and grabbed two offensive rebounds in the win. He's struggled to finish plays offensively so far (4-of-11 combined from the field in two games), but Davis appears ready to contribute.
· Free throw shooting bears watching: Stats in exhibition games don't count, but Indiana's free throw shooting thus far hasn't been good.
The Hoosiers finished the preseason just 27-of-46 from the line for 58.6 percent. That may have not mattered in previous seasons early on with inferior competition, but it could matter on Friday against Kansas.
Last season, Indiana was a 73.1 percent free throw shooting team, which was good for 59th nationally. Are the numbers in the exhibition game an anomaly or something to be concerned about? We'll begin to get our answer on Friday.
Filed to: Bellarmine Knights, Deron Davis, Josh Newkirk, O.G. Anunoby