Five takeaways from Indiana's win over Hope College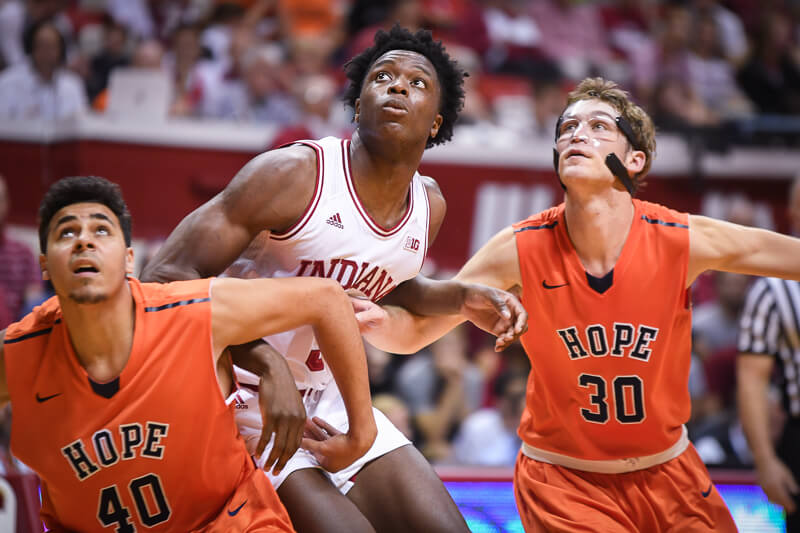 In our first exhibition look at the 2016-2017 Indiana Hoosiers in Simon Skjodt Assembly Hall, the outcome was an easy 98-65 win over Division III Hope College on Tuesday night.
Here's a look at five takeaways from the win:
· Anunoby's perimeter shot looks improved: Indiana sophomore OG Anunoby is regarded as the top NBA prospect in the Big Ten entering the season, but has yet to prove how he'll perform in a more prominent role.
As a freshman, Anunoby came on strong in the second half of the season and played a key role in Indiana's run to a regular season Big Ten title and win over Kentucky in the NCAA tournament.
By all accounts, Anunoby had a terrific summer and on Tuesday, his stroke from behind the 3-point line looks like it will be a major strength. He hit four of his seven attempts from distance against Hope and his release looked quicker than it did a season ago.
"The coaches create the structure but the players create the culture," Tom Crean said postgame. "And when you've got that kind of work ethic, and OG has it and others have it as well, I think he's going to continue to get better shooting the ball and he's got to get better in a lot of things but he works very hard at those things."
· It's early, but Devonte Green is a player: The brother of San Antonio Spurs guard Danny Green, Devonte Green arrived in Bloomington as the nation's 197th best recruit according to the 247Composite.
It's only taken two public scrimmages and one exhibition for Green to show that he belongs at Indiana. He's soft spoken with the media, but Green has shown no fear on the floor.
The Long Island native scored a team-high 17 points on 7-of-9 shooting against Hope in just 15 minutes. Perhaps more importantly to his chances of carving out a significant rotation role, Green didn't commit a single turnover.
James Blackmon Jr. was asked whether it's rare for a freshman to come out playing like Green did on Tuesday night and offered a strong endorsement of his new teammate.
"It's pretty rare," Blackmon Jr. said. "But when you're ready to be out there and you're prepared and you put in a lot of time, it's easy.
"I just remember him coming out and starting from the summer competing. And he's just aggressive offensively and defensively. So that opens up things for him and everyone else."
· Newkirk and Johnson (surprisingly) come off the bench: Lineups in exhibition games shouldn't be scrutinized too heavily, but starting Juwan Morgan at point guard may have been done to send a message to Robert Johnson and Josh Newkirk.
In Crean's postgame comments, he was asked about the leadership of James Blackmon Jr. and gave a general answer on leadership that wasn't pointed specifically at one player.
"So there's different forms of leadership. But verbal, demanding, make the game easier for everybody else – that takes time for guys. It's very unnatural for most people. You've got to speed that process up. It's like player development. You speed the process up for them.
"Now you slow it down if it becomes too much. But a lot of times guys don't understand the abilities that they have. And it's your job as a coach and the coaching staff to pull that out of them. So they'll get there. They'll get there. We want them to be comfortable. But we also want them to make the game easier for their teammates. And a lot of times it's not only the nonverbal presence, it's the verbal presence that's got to be there. And it makes it easier for them."
Both Johnson and Newkirk responded with solid nights. Johnson's plus/minus was +44 and Newkirk, who had seven assists and just one turnover, was +27.
· Despite turnovers, offense is efficient: Indiana's turnover percentage (23.5) was too high, but wasn't particularly surprising given the various lineups and number of new guys who played.
Beyond that, there was little to complain about in regards to the offensive performance the Hoosiers produced. Indiana shot an effective field goal percentage of 69, grabbed nearly 47 percent of its missed shot and had a free throw rate (FTA/FGA) of close to 52 percent.
"I thought our running game was pretty solid even though our spacing on the break left a little to be desired," Crean said. "We didn't get it inside as quick as we could have. We don't have a big package right now of offensive arsenal things to go to. We just haven't done it yet. But I thought the ball moved at a pretty good rate."
· Bryant goes for quiet 15: It may have seemed like Anunoby, Blackmon Jr. and Green were all featured more prominently offensively, but sophomore Thomas Bryant tied for a team-high with 11 shot attempts and finished with 15 points.
Bryant ran the floor hard, finished some difficult plays on the break and even played alongside freshman De'Ron Davis for a brief stint. Beyond the points, Bryant also added nine rebounds and three assists in a team-high 27 minutes.
With some proven offensive weapons around him and others that should continue to develop, look for Bryant to once again finish efficiently at the rim as defenses won't be able to key on him at all times.
Filed to: Devonte Green, Josh Newkirk, O.G. Anunoby, Robert Johnson, Thomas Bryant