Notebook: Green, Anunoby shine in rout of Hope College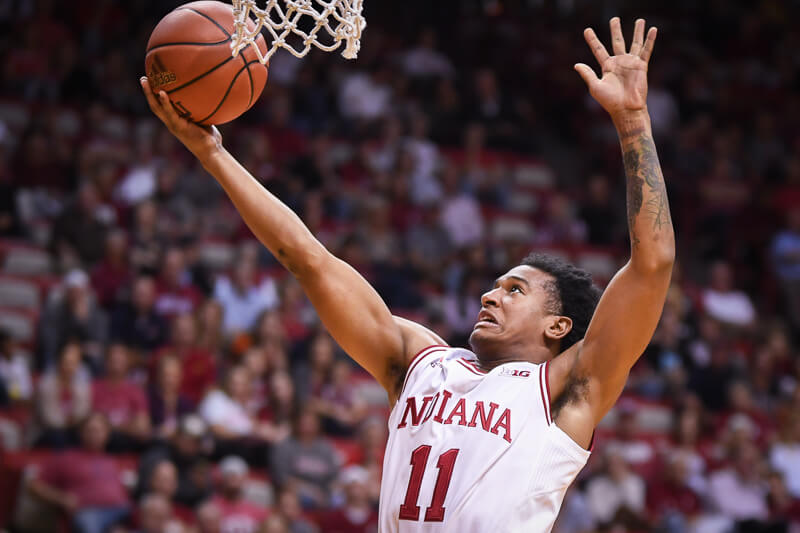 Indiana played host to Division III Hope College on Tuesday night in the first of two exhibitions before the Hoosiers head to Hawaii to take on Kansas in the Armed Forces Classic.
For the first time since March 4, 2012, Indiana took the court at Assembly Hall without Yogi Ferrell in the lineup. It showed, especially early on.
Less than five minutes in, the Hoosiers found themselves trailing 14-7. Indiana often decided on forgoing the easy pass in favor of the spectacular play, committing 11 turnovers in the first half.
"We had to eliminate unforced turnovers and really take care of the ball," said Juwan Morgan. "We had to go for the single plays. Instead of trying to make a skip pass all the way across the court, just trying to hit the man closest to you so he can hit the person in the corner."
The mistakes mostly subsided as the game went on, as Indiana committed four fewer turnovers in the second half.
After leading by 14 at halftime, the Hoosiers coasted to a 98-65 victory.
Devonte Green and OG Anunoby led the way offensively, with 17 and 16 points, respectively.
Anunoby knocked down four of the seven 3s he attempted, and continued to showcase his improved shot.
"It's been a real big focus, just adding another element to his game," Morgan said. "He was just on fire as soon as he got out there."
Meanwhile, Green continued the hot start to his Hoosier career. After shining in the two scrimmages last week, Green hit seven of his nine shots, while also posting two assists and two steals in his 13 minutes.
That @ChefBoyArGreen crossover though… https://t.co/zaZHkrhSMA

— Indiana Basketball (@IndianaMBB) November 1, 2016
Juwan Morgan the point guard
Much like the Haunted Hall of Hoops scrimmage, Juwan Morgan spent plenty of time at the lead guard position.
Since Morgan was cleared for full contact less than a week ago, he has spent the majority of his minutes handling the ball. Morgan had a size advantage over the Flying Dutchmen all night long.
Morgan only took two shots but made his impact elsewhere, going 5-of-8 from the line and bringing down 12 rebounds, three of them offensive, and adding two assists, a steal, and a block while only turning it over once.
"I feel like I did pretty well out there," Morgan said. "I don't think I've made any big mistakes. I was just making the simple plays like Coach Crean always preaches to us."
De'Ron's Debut
Every freshman played Tuesday night, and all contributed in some way.
After missing both the Hysteria and Haunted Hall of Hoops scrimmages, De'Ron Davis saw his first action in front of the Simon Skjodt Assembly Hall crowd, scoring six points and grabbing seven rebounds in nine minutes of action.
Davis made a few mistakes, including an errant pass that sailed past its target but looked about as good as you could expect out of a freshman in his first start. Davis may have looked best when he shared the court with Thomas Bryant, who fed Davis in the post several times throughout the night.
"Thomas has worked on (ballhandling and passing) skills a lot to be running the floor and feeding the post," Blackmon Jr. said. "It's definitely an option."
Guard Rotation Still Up In The Air
It's no secret the Hoosiers have plenty of options at the guard positions. It showed tonight with six different players spending time in the backcourt.
Josh Newkirk, Robert Johnson, and James Blackmon, Jr. spent the most time at the guard spots Tuesday. Curtis Jones, Zach McRoberts and Devonte Green also logged minutes.
Newkirk did not score a single point but dished out seven assists in his 24 minutes on the court. Newkirk's seven assists went to five different players, with Jones and Bryant both receiving two.
Johnson put up 13 points on 5-11 shooting, while Blackmon, Jr. added 15 of his own on 5-of-6 from the field.
Crean said that the playing time at the guard spots are still up for grabs with nothing set in stone.
"I wouldn't read anything into any of the lineups," Crean said. "It could change again on Saturday. To me, it's about having as many multi-dimensional, versatile guys that can play numerous positions for us."
Filed to: Devonte Green, Hope College Flying Dutchmen, OG Anunoby