The Minute After: Hope College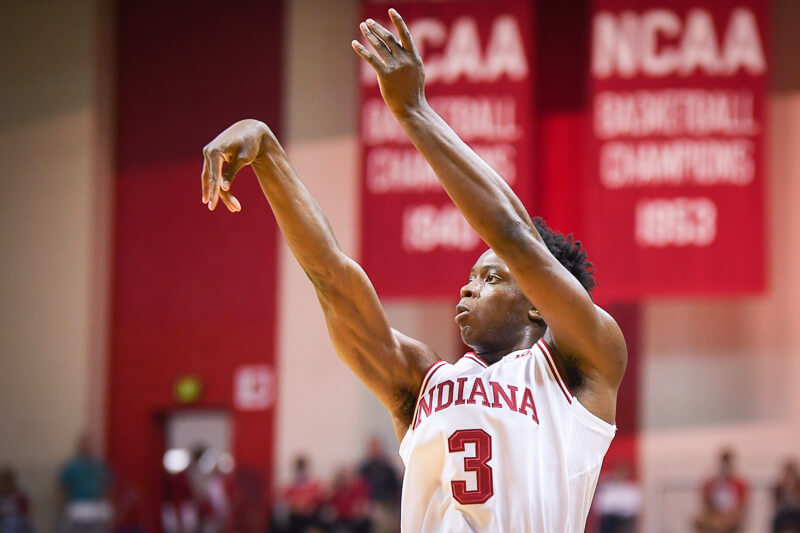 Thoughts on a 98-65 win over the Flying Dutchmen:
Tom Crean constantly subbed. He tinkered with a number of different lineups. Juwan Morgan played point. A walk-on (Zach McRoberts) started. Indiana's biggest players, De'Ron Davis and Thomas Bryant, shared the floor at one point in the second half. During that stretch, Bryant fed Davis in the post off the left wing.
It was all a sign these Hoosiers are versatile, athletic and skilled. It was also a sign that with all the injuries, newcomers and gaps to fill from the departed, Crean and his team have a lot to still figure out. And that's exactly what an exhibition game against Hope College is for.
Let's start with the obvious: OG Anunoby looked very much like a player that's ready to step into a more featured offensive role. The sophomore hit 4-of-7 from distance and finished with 16 points — the most he's ever scored as a Hoosier. His season-high last year was 14. Anunoby could be seen on Indiana's televised practice getting in extra shots during a water break and was out on the floor 90 minutes before tonight's game getting up 3-pointers. After missing his final attempt of the contest from distance with 3:35 to go, Anunoby turned away from the basket and slammed his hands on his knees in disgust heading into a stoppage of play. It was a rare show of emotion for a stoic player. But with all the work he's putting in on his shot, it's also a sign he appears to deeply care about each and every one he takes, a perfectionist about his craft.
"OG spends as much time in the gym as anybody we've had here," Crean said after the game.
Robert Johnson, James Blackmon Jr. and Josh Newkirk were thought of as the leads in Indiana's backcourt heading into the season. But freshman Devonte Green is proving he can really play and deserves his share of minutes, too. Green hit five 3s for 15 points in Indiana's Hoosier Hysteria scrimmage. Tonight he led all Hoosiers in scoring with 17 points (7-of-9). His performance included a 2-of-2 mark from distance where he flashed a smooth stroke and some nice moves and scores at the rim.
"I definitely feel like I belong," Green said after the game.
His confidence is shared by some of his fellow freshmen, something #iubb Twitter noted tonight. Beyond Green, Curtis Jones (seven points, two assists, one block) and De'Ron Davis (six points, seven rebounds, one block, one steal) showed no fear and look very much like they belong, too.
Overall, this looked very much like a modern-era Indiana basketball team under Crean. When the Hoosiers defended at a high level and secured defensive boards, it allowed them to get out on the run, and led to easy, quick points — their bread and butter. But as we know, there's sloppiness that can come with this style of play, especially early on with a host of different lineups and the Hoosiers still figuring a lot out. Indiana entered the half turning the ball over 27.2 percent of their possessions. Much too high. That came down in the second half and settled at 23.5 percent for the contest. So Indiana scored almost 100 points tonight despite turning the ball over on nearly a quarter of its possessions.
The Hoosiers get another opportunity to get their feet wet on Saturday against Bellarmine, a Division II power. Then Kansas looms next. The talent and skill level is here for Indiana to allow them to compete against college basketball's elite teams. But it still needs time to figure itself out.
Filed to: Hope College Flying Dutchmen