Five takeaways from Hoosier Hysteria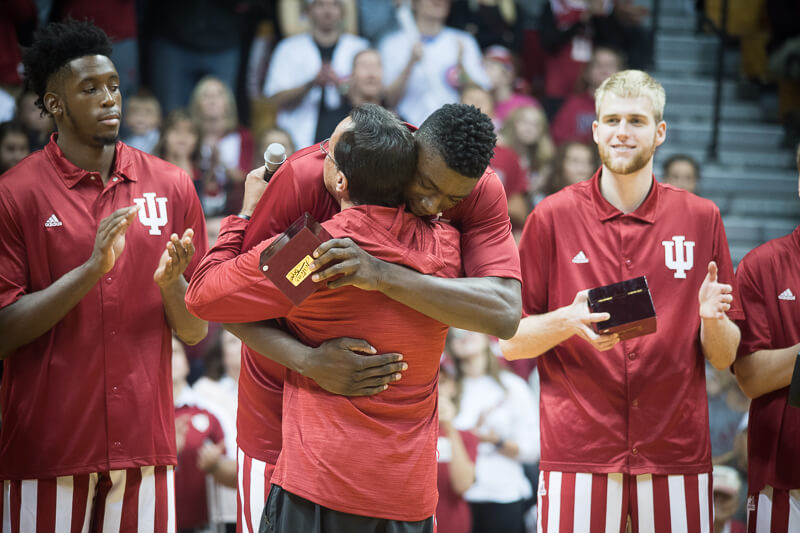 Indiana's season opening event, Hoosier Hysteria, took place Saturday night in Simon Skjodt Assembly Hall and included player introductions, a 3-point shootout, dunk contest and a 12-minute scrimmage.
Here's a look at five takeaways from Hysteria:
· Devonte Green steals the show in the scrimmage: If there was a question as to whether freshman Devonte Green would challenge for a spot in this season's rotation, we may have received our answer on Saturday night.
While it's just a scrimmage with very little defense being played at times, the freshman guard from Long Island put on a show. Green hit five 3s in the scrimmage and led the Cream team to a 41-29 win. Some of the shots (as you can see here in the highlights) were very difficult, but Green showed that he can make shots off both the catch and the dribble.
Sophomore Thomas Bryant, who has known Green since their days as teammates on the Nike EYBL circuit with the PSA Cardinals, wasn't surprised.
"He's gotten better at everything," Bryant said. "Shooting, ball handling, passing, defense. He's improved each and every day."
· Ring ceremony a great way to honor returning players: It was a moment that wasn't on the script for Hoosier Hysteria, but handing out the Big Ten championship rings to the returning players was one of the highlights of the night.
Tom Crean spoke a bit about each player who received a ring and even got choked up a few times. Indiana also put together a video titled "This is how you're a champion," that featured Crean's speech from the postgame in Iowa City last season:
"It meant a lot because we worked really hard and the coaching staff worked really hard," OG Anunoby said following Hysteria. "We were stunned because we didn't know we were going to get the rings, but we're glad we did."
· Bryant looks fine physically: There was a bit of a boot scare last week with Bryant that prompted him to issue a few tweets regarding the status of his foot, but Indiana's star big man looked ready to go in terms of his health.
Bryant won the men's portion of the 3-point shootout and was running the floor perfectly fine throughout the 12-minute scrimmage. Bryant has added significant mass to his upper body in the offseason and is up to 255 pounds according to the official roster.
After not even testing the NBA waters following his freshman year despite having the option, Bryant appears to be all-in on having a monster sophomore year in Bloomington.
· Newkirk, Blackmon Jr. and Johnson all appear to be healthy: Josh Newkirk, James Blackmon Jr. and Robert Johnson are all coming off of injuries, but you wouldn't know it from looking at them.
Newkirk has been cleared the longest of the three guys and he had an impressive sequence when he stole the ball and went the other way and finished it with a dunk. Newkirk is only about 6-foot-1, but he's quick and very strong in the upper body.
Johnson appears to have tweaked his jump shot a little bit, but had it working and knocked down several attempts from beyond the 3-point line. The Richmond (Va.) native has also bulked up even more in the upper body.
And Blackmon Jr. also knocked in several 3s and appeared to be moving very well both laterally and downhill.
· Recruits take in Hysteria: Hysteria is always a major recruiting weekend and the headliner was five-star class of 2017 Oak Hill Academy (Va.) forward Billy Preston.
The 6-foot-10 forward sat behind the Indiana bench for most of the night and appeared to be enjoying himself throughout the evening.
Hoosier Hysteria is great ???

— Billy Preston? (@nolimitbill) October 23, 2016
In addition to Preston, Indiana had some notable underclassmen in attendance including 2018 McCutcheon guard Robert Phinisee and 2018 Bloomington North wing Musa Jallow. There were also many younger prospects from the 2019 and 2020 classes in attendance.
Filed to: Hoosier Hysteria