Ring ceremony, skills contests highlight Hysteria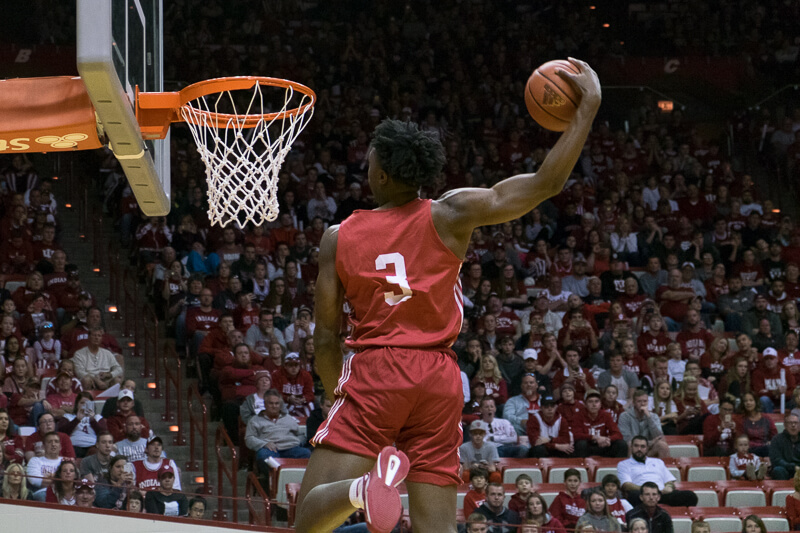 Hoosier Hysteria is the fan-focused event marking off the kickoff for the men's and women's basketball season. But no one appreciated the day as much as coach Tom Crean. Crean spoke at length on Saturday night, thanking his players and his staff.
But Crean had something up his sleeve. He surprised almost everyone in Simon Skjodt Assembly Hall when he presented returning players with their Big Ten Champions rings from the 2016-2017 season.
"It caught me off guard to get the rings today," Thomas Bryant said. " It felt good to get those rings just to see what we've been through last year and continue to go for; its all coming together. It's helping us. It feels good."
It was a special moment for Crean, the staff and his players. Hoosier Hysteria and ESPN college basketball analyst Seth Greenberg said he could feel the emotion and connection between the group.
"You could feel the tradition, you could feel the passion," Greenberg said. "That's what makes this place special. That's what makes Indiana, Indiana."
After the presentation of the rings, the night continued with the 3-point contest.
It started off with freshman Grant Gelon against James Blackmon Jr. and the two tied making 18 apiece. In sudden death, Gelon and Blackmon hit one shot each from the top of the key. Gelon missed his next attempt, and Blackmon Jr. advanced to the next round.
Josh Newkirk, Blackmon Jr., Thomas Bryant and Collin Hartman advanced onto the second round. Hartman participated with a knee brace and shot stationary. Bryant bested Hartman in the second round and Newkirk topped Blackmon Jr.
Did anyone expect Bryant to come out on top? Probably not, but it's not too far fetched. The big man hit a few 3s last season and hit 19 on Saturday night to take down Newkirk and become this year's Hoosier Hysteria 3-point champion.
"It was good I got bragging rights in the locker room now, it feels good," Bryant said. "I didn't want to be in anything but coach made me."
Bryant then went on to face women's 3-point champion Tyra Buss. IU's star sophomore fell short hitting nine shots against 14 for Buss.
Next up, it was Curtis Jones' time to shine.
It was a risky move for a freshman, but Jones didn't look intimidated. In the dunk contest, the guard positioned his coach below the basket and had a sly smile on his face. The first attempt could have ended poorly, but the second one was smooth. Jones successfully dunked over coach Crean, bringing Assembly Hall to its feet. It was good, but not good enough. OG Anunoby came in with a between the legs dunk to win the contest over Jones.
Hoosier Hysteria has been used as a recruiting tool and five-star forward Billy Preston was in attendance sitting courtside. Attendance was estimated at close to 16,000.
After watching the team at practice, where they are now isn't where they will end up in the end, according to Greenberg, who served as the on-court host for the evening.
With the freshmen adjusting and players coming back from injury, it's a process of light bulbs going off at different times. But nonetheless, Crean and Greenberg both praised the team on its work ethic and will to win.
"We don't have the same group that we had last year but we have a bunch of people who want to represent you the right way," Crean said. "As long as we have you all out here, there is really nothing we can't accomplish. Don't ever bet against the Hoosiers, don't ever."
Filed to: Hoosier Hysteria