Cream defeats Crimson behind Devonte Green's 15 points in Hysteria scrimmage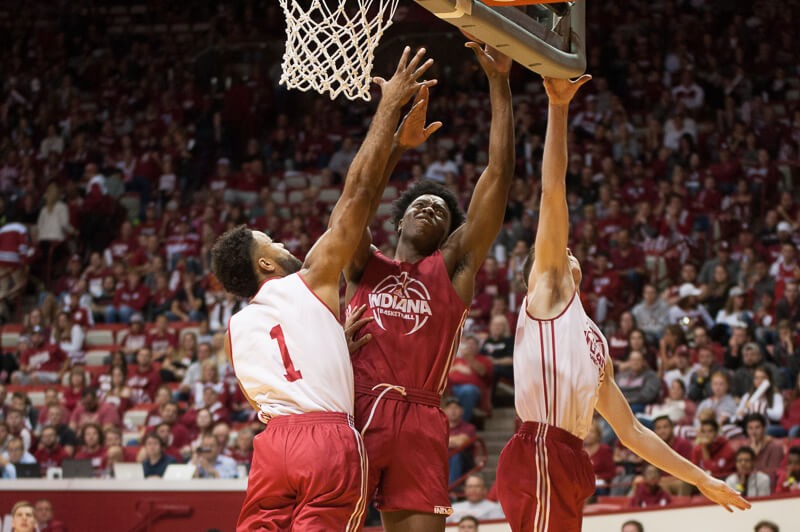 Once the 3-point and dunk contests came to an end at Hoosier Hysteria, the fans who stayed were treated to a 12-minute scrimmage featuring all but three players (Collin Hartman, Juwan Morgan, and Freddie McSwain all were out with injuries).
Although there wasn't much in the way of defense or set plays, those in the newly renovated Simon Skjodt Assembly Hall were given a small glimpse at what the Hoosiers will look like this season, as the Cream defeated Crimson, 41-29, in an intrasquad scrimmage.
Freshman Devonte Green led the way for the Cream, scoring 15 points on five made three-pointers.
"He's willing to work," Thomas Bryant said after the scrimmage. "He's listened. He goes out there and plays his heart out. I respect that a lot about him. Playing with him in AAU, just growing up with him, little by little, I see him grow each and every day."
Sharing the backcourt with Newkirk and Blackmon, Green showcased an all-around game to match, posting several deflections on defense and making smart passes on offense. Green also nearly threw down a putback dunk after rebounding a missed three.
"He's gotten better at everything," Bryant said. "When it comes to shooting, ball-handling, passing, defense; he's improved each and every day."
The other two guards that led the way for the Cream were Newkirk and Blackmon. Fresh off an impressive performance in the three-point contest, Newkirk scored five points in the scrimmage and displayed the passing skills that may earn him a starting spot in the backcourt.
"Whether it's before or after practice, [Newkirk] is getting more shots in," Bryant said. "We're getting better at passing as well. One thing that coach stresses as being a great passing team in order to get shots up."
OG Anunoby was the leading scorer for the Crimson with 11.
The most shots Anunoby took in a single game last season was 10, but he spent plenty of time handling the ball and forcing the issue during the scrimmage, driving through the defense. He even threw down a reverse dunk in the waning seconds.
One of the biggest questions surrounding the Hoosiers is what their starting lineup will look like. But Seth Greenberg, who spent 22 seasons as an NCAA head coach and the emcee of Hoosier Hysteria, says that it's too early to make any predictions.
"[Indiana's] got a lot of pieces," Greenberg said after the scrimmage. "Figuring out how to get those pieces together: rotations, substitution patterns, things like that. This time of year I get a kick when guys go in and say 'Well, I see these guys as the starting five.' I don't know. It's all a work in progress"
When the energy of Hoosier Hysteria dissipates, Greenberg says it will key for the Hoosiers to continue bringing intensity and passion throughout the season.
"This was great," Greenberg said. "But tomorrow's a whole lot more important than today. Are you going to have the same enthusiasm in January that you had today?"
Filed to: Hoosier Hysteria