Around the Hall: Bryant, Oladipo and more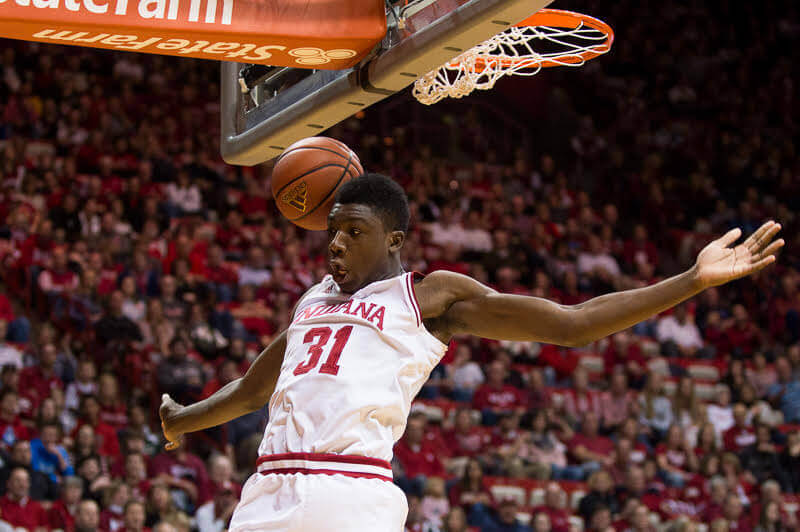 Around the Hall is recommended reading from the Inside the Hall staff.
Can Thomas Bryant lead Indiana back to a Final Four? C.L. Brown of ESPN.com ponders the possibility:
They will all be fueled by the man in the middle. Bryant could potentially rival Zeller as the Hoosiers' best big man in the post-Bob Knight era. Sure, he had a chance to leave IU after one season, as Noah Vonleh did in 2014 when he became the ninth overall pick in the NBA draft. Despite the new rules that would have allowed Bryant to work out with NBA teams and potentially be invited to the combine, he didn't declare for the draft. He knew he wanted to return to school. Now it's the Hoosiers faithful who can't calm down thinking about Bryant's potential impact.
Complex has a wide ranging interview with Victor Oladipo, which is a must read:
Are you feeling more like a vet now, a couple years in?

Shoot, I'm about to be in my fourth year in the NBA already, it's crazy to think about. I feel like I just got here. I've been through a lot in my three years. A lot. A lot of different situations. Four different coaches in three years. Coming off the bench, being benched, starting, starting at the 1, starting at the 2. But it's grown me into the man I am today, the player I am today. And it's made me even mentally stronger than ever which is why I think the trade happened now. Because I think I'm more ready than I ever was.
ESPN.com has a campaign slogan for each of its preseason top 25 teams, including IU:
11. Indiana Hoosiers: "More Chances At The Basketball Ring"
It has been five months since a presidential candidate referred to a hoop as a "basketball ring" in a campaign appearance in the state of Indiana. Perhaps the wording was ill-advised, but let the record show the candidate had every reason to direct our attention toward said object. First, there is, of course, that certain movie scene. Second, the state's flagship program, Indiana, indeed excels at creating shot opportunities at the rim. This excellence is by design, and Tom Crean is something of a master practitioner.
Five-star prospect Jaren Jackson is set to announce his college decision today and Brendan F. Quinn of MLive has a preview:
Still looking for its first 2017 recruiting pickup, Michigan State will learn of Jaren Jackson Jr.'s future intentions on Wednesday.

The 6-foot-10, five-star power forward from La Lumiere School in La Porte, Indiana, announced his final five schools on Wednesday, along with his intentions to declare his final choice on Thursday.

Jackson will decide between Michigan State, Purdue, Notre Dame, Georgetown and Maryland.
Indiana announced mini-series ticket packages, which are on-sale now:
Indiana University men's basketball fans will have three options this year to purchase tickets to games that will take place while students are not on campus.

This year, six home games will be played during the Thanksgiving and semester break highlighted by the first three games of the Big Ten Conference season.

Fans may purchase the full six-game mini series package which includes contests against Liberty (Saturday, November 19, 7 p.m.), Delaware State (Monday, December 19, 8 p.m.), Austin Peay (Thursday, December 22, 7 p.m.), Nebraska (Wednesday, December 28, 7 p.m.), Wisconsin (Tuesday, January 3, 7 p.m.) and Illinois (Saturday, January 7, 5 p.m.).

Two three-game packages also will be on sale. Mini series Plan A will include tickets to Liberty, Austin Peay and Wisconsin, while Plan B will include seats to Delaware State, Nebraska and Illinois.
Duke will close its practices this season to NBA scouts and instead hold two pro days, according to Adrian Wojnarowski of The Vertical:
Duke coach Mike Krzyzewski is barring NBA teams from scouting his program's practices this season – except for two pro days scheduled in October, league sources told The Vertical.

NBA executives were extended invitations to pro days on Oct. 19 and 25 at Cameron Indoor Stadium, the second of which coincides with the opening night of the NBA regular season, Duke informed front offices on Tuesday.

"All other practices will be closed," Duke told teams in an email.
Filed to: Thomas Bryant, Victor Oladipo