An in-depth look at Indiana's offensive sets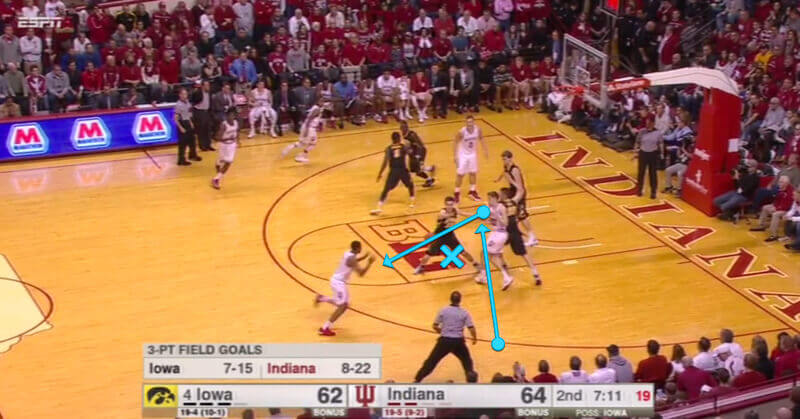 Zak Boisvert is the creator of PickAndPop.net and has served as an assistant coach at Iona, Farleigh Dickinson and Maine. Boisvert's site and his YouTube channel are two of the most comprehensive resources out there for basketball junkies who want to get a closer look at the game.
Inside the Hall recently spoke to Boisvert about the Indiana offense and more specifically, four videos he published last spring. The videos focus on four different offensive series that Tom Crean runs in Bloomington: Weak motion, Chin series, late shock clock and flow ball screen.
What follows are notes and quotes from our conversation with Boisvert along with some of his material to give fans a better understanding of what makes the Indiana offense one of the nation's best:
It's no secret that Indiana's offense was one of the nation's best last season. But what made the Hoosiers elite?
There are several key statistical areas where Indiana excelled that made the Hoosiers nearly impossible to slow down when their execution was crisp.
Start with shot selection. Indiana was one of only four teams in the country that had 40+ percent of their shot attempts come in the paint and 40+ percent of their shot attempts from behind the 3-point line. It was a rare sight to see an Indiana player launch a long two.
At the rim, Indiana shot 41.2 percent, which was 53rd nationally. The Hoosiers shot 41.6 percent on 3s, which was fourth in the country. The Hoosiers also took 31.7 percent of their shot attempts in transition, which was 21st in the country. And Indiana pounded the offensive glass to rebound 37.2 percent of their missed shots, which was 15th in the country.
Add it all up and you have the Big Ten's second best offense and the sixth best adjusted offensive efficiency in the land. Several of those numbers are what Boisvert says drew him into taking a deeper dive into the Indiana offense.
"I'm an X's and O's nut," Boisvert told Inside the Hall. "I want to make my site a resource for coaches to learn, but it's a very sophisticated, comprehensive site. Within that, I think I have a sophisticated knowledge base.
"I've been watching coach Crean going back to his days at Marquette. I just think he's an offensive innovator and I think some of the things he was doing at Indiana this past season were extremely innovative. I think college basketball at times can be very similar. Teams are running the same stuff, teams are running the same set of plays. And what I saw was that Crean is doing things that no one else is doing. That piqued my interest right away."
We'll start with the motion weak sets:
"Particularly, the flow ball screens and motion weak, those are things he's doing schematically that are just different than other coaches in the country," Boisvert explained. "That's why I put him very near the top in terms of X's and O's. I don't think there are many better. He's somewhere in the top five in my opinion."
"For motion weak, it's a concept that Gregg Popovich brought to the NBA in late 1990's, maybe early 2000's. And it's caught on throughout the NBA. It's a trickle down sport. It starts in the NBA and it trickles down to the NCAA. That concept is simply the point guard hitting the guy on the ball side and then cutting through. So anything with that concept starts a motion weak series. And that series is run throughout the country. When I was watching Indiana, I said, 'wow, they're doing some really cool stuff.' It starts with what everyone else does, but they're doing different things out of it that no one else is doing."
"With late shot clock, it's a time where a lot of teams do the same things," Boisvert said. "They set high ball screens, teams are running the same things, isolating their best player and trying to attack. I'm watching Indiana and they're not doing that. They're doing different things out of it. Again, innovation and things you're not seeing very much."
"One of the things when I watch their chin stuff, the things they're doing different in terms of putting players in different spots," Boisvert said. "In layman's terms, I think one thing that encompasses all of these videos, and this is where he's best at, is that a lot of people would have a player like Yogi Ferrell and they would have him come down the court and they'd have him dribble to a spot, call out a ball screen and they'd run him into a pick-and-roll.
"And what is so good about coach Crean is the way that, rather than have his best player attack a set defense, there's a ton of movement early in the possession and then the ball gets back to Yogi and he's attacking off of that. Rather than starting the possession with trying to get Yogi into the action, there's a lot of movement, the defense moves, the ball moves from side to side and then all of the sudden Ferrell is getting it back and maybe that ball screen is coming out. And now all of the sudden, he has his best player attacking a defense that isn't set, a defense that's been moved with ball movement, player movement and screening actions."
"That's something I see particularly in the chin, particularly in the motion weak and particularly in the flow ball screen video. He's doing it at a level better than any coach in the country."
"They have an extremely large playbook in comparison to other teams," Boisvert explained. "I can't necessarily say they have the largest, but they have an immense playbook and it speaks to Crean's offensive mastery. He's one of the better X's and O's guys in the country."
Additional resources: Motion weak diagrams, Flow ball screen diagrams, late shot clock diagrams and chin series diagrams.
Filed to: Tom Crean