Summer League roundup: Troy Williams dominates final three games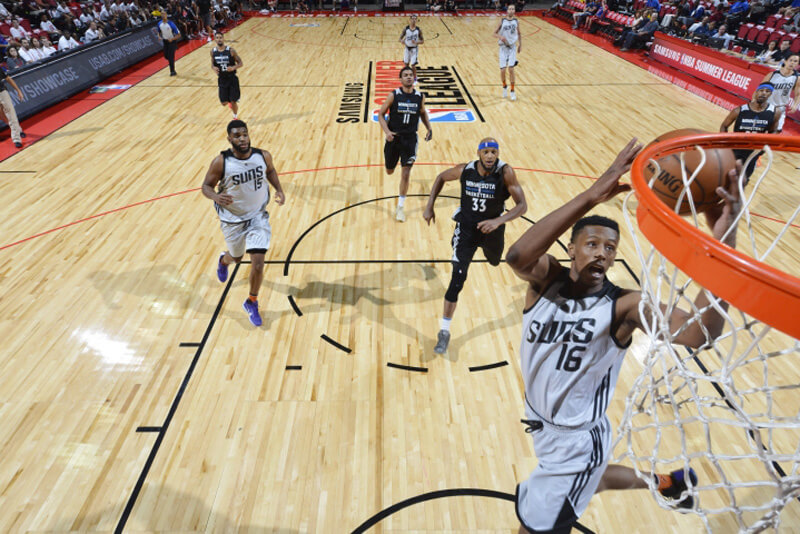 The Samsung NBA Summer League wrapped up on Sunday in Las Vegas. Here's Inside the Hall's look at how the four Hoosiers who participated – Yogi Ferrell, Troy Williams, Noah Vonleh and Verdell Jones – performed:
· Troy Williams, Phoenix Suns: Williams started slow in Las Vegas, but finished with three straight statement performances. Over Phoenix's final three games, the former IU forward averaged 20.3 points, 6.6 rebounds and two steals per game. He also made 19 free throws over those three contests, including 14 in Sunday's finale against Minnesota.
Williams was mentioned prominently in Sunday's recap on the official site of the Suns:
Once he put his head down and got some momentum behind him, there was little Minnesota could do to stop Williams on his way to the basket. The 6-7 forward earned a game-high 15 free throw attempts and made good on 14 of them. He was also 5-of-6 inside the three-point arc, using his athleticism and creativity to score over, under and through defenders.

Williams is a free agent, so it will be interesting to see if Phoenix or another NBA team invites him to training camp.
ArizonaSports.com also had a piece on Sunday suggesting that Williams won't have a problem finding a guaranteed contract from an NBA team.
Final numbers (six games): 12.3 points, 4.3 rebounds, 1.7 steals in 22.3 minutes per game. Shot 54.3 percent from the field, 26.3 percent on 3s and 79.2 percent from the free throw line.
· Yogi Ferrell, Brooklyn Nets: Given Brooklyn's large contingent of guards on its Summer League roster, Ferrell sat out two games to provide a more balanced rotation.
Overall, his play in Vegas wasn't particularly strong as he scored in double figures just once and only had one game with more than two assists.
Will that be enough for Ferrell to earn a serious look from the Nets or another franchise in a training camp this fall?
Final numbers (four games): 8.8 points, 1.8 assists, 1.5 rebounds in 17 minutes er game. Shot 43.8 percent from the field, 18.2 percent on 3s and 71.4 percent from the free throw line.
· Noah Vonleh, Portland Trail Blazers: As a Summer League veteran, Vonleh appeared in just four games, but scored in double figures in each contest. He also had double figure rebound totals in three of the four games.
Vonleh, however, was not happy with how he played according to OregonLive.com:
"No, I'm not too happy with how I've played," he said following the Blazers loss to the Utah Jazz on Wednesday. "I rebounded the ball well, but there's just some things that I want to have translate for next season so I can get some playing time. Like reading the play, doing the right thing."

The Blazers made moves to bolster their frontcourt in the offseason, adding Festus Ezeli to join an already crowded big man rotation with Mason Plumlee, Meyers Leonard and Ed Davis. Throw in the fact that the Blazers want to get Al-Farouq Aminu regular minutes at power forward and it is clear playing time could be an issue for Vonleh.

"It's going to be tough," he said. "We've got a great group of guys coming in so everybody is going to be fighting for playing time. If you don't come ready for training camp, you're not going to play. I got to get my mind right and get ready for that."
Final stats (four games): 12 points. 8.8 rebounds, 1.2 assists, 0.8 steals, 0.8 blocks in 31.5 minutes per game. Shot 46.3 percent from the field, 23.1 percent on 3s and 70 percent from the free throw line.
· Verdell Jones, D-League Select: Jones started just one of D-League Select's five contests and is probably looking at going overseas unless he wants to give the D-League another shot.
D-League Select finished 3-2 and Jones logged double figure minutes in two of the four games he played in.
Final stats (four games): 5.2 points, one assist, 0.8 rebounds, 0.8 steals in 11.2 minutes per game. Shot 53.8 percent from the field, 50 percent on 3s and 85.7 percent from the free throw line.
(Photo credit: Getty Images)
Filed to: Noah Vonleh, Troy Williams, Verdell Jones, Yogi Ferrell