Q & A: Five-star Mohamed Bamba talks USA Basketball, EYBL, Indiana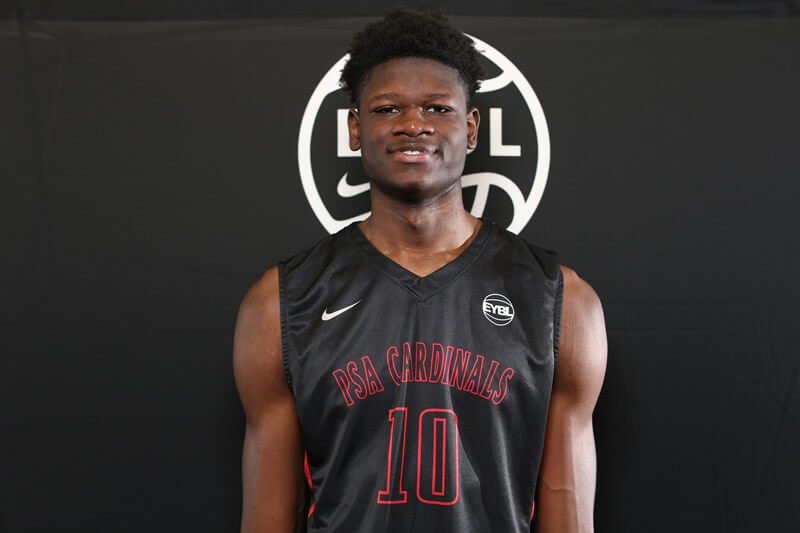 One of the most coveted recruits in the class of 2017, Westtown School (N.Y.) big man Mohamed Bamba will have his pick of the nation's top programs when it comes time to make a college decision.
But as Bamba prepares for a trip to Chile with USA Basketball for the FIBA Americas U18 championships, his primary focus is on basketball.
Inside the Hall talked at length with the nation's No. 2 player, according to the 247Composite, on Tuesday in a one-on-one interview about a variety of topics, including his interest in Indiana. Here's a full transcript of our conversation:
How's the experience going thus far with USA Basketball? What are you learning?
"I'm getting a lot out of it. I think the biggest thing I'm taking away is something that I kind of do now, but I'm probably going to do more as I integrate it more into my game is talk more on defense. It's such a small detail, but it will take my game to another level as far as getting on the same page with teammates and also just winning. That's just one of the many lessons here."
What do you feel like you need to show in the USA Basketball practices?
"Honestly, I feel like they (the coaches) know that we're all talented in different ways. Honestly, I think it is going to come down to toughness. Who can hold onto things and not let it break you down mentally and physically. Being out here, I'm learning a lot of things about myself. My passion to win in small drills and my will to win and how much I can play through any sort of injury that I have."
What did you learn playing in the EYBL and what were your takeaways from Peach Jam?
"EYBL, because I only got one season of it, everything was new to me. The expectation of everything, since I'm an athlete of my stature, many people would say that it wouldn't be new to me at all. It should be something that I should dominate. That wasn't the case even though I was dominant for most of the season. Everything was very new to me. I was taking things in.
"I reached out to guys that played in EYBL in previous seasons and I just listened to them. Before the season last year, I talked to Michael Porter (Jr.) and I asked him how it was different and he told me the game was faster and guys are a little bit stronger. It's not like the difference between high school and college because that is a major difference, but it's like that in a very small way."
As far as your game goes, I know it's a focus to improve everywhere, but are there specific areas you're focused on?
"My post presence. Before I got to Westtown, I sat down in a room with Seth (Berger) and I didn't really have a go-to move. There were so many different moves I had in mind that I could just go to. But playing this season and in EYBL made me realize my go-to moves and how to get to them quicker. But when I'm working out, I'm working out on a bunch of stuff like mid-post, pick-and-rolls, jump hooks and everything."
You attended the Sloan Sports Analytic Conference that was held at MIT in Boston in March. What did you learn there?
"I learned a lot of different things on many different fronts. I learned about the game of basketball from an analytics view. We did an entire seminar with a panel on how to guard a pick-and-roll. I remember getting up and asking a question, 'Does this translate to at all to the high school level?' They didn't really have an answer for it.
"Honestly, it was a great experience because when we weren't doing analytics, we learning about how things work in the front office in the NBA. I remember the Golden State Warriors GM (Bob Myers) was there, the Houston Rockets GM (Daryl Morey) was there, the Boston Red Sox President (Sam Kennedy) was there. But things like money, cap room and all of that, it all falls under the same space."
How much have you talked to Indiana and what have they told you about the program?
"I haven't talked to many schools lately, but I'm sure that will change very soon. I just see things there. I see patterns that they have with guys like Thomas (Bryant) and how much they give him the ball. I'm kind of learning through his mistakes and his successes. It's great. I honestly can't wait to watch him play next year.
"Next season is going to be the year when I watch college basketball on a very microscopic level. I've got friends playing in it and these are schools that are recruiting me. It's going to be fun to watch."
When you say you haven't talked to schools, is that just because you're focus on basketball this summer?
"The month of July is an evaluation period for college coaches. We're out there busting our butts out there, so I'm kind of focused on playing. Last week, I was focused on getting to the Peach Jam championship and trying to win. This week, I'm focused on making this USA basketball team and winning a gold medal in Chile."
Filed to: Mohamed Bamba