Five-star wing Kris Wilkes eyes spring decision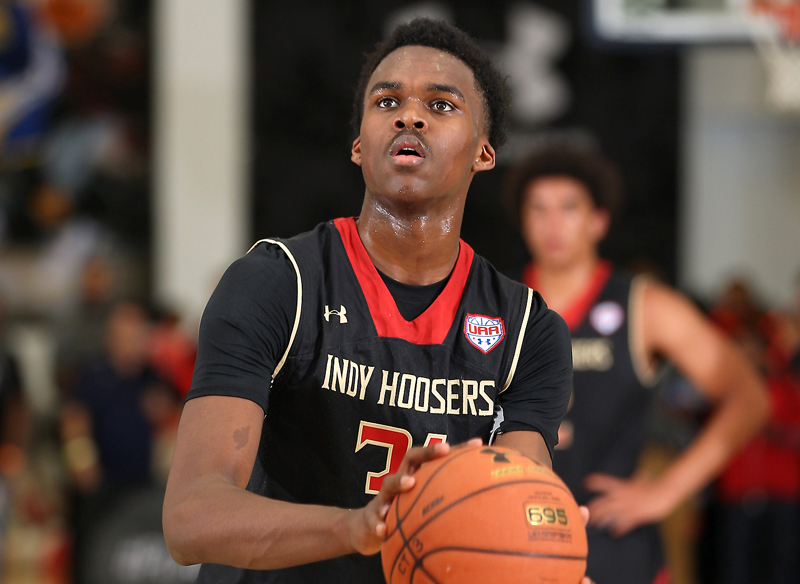 One of Indiana's top recruiting targets in the class of 2017, North Central's Kris Wilkes, has been on the program's radar now for more than three years.
But Wilkes, who continues to collect scholarship offers and interest from all over the country, isn't in a hurry to make a college decision.
In a one-on-one interview on Tuesday afternoon with Inside the Hall, the 6-foot-7 forward said he plans to play out his senior season at North Central before making a college decision.
"I want to get through the high school season and play as hard as I can," Wilkes said. "Cut a couple of schools off during the season, but I don't want to keep focusing straight on recruiting. I want to get these wins in for my last high school season and try to win a state title."
Wilkes was in Houston on Monday and Tuesday competing for a spot on USA Basketball's U18 team, but ultimately wasn't among the 12 players selected for the team that will compete later this month at the FIBA Americas U18 Championships in Valdivia, Chile.
That means he will be with the Indy Hoosiers for the Under Armour Association Finals that tip off this week in Atlanta, Georgia.
During the first July evaluation period, Wilkes began the week at the Under Armour All-American Camp in Charlotte before finishing the weekend with the Indy Hoosiers at the adidas Invitational in Indianapolis.
As an upperclassmen at the Under Armour All-American Camp, Wilkes said he was assertive in seeking out a leadership role.
"It was actually pretty good," he said. "I was one of the older kids on my team so I helped them out and became more of a leader and just played hard. I shared the ball and got the team involved."
Wilkes is planning to trim his list of schools at the end of the month, but didn't specify a number on how many schools will be eliminated. He does, however, have a requirement for schools that wish to remain in the running.
"If a school hasn't offered by the end of July, it's pretty much over for them," Wilkes said. "I'm going to cut it down from there and start working from there."
One school that will get an official visit from Wilkes is UCLA, which was one of his first offers. That's expected to take place in August.
"They're one of my early offers. I haven't had a chance to get out there and it's pretty far away," he explained. "That'll be pretty good to get out there and take an official visit because I wouldn't have any other time to get out there."
As for Indiana, which was the first school to offer Wilkes, the Hoosiers have continue to make him a priority.
Given his proximity to Bloomington, he's been on numerous unofficial visits to Bloomington throughout his prep career.
"They keep telling me that 'I am their guy,'" he said. "I hope it's all true. That would be great. Hopefully I'll be able to get down there soon and keep visiting down there."
(Photo credit: Kelly Kline/Under Armour)
Filed to: Kris Wilkes