Transcript: James Blackmon Jr. discusses future on Moritz Sports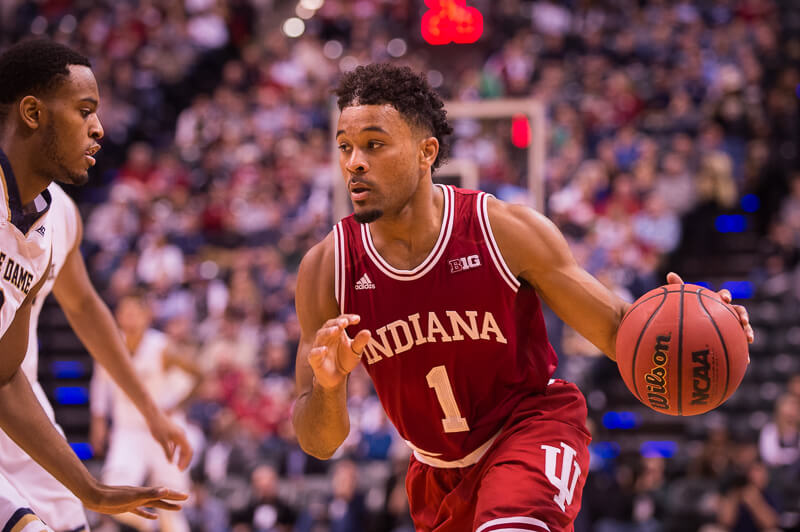 Indiana sophomore James Blackmon Jr. was a guest on Moritz Sports on 1400 WBAT in Marion on Tuesday and discussed a variety of topics, including his future in Bloomington.
We've transcribed the complete interview below, which is also available to listen to here.
Bring us up to date on the recovery from the knee surgery that happened on January 5:
"I'm about four months post op. I've been working with the IU trainers throughout the school year. It's been really good. Then I came back home so I have people I work with here. It started off really well here starting yesterday and I'm just ready to get back down there and keep working."
On how devastating it was to find out the serious nature of this injury:
"It was a huge low point for me. Probably the hardest injury I've ever had to overcome. But I'm getting through it and everything looks up from here. I'm just staying positive through it all."
On whether it was just a freak injury:
"I wouldn't say that. We were playing 1-on-1 drills in practice and I kind of got nudged a little bit and thrown off balance. Then my shoe caught traction, so that's how it happened, really."
On whether he was pleased with the progress he'd made up until the point of the injury:
"I was very pleased. Coming into the year I had high expectations and I feel like I was fulfilling them. I feel like I was playing more consistent and shooting the ball a lot better and doing other things as well more consistently my sophomore year than my freshman year. I was very happy with how I was playing before the injury."
On if he anticipated to have as much success as he did as a freshman:
"To me I really did just because of the way I work, the way I was brought up. Playing at Marion prepared me really well. I really did think I could do that, but I don't think a lot of others did. I guess you could say I caught a lot of people by surprise."
On whether he felt like things were moving in the right direction his sophomore season:
"Oh yeah, definitely. We started out rough, but then we beat Notre Dame in a comeback game and that's where I think the season definitely changed. It was tough not being able to help my team against North Carolina in the Sweet Sixteen because I feel like I could have done a lot. It's just something that I have to take advantage of motivation wise and come back wherever I am next year, and take control of that."
On the post surgery prognosis was from the doctors:
"The doctors told me six months would be coming back fast. I'm at four months and I've been working so hard at the rehab and doing a lot extra. So I'm at four months and I feel really good. I'm not going to rush anything back or try to come back too fast."
On where he is at right now in the rehab process:
"I'm probably at 75 percent."
On whether he's got to take it slow the rest of the way:
"I can do everything except get out there and play 5-on-5, so that's really it."
On when he expects be able to play 5-on-5:
"In July is when everything will be 110 percent."
On whether he's made a decision on if he's going back to Indiana:
"Really the opportunity hit me when coach (Tom) Crean talked about my options. He said I could put my name in the draft, get feedback and test the waters. That's what I wanted to do and it's gone really well so far. I've been able to talk to teams, see what they think. I've met with two teams so far and the feedback I've been getting has been great. I don't know where that will take me yet."
On whether he'd be able to work out this month for teams:
"I'm not cleared to play 5-on-5 and that's really what the combine is in Chicago on Wednesday. That's something I can't go to. I've been able to meet teams individually because I can't actually play yet and do workouts and meetings with them, shooting around and just talking to teams."
On whether it's a possibility that he'll keep his name in the draft and hire an agent:
"It's a possibility always. I think it would be for anyone. But at the same time, my junior year at Indiana, I'm going to be a leader, I'm going to be someone that can lead a great team, probably a top 10 team next year so that's pretty hard to pass up."
On if his choice between staying in the draft or returning to school is a win-win situation:
"Yeah, that's what coach Crean put out there for me. He knew that without the injury this year, it probably would have been a no-brainer, that's what he talked to me about, but he said that the option is still there."
On whether he's down to two choices: return to school or go to the NBA and if transferring is an option:
"I never said that I would transfer anywhere else. That's definitely my plan."
On his relationship with Tom Crean and if rumors that they're not on the same page at all times is true:
"That's really not true. We talk almost every day. He motivates me, he pushes me. He knows that I'm one of the hardest workers ever so I'd say our relationship is really great."
On the outlook for his junior season if he returns:
"The potential is there, most definitely. It just comes down to how things are executed and what our leaders do."
On if he plans to test the waters again after his junior season, if he returns:
"I'm not sure because once I decide to go back, I'll just be all into that season. Just like I was last year, I wasn't thinking about the NBA or anything like that until after the season. That's just something we'll have to see."
On the drop dead date on when he'll have to decide if he's coming back:
"I think it is May 27 where I'll have to announce that I'm going back to school."
Filed to: James Blackmon Jr.