Weekend notes: NBA combine invites announced, Niego to Hillsdale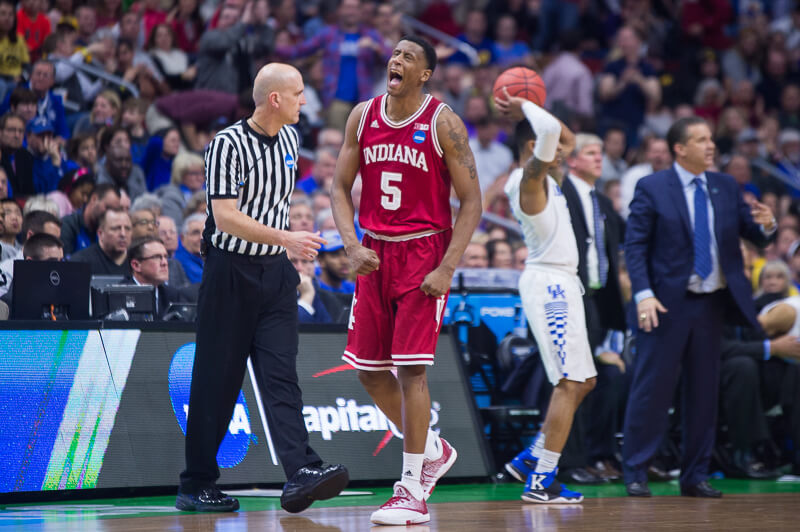 Indiana will have just one representative at next week's NBA draft combine in Chicago, according to a list compiled by Jeff Goodman of ESPN.com.
The NBA has not yet released an official list of who will attend the combine, but according to Goodman's list, Troy Williams is the only Indiana player who was invited to participate.
Yogi Ferrell is listed as an alternate on the list of participants, which was also reported by Draft Express. Indiana junior guard James Blackmon Jr. is not on the list as a participant or an alternate.
The draft combine will take place from May 11-15.
Underclassmen who have declared for the draft but chose not to hire an agent will have until May 25 to withdraw their names and maintain their NCAA eligibility.
Niego heading to Division II
Former Indiana walk-on guard Harrison Niego has a new home.
The 6-foot-2 guard, who announced he was leaving Indiana in early April to pursue a Division I scholarship opportunity, has decided to go the Division II route.
Niego announced on social media over the weekend that he's transferring to Hillsdale College in Michigan. According to reports, Niego will receive a full scholarship at Hillsdale.
Excited to continue my athletic and academic career at Hillsdale College! Can't wait to be a Charger! pic.twitter.com/7G20uQTnOG

— Harrison Niego (@Harrison_Niego) April 30, 2016
In 25 games as a freshman for the Hoosiers, Niego scored 11 points and had 15 rebounds.
"Coming to IU and being part of the program has been one of the best experiences of my life," Niego said at the time of his transfer. "After much thought, I have decided to look for opportunities that will allow me to have an expanded role on the court and one that will also pay for my education. I'm indebted to Coach Crean and the staff for believing in my ability and inspiring me every day to get better and to my teammates who will always be like family. It has been an honor to play for Indiana."
Filed to: Harrison Niego, James Blackmon Jr., Troy Williams, Yogi Ferrell