The Inside the Hall Mailbag: April 22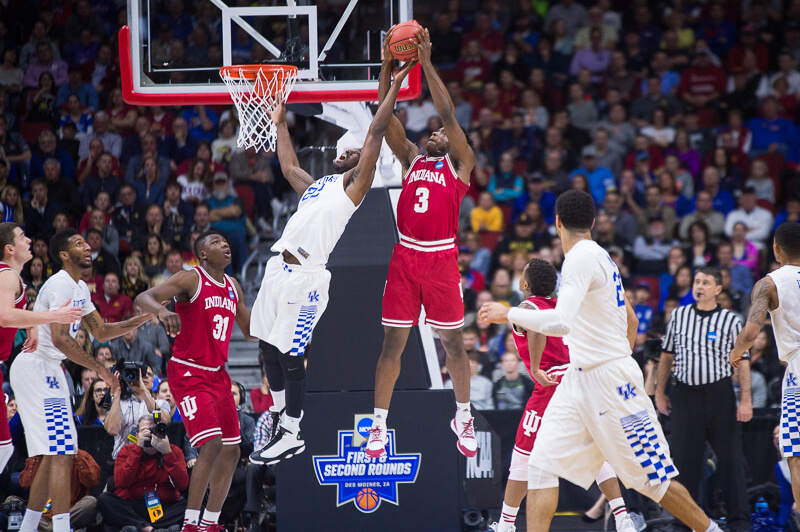 The Inside the Hall Mailbag is a collection of questions tweeted to us via Twitter (@insidethehall), via email, submitted on our premium forum and sent to us via our Facebook page. Submit your questions and we'll answer as many as we can.
THowenstine on the premium forum writes: Assuming that all BIG 10 players that have not hired an agent stay in college, and looking at the in-coming freshman, how would you rank the top 5 teams in the BIG 10 next year?
Starting off with a bang in this mailbag. I think the top three teams right now, in no particular order, are Michigan State, Indiana and Wisconsin. The Spartans lost a ton of pieces, but are adding the Big Ten's best recruiting class and the league's best coach, Tom Izzo, is still at the helm. Given your caveat, I'm assuming Nigel Hayes is back in Madison and if he is, the Badgers will have everyone of note back from a Sweet 16 team that improved as the season moved along. Indiana's roster, that will be headlined by Thomas Bryant, is well known around these parts.
Beyond that is where it gets tricky.
I'd probably have Purdue as the next team in line behind those three. I like what the Boilermakers are returning on the front line with Isaac Haas, Caleb Swanigan, Vince Edwards and they're also adding a nationally ranked point guard in Carsen Edwards.
The Maryland situation is complicated because of Robert Carter's decision to hire an agent. They're also losing Rasheed Sulaimon, Jake Layman and Diamond Stone. I still think the Terps could be in the top five if Melo Trimble returns and Mark Turgeon is able to pair him with Dion Wiley, Jared Nickens and others.
Michigan is another team that probably belongs in that top five conversation as the Wolverines will basically have every notable contributor of note returning besides Caris LeVert, who really had no impact last season due to injury.
And you can maybe throw Ohio State into the conversation because, despite all of the transfers, the Buckeyes are still likely to have JaQuan Lyle, Marc Loving, Keita Bates-Diop, Ja'Sean Tate, Trevor Thompson and Kam Williams on the roster.
To answer your question, I'll go Wisconsin, Indiana, Michigan State, Purdue and Michigan.
"WILL" take charge on the premium forum writes: Can we get a update on all the medical recoveries? RJ, JM, CH, and JBJ.
Robert Johnson and Juwan Morgan have already had offseason surgery. Johnson had a procedure on his left foot/ankle and Morgan had surgery on his left shoulder. There hasn't been any word as of yet on Collin Hartman and his wrist surgery that is planned.
James Blackmon Jr. told us during the NCAA tournament that he's ahead of schedule in his recovery and rehab, but isn't pushing anything with a long offseason ahead. I would expect him to be back to 100 percent in plenty of time for the start of the practice in the fall and to be heavily involved in offseason workouts.
bradandduncan on the premium forum writes: What will happen if Freddie McSwain wants to come to IU and Troy Williams want to come back? Not mentioning specific transfer obviously.
If Williams decides to come back and IU adds McSwain, the Hoosiers would be over-signed by one scholarship on paper. That would obviously mean that someone on scholarship would have to leave the program to get to 13 scholarship players on the roster by the fall.
That's not something I'd be too worried or concerned about at this point because McSwain has yet to decide between IU and Kansas State and with Williams on track to graduate in May, there's a solid chance he will opt to stay in the NBA draft. It seems like every year we have questions about the scholarship situation and every year, it gets worked out. This year seems a lot less complicated than some of the past years.
@corydalin on Twitter writes: Is it something or nothing that only 2 of last 15 commits (including 2017) for #iubb have been from Indiana?
Just my take, but I'm not a huge proponent of the belief that Indiana needs a certain number of players on every roster from the state.
Are there some kids that would have helped the program from the state in recent years that opted to go elsewhere? Absolutely. Is that fact that some kids have opted to go elsewhere from a lack of trying by the coaching staff? I don't think so at all.
The talent in the state is also a bit cyclical. In 2015, for example, there really weren't a ton of guys from the state who were high major Division I players. Indiana brought in Juwan Morgan, OG Anunoby and Thomas Bryant for its 2015 class. The top three players from the state in the class, according to ESPN's rankings, were Caleb Swanigan, Jalen Coleman-Lands (who Indiana recruited for a long time) and Davon Dillard. Indiana was better off with the class it brought in from elsewhere than it would have been staying in state.
In 2016, Indiana tried with Kyle Guy and Joey Brunk, but ultimately didn't land either. I don't think Curtis Jones and De'Ron Davis will disappoint anyone, though. Both are great kids who want to be at Indiana. Guy and Brunk are also outstanding kids, but obviously wanted to be elsewhere, so Indiana moved on.
2017 is obviously a talent rich year inside the state and Indiana has prioritized guys like Kris Wilkes, Paul Scruggs and Malik Williams and others for a long, long time. But as should be the case, the staff is also recruiting nationally because you can't afford to put all of your eggs in one basket and then miss. It's fine to go after certain players as your main targets, but you've got to have a backup plan.
tj21 on the premium forum writes: Why was Gelon not at the Derby Classic?
It's my understanding that the event organizers did not extend him an invitation to play. I know Devonte Green was invited to play, but opted to stay out east and play in the Jordan Brand Regional Classic, which was played the same day in the Barclays Center.
Maedhros on the premium forum writes: Assembly Call had Doc Libby on a show a few weeks back, and now they've got Kirk Haston on an upcoming episode. Great gets, though obviously Podcast on the Brink has been killing it as well. Jerod is involved with both, so I'm curious. What's the nature of the relationship between Assembly Call and Podcast on the Brink? How do you balance content between the two productions?
Jerod and I have a great relationship and have actually known each other since before he started The Assembly Call. Without going into too much detail or backstory, I actually started working with Jerod back in 2010 when he helped us migrate the site to a more powerful server after we crashed during the Cody Zeller announcement. At the time, Jerod was working for a company called Orangecast, which was later acquired by Rainmaker Digital, where he works now full-time as the VP of Marketing.
As far as the collaboration between the two sites, I've always respected what Jerod was doing with The Assembly Call and once Matt Dollinger and Greg Rosenstein moved on from hosting the podcast, I reached out to gauge his interest in hosting the podcast. He gladly accepted and his presence as host has taken the podcast to new heights.
In terms of the balance of content, we really haven't run into too many issues. I'm primarily in charge of booking the guests for Podcast on the Brink and Jerod, Andy Bottoms, Ryan Phillips and their interns run the show over at The Assembly Call. It's a great way for both sites to help promote one another and we've already got something else in the works for next season that will help us work together even more closely.
Geoff_85 on the premium forum writes: What are people close to the team saying about Josh Newkirk? He was with the team last season, and though he obviously couldn't play due to transfer rules, what impact will him being at Indiana for that season have on him in terms of chemistry and being ready to be a focal part of the offense next season?
From talking to those close to the team throughout the season, there are a few things that stick out in terms of what to expect from Newkirk.
Indiana feels like he's going to be a very good defender, a solid distributor and a hard nosed presence in its backcourt next season. He's 100 percent cleared in terms of his health, so it's an important offseason for Newkirk to get even more acclimated into his role and get more familiar with his teammates. He's already got experience playing at the highest level of college basketball in the ACC and also got NCAA tournament experience at Pittsburgh.
Having a season to sit out and learn the system and watch closely from the sidelines should be a huge boost in getting him up to speed to play a major role next season.
@Farmer35Zach on Twitter writes: Who do you see as the leading candidate for starting point guard next year?
Might be a "by committee" approach, as Mike DeCourcy suggested on his recent appearance on Podcast on the Brink. I think both Robert Johnson and James Blackmon Jr. will start, so the question is: will Newkirk start in the backcourt or will he come off the bench?
I tend to think Newkirk will come off the bench and Indiana will start Johnson, Blackmon Jr., Collin Hartman, Bryant and then one of De'Ron Davis, OG Anunoby or Juwan Morgan. In that scenario, Johnson and Blackmon Jr. would probably split the duties, but I'd call Johnson the point guard.
kmark22 on the premium forum writes: Do you expect IU to change their style of play next year with the addition of bigger players and less speed losing Yogi and maybe Troy Williams?
Indiana is still going to shoot (and make) a lot of 3s and avoid taking long 2-pointers as it did this past season. I think the defensive identity may be a bit different and the Hoosiers may be even better on that end of the floor because of their size and length.
Johnson, Anunoby and Morgan are all plus defenders and Davis is a very good shot blocker. Blackmon Jr. obviously has room to grow and the early reports on Newkirk are that he'll be a good defender, but the pieces exist to pressure the ball even more and IU should have good rim protection with Anunoby, Morgan, Davis and Bryant.
Indiana's offense is going to take a step back because of the loss of Yogi Ferrell, Nick Zeisloft and Max Bielfeldt, who were all high efficiency offensive players, but if the Hoosiers can make up some ground defensively, this team will have a chance to contend for another Big Ten crown.
Filed to: Collin Hartman, Deron Davis, James Blackmon Jr., Juwan Morgan, Robert Johnson, Thomas Bryant