Roundup: Way-too-early preseason top 25s for 2016-2017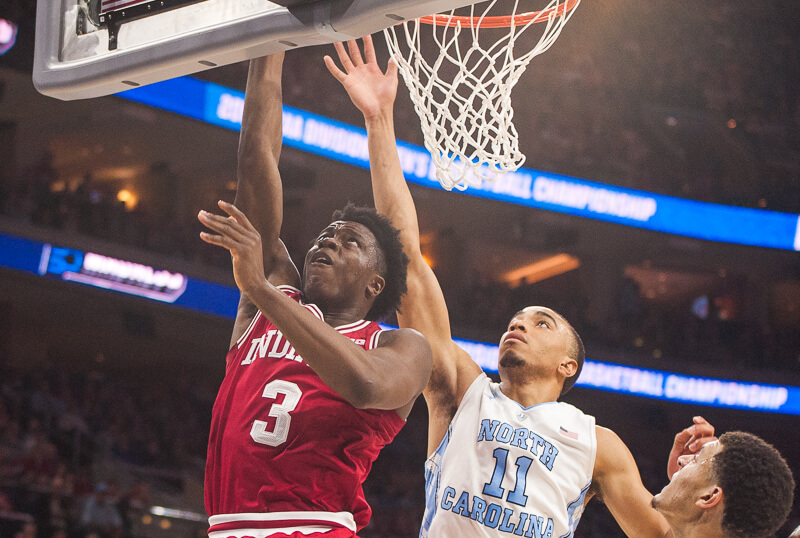 Following a 27-8 campaign that included an outright Big Ten championship and a trip to the Sweet Sixteen, Indiana will be looking to build on this season's success next winter.
There are, however, plenty of questions to be answered with next year's roster. How will IU's retooled backcourt look without Yogi Ferrell and Nick Zeisloft? Will Thomas Bryant or Troy Williams be on next year's team? What kind of sophomore leap will OG Anunoby take? Those are just a few questions that will be addressed over the coming weeks and months.
The uncertainty, however, hasn't stopped the national media from having a bullish outlook on the Hoosiers for the 2016-2017 season. Several early preseason top 25s are out and we've rounded up those rankings below:
ESPN.com's Eamonn Brennan: No. 8
Indiana won the Big Ten title outright and beat a Kentucky team many (rightfully) considered a national-title contender en route to a Sweet 16 finish. It was a resounding, narrative-flipping season built in large part on the brilliant work of Yogi Ferrell, who now leaves Bloomington as one of the most productive guards (and players, period) in school history. The return of guard James Blackmon Jr. from injury is among the many reasons to stay bullish on the Hoosiers. Robert Johnson, Collin Hartman, and OG Anunoby, a basketball cyborg incrementally approaching self-awareness, are also on that list. The draft, in the end, might be the difference: If neither Troy Williams nor Thomas Bryant return — the latter especially — the Hoosiers will be a fun, competitive Big Ten team. If either comes back, or both, title contention is totally in play.
Jeff Eisenberg of Yahoo! Sports: No. 9
Outlook: Indiana is likely to contend in the Big Ten again next season, but how good the Hoosiers can be may depend on how many of their frontcourt standouts return. Bryant and Anunoby both have first-round potential but could potentially improve their stock by returning, while Williams' athleticism should at least get him some looks if he chooses to forgo his senior season. If even two of those three return, Indiana will be loaded in the frontcourt as Hartman, Morgan and the promising freshman Davis will also be available and capable of making an impact. There's no single player who will replace everything that Ferrell did for Indiana this past season, but Indiana has options in the backcourt too. Newkirk, a Pittsburgh transfer, should compete for playing time at point guard with Johnson. A healthy Blackmon is likely to start at wing and Jones should also see playing time as well.
Gary Parrish of CBSSports.com: No. 12
12. INDIANA

· Notable players definitely gone: Yogi Ferrell, Max Biefeldt, Nick Zeisloft
· Others expected to leave: Troy Williams
· Notable players we expect to return: Thomas Bryant, OG Anunoby, James Blackmon, Robert Johnson, Collin Hartman, Juwan Morgan
· Others we expect to join the roster: Josh Newkirk, De'Ron Davis, Curtis Jones, Grant Gelon, Devonte Green

Why the Hoosiers are ranked here: This ranking is based on Thomas Bryant returning to school, which is obviously still up in the air. But even if Bryant leaves, Tom Crean will have enough pieces to keep the Hoosiers competing at, or near, the top of the Big Ten.
Why they're here: It's hard to know exactly where to rank Indiana right now. If Williams, Bryant and Anunoby all return — which is certainly possible — the Hoosiers deserve to be in the discussion for a spot in the top three. If all three leave — which doesn't seem likely — they'd be a bit further down in the top 25. So we'll put Tom Crean's team here for now, knowing they'll score a ton of points regardless and knowing that De'Ron Davis (a 6-9 recruit) will make an immediate impact next year, too.
Why They're Here: Best-case scenario, the Hoosiers return a good core led by Troy Williams and Thomas Bryant. Worst-case scenario, they return talented pieces but lose both Williams and Bryant to the NBA. Both have a chance at getting drafted in the first round, so the worst-case scenario is a possibility.

But even if those two do leave, the Hoosiers still have the talent to be a top-25 team with James Blackmon returning and OG Anunoby continuing to get better. It will be tough to replace Yogi Ferrell at point guard, but Robert Johnson is capable of playing the point, and head coach Tom Crean does a good job of putting his scorers in position to succeed.
Rob Dauster of NBCSports.com: No. 21
21. Indiana

· Returning: James Blackmon Jr., Troy Williams, Robert Johnson, O.G. Anunoby, Juwan Morgan
· Newcomers: Josh Newkirk, De'Ron Davis, Grant Gelon, Devonte Green, Curtis Jones
· Why they're here: The Hoosiers are another team that is very up in the air at this point. Will Williams, Anunoby and Thomas Bryant be back? Can anyone replace Yogi Ferrell at the point?
Do-everything floor general Yogi Ferrell is gone, but Tom Crean will keep Indiana in the Big Ten race. Remember doubting them last season when second leading scorer James Blackmon Jr. went down for the season? It's not recommended to count out the Hoosiers in 2016-17, either. Like other teams, the outlook is uncertain until NBA decisions happen. Troy Williams (13.3 ppg, 5.8 rpg) and Thomas Bryant (11.9 ppg, 5.8 rpg) both will test the waters. If either or both return, it'd be a big boost for Indiana, which will need to see reserves step up and Blackmon Jr. to become an even bigger star.
Defections by James Blackmon, Thomas Bryant, Troy Williams and O.G. Anunoby (or just a couple of them) could knock Indiana down a few rungs when these rankings are updated in May, but for now, the pieces are there for the Hoosiers to build on their 2015-16 accomplishments. If everyone comes back, the reigning Big Ten regular season champs could very easily start next season somewhere in the top 10.
11. Indiana (27-8, Lost in Sweet 16): The school's career assist leader, Yogi Ferrell, graduates. (Rising junior Robert Johnson – 8.1 ppg, 3.1 apg – will replace him.) Will Troy Williams leave for the NBA? Center Thomas Bryant might. If both stay, the Hoosiers will have Top 10 potential all season (the guess here is both leave). Keep an eye on OG Anunoby as a breakout star on the team next year, along with James Blackmon, who missed most of the 2015-16 season due to injury. Tom Crean landed two Top 50 recruits: F De'Ron Davis and G Curtis Jones.
Losing Yogi Ferrell robs IU of its leader, but Thomas Bryant and Troy Williams are huge talents, and a healthy James Blackmon Jr. will give IU a solid scorer. Freshmen De'Ron Davis and Curtis Jones will make an instant impact, and this team will get a boost from Pitt transfer Josh Newkirk.
Filed to: 2016-2017 season preview