The Minute After: Chattanooga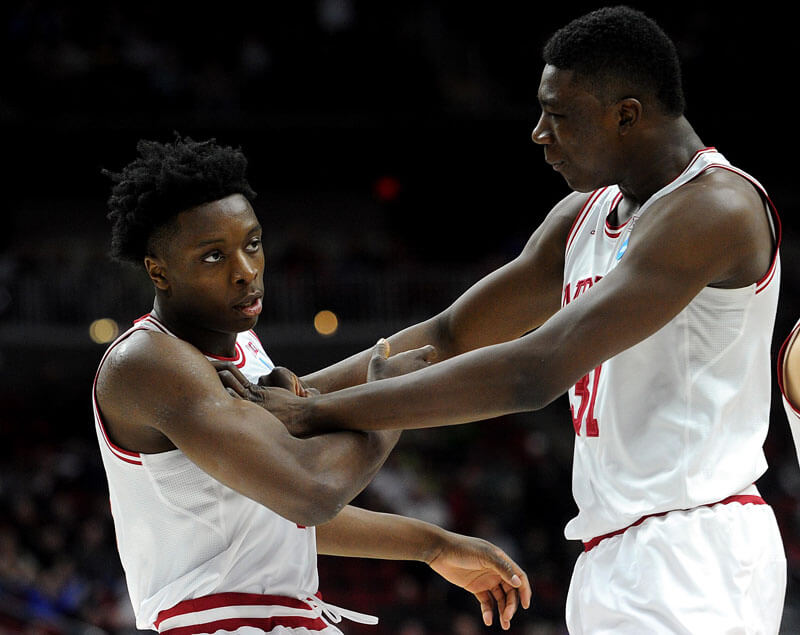 Thoughts on a 99-74 win over the Mocs:
Save for some dumb passes and allowing a little too much penetration at times, the Hoosiers played a solid enough first half in Des Moines against the Mocs. Was it their best half of the season? No.
But punching the lead out to 16 (46-30) before settling on a nine-point halftime advantage (46-37) was an encouraging sign after their loss to Michigan on Friday in the Big Ten Tournament. Scoring 1.27 points per possession with 24 points in the paint and a 4-of-8 mark from distance did the trick, too. Still, you didn't quite feel like Indiana was in full control of this one. The Mocs — with 29 wins coming into the contest including some impressive road wins — didn't look like a team that was going to roll over and die.
Indiana would need to keep it going and then some if it was looking for a comfortable victory. And that the Hoosiers certainly did.
Yogi Ferrell gathered his teammates for a spirited huddle as the second half began and his play over the final 20 minutes was that of a man on a mission. Ferrell hit 4-of-6 from the field — including three from 3-point range as well as a filthy step back long 2 — for 13 points. Indiana's senior leader also dished out six assists after the break and finished with 20 points and 10 assists — his first 20-10 game of his illustrious career.
His play led Indiana to an absolute throat-stomping of the Mocs as a cast of characters got involved in the 25-point slaughter. Freshman OG Anunoby (14 points, 6-of-7) had 10 points in 15 second half minutes including two triples and a second breakaway steal and 360 finish after a fun one in the first half. Troy Williams was in get mine mode for much of the contest (as Tom Crean told him otherwise) and played just nine minutes in the second half. He finished with a team-high four turnovers due to overdribbling, though he also sported a team-high eight rebounds and chipped in 12 points to boot.
This was Anunoby's second straight game scoring double digits after his 13-point performance against Michigan on Friday and he's now 12-of-13 over Indiana's last two contests. The freshman also continues to bring stellar defense. It'll be interesting to see how Crean distributes minutes between the two on Saturday — regardless of how Williams plays. Anunoby has simply been to good to keep on the bench for long.
Thomas Bryant, forced to the bench with two early fouls, was a perfect 4-of-4 (nine points) from the field in 10 minutes of action after the break. Robert Johnson was a perfect 2-of-2 to go along with two assists. Johnson didn't start the contest, but played 22 minutes, scored seven points and dished out six assists. He seems ready to step back into the starting lineup Saturday if need be based on how he was moving and playing tonight.
As the dust settled on the second half, the Hoosiers put up some silly numbers. They shot 69 percent from the field and 66.7 percent from 3-point land for an effective field goal percentage of 73.7. By game's end they'd amassed 1.38 points per possession and left little doubt who the better team was.
The road gets much harder from here if Kentucky wins later tonight, but this evening's performance was about as good of a start to the tournament as Indiana could have hoped for. When the Hoosiers' offense goes this well, they're a tough out.
Bring something close to this Saturday and a third trip to the Sweet Sixteen in the Crean tenure is well within Indiana's sights.
(Photo credit: Steven Branscombe-USA TODAY Sports)
Filed to: 2016 NCAA tournament, Chattanooga Mocs