Roundup: National writers weigh-in on IU's tournament chances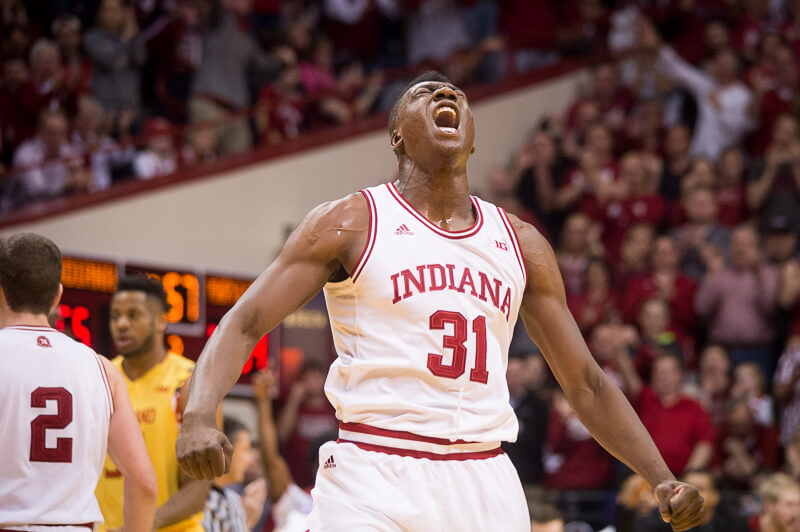 After falling to Wichita State in the 2015 NCAA tournament in Omaha, Indiana is back in the field in 2016 and tips off Thursday evening at 7:10 p.m. ET against Chattanooga at Wells Fargo Arena in Des Moines.
Here's a roundup of what writers from around the country are saying about IU's chances in March Madness:
· Eamonn Brennan of ESPN.com took a look at all 68 teams in the field and ranked the Hoosiers at No. 14:
On Dec. 2, after losses to Wake Forest and UNLV in Maui, Indiana allowed 92 points in 62 possessions at Duke. No hyperbole required here: It was the worst defensive performance by any team in at least five years. Three months later, the Hoosiers were the outright Big Ten champions. Tom Crean has done a remarkable job turning his once offense-only team into one of college basketball's most well-rounded, and formerly disconsolate Hoosiers fans are allowing themselves to dream of a return to the Final Four. Go figure.
· Myron Medcalf of ESPN.com has the Hoosiers on upset alert against Chattanooga:
The Hoosiers are a talented program; that Big Ten title proves as much. Tom Crean's squad could advance to the second weekend and perhaps beyond that. But Chattanooga has forced turnovers on 20.3 percent of its opponents' possessions (54th per KenPom.com). Interesting because the Indiana team it will see in the first round has committed turnovers on 19.8 percent of its possessions (283rd). Now, that doesn't mean Chattanooga can stop this Indiana offense or withstand the Big Ten's third-ranked per-possession defense. But this could be an interesting game.
· Five Thirty Eight published an interactive bracket with their calculated odds by round, giving Indiana an 88% chance of reaching the second round.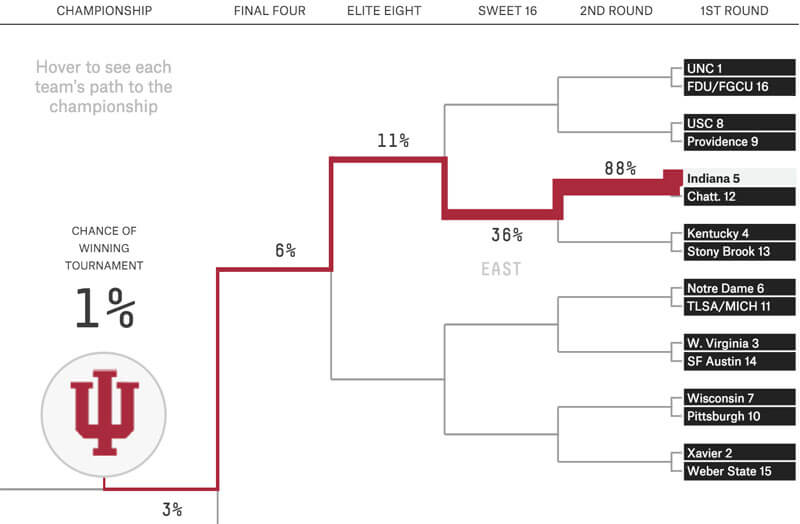 · Ken Pomeroy has a similar exercise that gives Indiana a 1-in-62 chance of winning the tournament: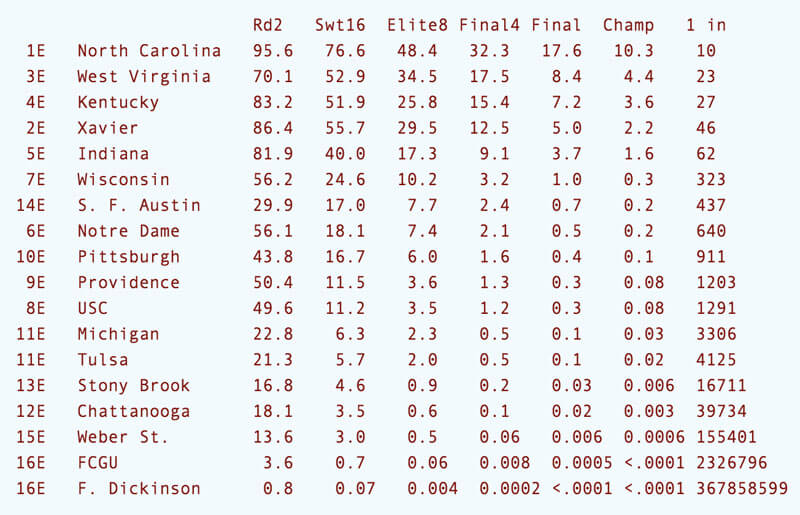 · Sports on Earth ranks Chattanooga over Indiana as just the 20th most likely first round upset:
Everybody wants the second-round Kentucky vs. Indiana matchup, but the Hoosiers are going to have to get past the Mocs first. The 29-5 Mocs already beat Georgia, Illinois and Dayton, and despite its regular-season Big Ten title, Indiana has three loses to teams ranked outside the KenPom 100 (Wake Forest, UNLV, Penn State). The Hoosiers haven't made a deep tournament run since losing the national final in 2002, and there's certainly pressure on Tom Crean to make a run now, especially in the senior season for guard Yogi Ferrell. The good news? Indiana's defense improved over the course of the season, and a team like Chattanooga is going to have a difficult time keeping up with IU's high-powered offense.
· CBS Sports ranked the NCAA tournament teams 1-to-68 and put Indiana at No. 12 (the Hoosiers were No. 15 on the official S-Curve):
12. Indiana: The Hoosiers started slow this season, but completely changed their defensive makeup and became one of the 10 best squads in the nation. Yogi Ferrell is among the best point guards in the country, and Thomas Bryant and Troy Williams will be drafted.
· Pat Forde of Yahoo! Sports lists Troy Williams as one of his X Factors for March Madness in Forde Minutes:
Troy Williams (37), Indiana. Extraordinary athlete who has upped his intensity and focus late in the season, helping turn the Hoosiers into Big Ten regular-season champions. But he's also capable of wanton carelessness with the ball, committing a turnover every 10 minutes of playing time. (That's a lot for a forward.)
· Jay Bilas of ESPN believes Indiana will get past Chattanooga:
The Hoosiers left corner shooters open against Michigan and lost. Still, Indiana is a capable team in NCAA tournament play. Yogi Ferrell is one of a handful of the best point guards in the country, and Indiana scores 119.5 points per 100 possessions, the most efficient offense in the nation. Ferrell (17.1 PPG, 5.5 APG) is on pace to be the only Indiana player to average at least 15 points and 5 assists per game in the past 20 seasons. Ferrell is Indiana's all-time leader in assists (607). Ferrell has recorded an assist in every game of his college career. Indiana will be able to get past Chattanooga to advance to the second round.
Filed to: 2016 NCAA tournament