First look: Chattanooga Mocs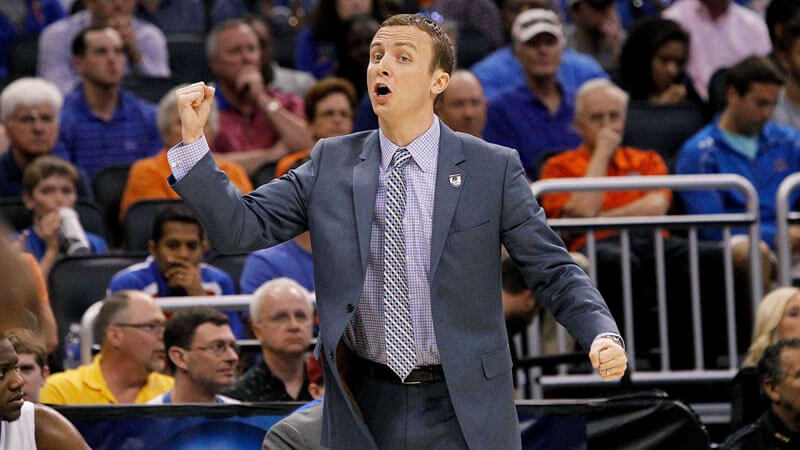 Indiana will face Chattanooga in the first round of the NCAA tournament on Thursday in Des Moines, Iowa at Wells Fargo Arena. We'll have our in-depth What To Expect preview later in the week, but here's a first look at the twelfth-seeded Mocs.
First year coach Matt McCall, a Florida graduate and a member of the Billy Donovan coaching tree, won both the Southern Conference regular season and tournament championships at just 34 years old. This is the 11th NCAA tournament appearance all-time for Chattanooga and the first for the program since 2009.
In terms of the rankings, Indiana drew the least formidable of the No. 12 seeds on paper. The Mocs are No. 109 in the Sagarin Ratings and No. 107 in the KenPom ratings. The other 12 seeds in the tournament: Yale (56 Sagarin, 38 KenPom), Arkansas Little Rock (71 Sagarin, 47 KenPom) and South Dakota State (86 Sagarin, 80 KenPom).
Chattanooga finished the season 29-5 with an impressive record in conference of 15-3. In non-conference play, the Mocs beat Georgia, Illinois and Dayton on the road, an impressive trio of wins for a mid-major program. They also played at Iowa State – a 20-point loss – and fell on the road to Louisiana Monroe. Both Indiana and Chattanooga played Kennesaw State at home with the Hoosiers beating the Owls by 27 and the Mocs prevailing by 12.
"They open up the season winning at Georgia. They've won at Illinois. They've won at Dayton," Tom Crean said on Sunday evening. "We saw them on film early in the season when we played Kennesaw State. That was our common opponent outside of Illinois. You can't help but follow a team throughout the year. I haven't seen them play a lot during the year. I will tonight, but a team that wins 29 games and wins in the league the way they did, you have to have great respect for that and we do."
So why was Chattanooga able to rip through its conference so easily? The Mocs were terrific at forcing turnovers and getting to the foul line.
Chattanooga forced the most turnovers of any SoCon team (20.7 turnover percentage). That was in addition to taking the care of the ball better than all but one of its conference foes. The Mocs are going to bring defensive pressure at Indiana early and often and as we've seen, if the Hoosiers are turning it over, it can be highly detrimental to their success.
"We've handled pressure all year. We practice it and we prepare for pressure," Crean said. "We don't play (against) it as much, but we prepare for it. We see it. I don't think it's going to be a lot different than seeing Iowa's press and things like that. But they have the ability to do different things."
In addition to the turnovers, Chattanooga posted a ridiculous in-conference free throw rate (FTA/FGA) of 49 percent. And when the Mocs got to the line, they hit close to 75 percent of their attempts in league play.
Perhaps more impressive is Chattanooga really doesn't foul much for a team that relies on pressure to force turnovers. Chattanooga ranked first in its league in opponent free throw rate at just 30.2 percent. In order to avoid the upset, Indiana can't afford to let Chattanooga finish with a large advantage from the free throw line.
We'll dig into the remainder of the roster later in the week in What To Expect, but two players stand out in our initial look at the Mocs. SoCon defensive player of the year Justin Tuoyo, a redshirt junior who played one season at VCU, was a monster in league play in terms of getting to the foul line. The 6-foot-10 post player took 141 free throws in 18 conference games. He was also the league's second best shot blocker (9.9 block percentage) and was seventh in offensive rebounding percentage (10.7).
Junior forward Tre' McLean is an efficient offensive player that can rebound it on both ends, hit free throws, finish relatively well and also step out and hit the 3. McLean was the 10th best defensive rebounder in the SoCon, made 53.3 percent of his 2s and 40.9 percent of his 3s.
Indiana's draw will be a big topic of discussion this week as the Hoosiers, the outright regular season Big Ten champs, didn't even receive a protected seed and drew the task of a likely matchup with Kentucky if they can get past Chattanooga.
The early lines expect to see that IU-UK matchup on Saturday as the Hoosiers opened as an 11-point favorite in Vegas and are now up to 12 in some books. KenPom also has IU as a solid favorite as his model predicts a 9-point win and an 82 percent chance of moving to the round of 32. FiveThirtyEight also likes IU to win a game as its odds currently give the Hoosiers an 88 percent chance of moving on past the Mocs.
Filed to: 2016 NCAA tournament, Chattanooga Mocs