Indiana prepares for first round match-up with Chattanooga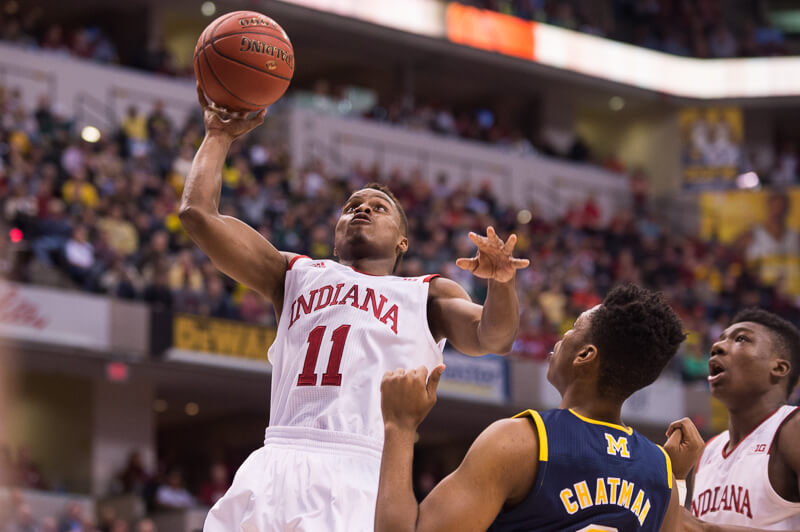 After a stunning loss to Michigan in the Big Ten tournament, Indiana is back to work. After learning their NCAA tournament pairing on Sunday evening, the Hoosiers are preparing for a match-up with Chattanooga, the No. 12 seed in the east regional.
IU is the No. 5 seed – a spot that isn't quite as high as many expected, including Tom Crean.
"I was smart enough to bring our Big Ten Championship trophy into the team room," Crean said. "I'm glad it was down there because we needed a quick visual reminder that we were a Big Ten champion. So I'll leave that for other people to talk about."
The game is set for 7:10 p.m. ET on Thursday in Des Moines, Iowa. It will be televised by CBS.
Chattanooga is 29-5 overall and went 15-3 in the Southern Conference. The Mocs picked up several nice non-conference wins, namely over Dayton, Georgia and Illinois, all on the road. They lost by 20 on the road at Iowa State.
"What we know about Chattanooga is that they have been battle tested," Crean said. "There is no question about that, not only in their league but from the very beginning. (First year coach) Matt McCall has got a great background at Florida with Billy Donovan and took over the job at Chattanooga with a veteran team and has done an outstanding job."
Chattanooga ranks No. 53 in RPI and No. 92 in BPI. In KenPom.com's rankings, the Mocs are No. 107.
They average 75.8 points per game, and are led by juniors Tre' McLean and Justin Tuoyo who average 12.3 and 11.1 points per contest respectively. McLean was named first team All-Southern Conference and Tuoyo was the SoCon defensive player of the year – his second time winning the award.
"We're only guaranteed one game right now, and that's against Chattanooga Thursday night," Crean said. "So that's the most important thing and the only thing we'll get ready for."
Chattanooga will run a press periodically throughout the game, but Crean says he thinks his squad handles pressure well and doesn't think it would be too different than handling a press similar to Iowa's.
"They're definitely not going to get overlooked at all," Max Bielfeldt said. "You can't at this point of the year. You've got to give everything you've got scouting and learn them like the back of your hand."
Looming potentially in the second round is a date with No. 4 seed Kentucky. The two schools have not met since the 2011-12 season when Indiana beat Kentucky at Assembly Hall before the Wildcats got revenge in the Sweet 16.
Crean says he isn't going to worry about Kentucky until his team gets by Chattanooga.
"The key ingredient I would say is to play every game like it's your last," Yogi Ferrell said. "You never know what stop in the game is going to be the one for you to win the game. Just got to have the mindset, got to be connected. You've got to have great fundamentals."
Ferrell also said he believes the chemistry of this season's team will go a long way in being able to make a run. He said the guys on the team this year seem to want everything more and are willing to fight for their teammates.
Bielfeldt is another guy that brings previous tournament experience, and will be counted on to help the younger players.
"You've got to be that team that can withstand more of the pressure than the other team," Bielfeldt said. "When things really get crazy instead of breaking you come closer together and you really just play as one offensively, defensively, and that's when you really get it going."
Filed to: 2016 NCAA tournament, Chattanooga Mocs