Seniors sent off as winners with 80-62 rout of Maryland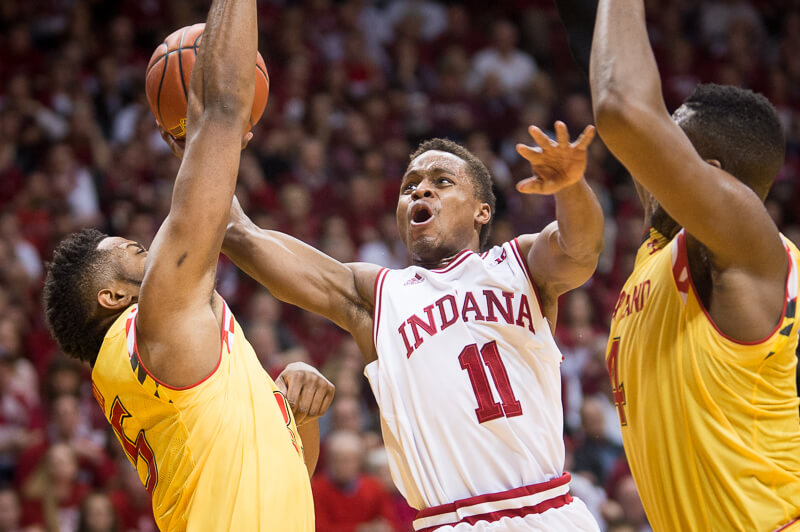 Following Indiana's win over Iowa last Tuesday, Tom Crean told his team in the aftermath that they would not lose on senior day.
Despite the tall task of facing No. 14 Maryland to finish the regular season, Indiana took care of business with ease on Sunday at Assembly Hall. The Hoosiers crushed the Terps, 80-62, to complete a perfect 17-0 season at Assembly Hall.
The Hoosiers finished the regular season 25-6 and 15-3 in the Big Ten, winning the conference by two full games.
The win sent the five seniors, Yogi Ferrell, Max Bielfeldt, Nick Zeisloft, Ryan Burton and Jackson Tharp out as winners in their final game in Bloomington.
It also continues the momentum has built heading into tournament play. Winners of five in a row, IU will enter the Big Ten tournament in Indianapolis as the No. 1 seed and play the winner of Michigan and Northwestern on Friday.
Indiana started slow, falling behind by eight in the early going, but battled back behind the team's 3-point shooting to storm out to a 13-point halftime lead – capped off by a buzzer-beating three from Troy Williams. Williams led all scorers with 23 points, and also grabbed five rebounds.
"I'm really proud of the way these guys had tremendous focus," Crean said. "Because senior night can go so many directions and the emotions can overtake it."
It was a game of highlight plays – many of which were sparked by seniors. Ferrell made a number of flashy passes, but none better than his rocket in the first half from the baseline out to Zeisloft who made the 3-pointer. Zeisloft himself made perhaps the play of the day, saving a steal from going out of bounds and throwing it no-look down the court to a streaking Juwan Morgan for a score.
With an already energetic crowd, it didn't take much for fans to explode in excitement.
"This team responded today, the way they have throughout much of this season," Crean said. "They played with tremendous resiliency and their mental toughness is gaining, they're getting better, I think there's room for them to continue to improve."
Juwan Morgan injured again
Late in the second half, freshman Juwan Morgan reinjured his left shoulder and had to be helped back to the locker room by strength and conditioning coach Lyonel Anderson and the team medical satff.
He did not return, but did join his teammates on the floor for senior speeches and the Big Ten regular season championship trophy presentation.
"He's in good spirits, but he's sore," Crean said postgame. "We've been down this road, like I said, before. We'll get an update here in a little bit."
Robert Johnson, who did not dress, continues to rehab from a high ankle sprain, but did not wear a walking boot during the game.
Seniors speeches
After the game, the five seniors each gave their senior day speeches. (Watch the speeches here.) Tharp went first, and highlighted the other managers and saying the team is built on God, family and hard work.
Burton went second, and praised his coaches, including his high school coach for putting him in the spot he's in today.
Bielfeldt went third and led off by saying "it's pretty fun to be a Hoosier". He followed that up by thanking his family and laughed as the IU students cheered for his sisters. Bielfeldt has now won three Big Ten title with the first two coming at Michigan.
Zeisloft told a story from the locker room after Maui, where Crean told the team they were playing at Indiana instead of for Indiana. Zeisloft said that struck he and his teammates, who turned it around.
"Every one of us now plays for Indiana," Zeisloft said.
Last but not least was Ferrell, who thanked the coaches, fans and his teammates. He said the reason he came back was to win a championship, and hopes IU isn't done yet.
Filed to: Juwan Morgan, Maryland Terrapins, Nick Zeisloft, Yogi Ferrell