The Minute After: Iowa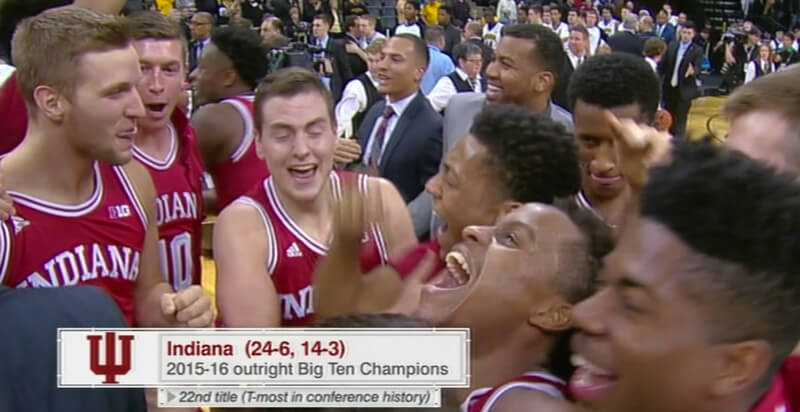 Thoughts on an 81-78 win in Iowa City:
Up three with just over a minute to go in the first half, and here was Indiana's lineup: four freshman (Harrison Niego, OG Anunoby, Juwan Morgan, Thomas Bryant) and a redshirt senior (Nick Zeisloft). The Hoosiers were saddled with foul trouble as starters Collin Hartman (three fouls), Troy Williams (three fouls) and Yogi Ferrell (two fouls) watched from the bench.
Niego entered the ball to Bryant near the left high post. Bryant barreled his way into the lane, jumped up from 10 feet out and scored with his right hand over Ahmad Wagner. Indiana went up five.
On the other end of the court, Anunoby split a double screen from Wagner and Dom Uhl like a running back finding a seam in his offensive line as they tried to free Peter Jok. Anunoby met Jok and gave him trouble on the left wing. Jok eventually took a contested long 2 over Anunoby's length that missed.
Bryant got the rebound and Tom Crean came out on the court barking orders for Indiana's last possession of the half. Niego dribbled and dribbled near the left hash mark.
"Huge possession right here," said Dan Dakich on a night he continued to effuse praise for the Hoosiers.
Zeisloft listened to the bench and directed some action for Indiana's set from the right wing. Eventually, Niego got a ball a screen from Juwan Morgan and took it to the paint. Zeisloft got the pass on the right wing. He moved towards the top of the key, got Jok in the air on a ball fake and then shot a 3-pointer as Jok looked on from behind him. Splash.
Wagner would get a tip-in with three seconds remaining to cut IU's lead to six at half (47-41), but this unconventional Hoosier lineup extended the lead heading into the break.
That's just been Indiana this Big Ten season — finding ways to get it done no matter the lineup.
James Blackmon Jr. goes down and the Hoosiers don't flinch. Lose Robert Johnson to an ankle injury? Win back-to-back road games to clinch an outright Big Ten championship. Fans were reading Crean his death rites after the Duke loss on Dec. 2. They're showering him with praise now.
"I love them as much as I did in the Duke locker room," Crean said about his team after tonight's win, moments after he cried addressing them in the locker room. "I believed in them then as I do now."
The Hawkeyes were the darlings of this league for several weeks, but it's Indiana that now stands alone on top of the conference for the second time in four seasons after tonight.
How sweet it is.
Yes, Iowa mounted a furious comeback on a night it looked like Indiana was headed for a blowout victory after getting up 14 points. The Hawkeyes even took the lead at 74-72 with 4:27 to go.
But when it mattered, Ferrell, Indiana's stone cold senior point guard that came back this year for one last go round, hit a nasty stepback 3 from the left wing. It came with 37 seconds left and the shot clock winding down to put Indiana up five.
Jarred Uthof, the favorite for Big Ten Player of the Year not that long ago, tried to match him with a 3-pointer on top of the key on Iowa's side of the court. It missed.
It was a fitting symbol of the Big Ten sea change over the last few weeks. Indiana in for Iowa for the Big Ten crown. And maybe, just maybe, Ferrell getting the nod for player of the year.
Some weirdness down the stretch made things interesting, but Indiana secured the victory after Jok's game-tying corner 3 attempt fell short.
This group has shown tremendous resolve and mental toughness. There is a togetherness and selflessness to these Hoosiers. A love, even. And they've gotten much better on defense after a disastrous start on that end of the court threatened to derail a once promising season. After Indiana's loss to UNLV in Maui, Crean told an old friend "we'll get this fixed."
Few would have believed that at the time.
Do you believe now?
Filed to: Iowa Hawkeyes