Five takeways from Indiana's win at Iowa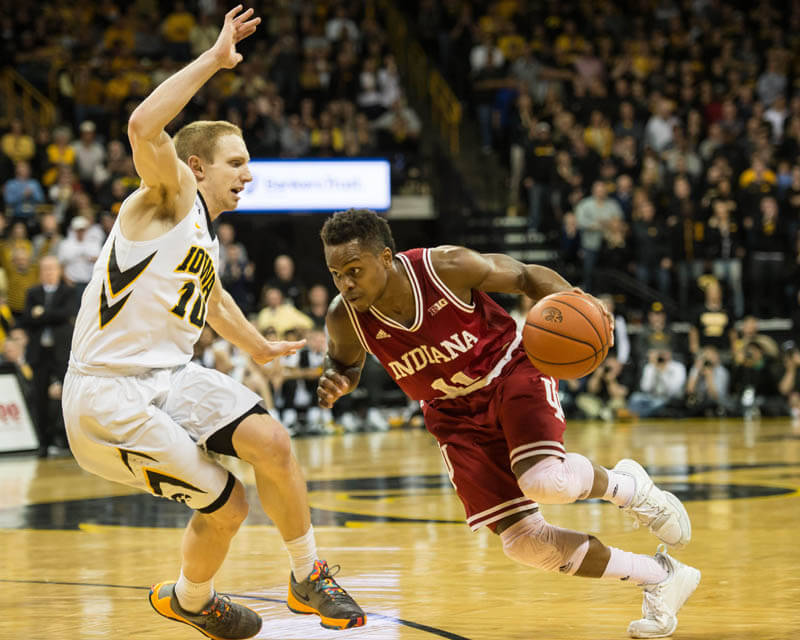 IOWA CITY, Iowa – Indiana claimed the Big Ten title outright on Tuesday night in a thrilling 81-78 win over Iowa at Carver Hawkeye Arena. It was the fourth straight win for the Hoosiers, moving them to 24-6 overall and 14-3 in league play.
Here's a look at five takeaways from the win over the Hawkeyes:
· Ferrell delivers big shot in the clutch: Leading 77-75 with just under 40 seconds to play, Indiana needed it best player to make a play in order to emerge victorious.
And that's exactly what happened when Yogi Ferrell took two dribbles left, stepped back and buried a 3-pointer in the face of Iowa's Mike Gesell. It was the the biggest shot for Ferrell to-date in an Indiana uniform and it was a big reason why the Hoosiers were able to win the league outright on the road.
"It was winding down in the shot clock, I felt like Gesell's hands were down," Ferrell said afterward. "And I felt like I had the open 3 and I shot it.
"I missed a couple of close ones throughout the game, so I knew I had to make one for us."
· A total team win: As brilliant as Ferrell was in delivering 20 points and five assists in 37 minutes, Indiana's offense came from a variety of places on Tuesday night.
Four players finished in double figures including Troy Williams, who scored 15 and continues his string of strong play following IU's loss at Michigan State. Thomas Bryant contributed a double-double with 12 points and 10 rebounds and Nick Zeisloft again filled in nicely for Robert Johnson with 11 points, including 3-of-4 on 3s.
In total, eight different IU players scored and five different Hoosiers each hit a pair of 3-pointers as the rotation of players on the floor was frequent due to foul trouble.
"They do a good job moving the ball," Iowa coach Fran McCaffery said. "And they're a hard team to defend because they have drivers and shooters and they share the ball."
· IU wins points off turnovers, second chance points battle: Two key team stats went the way of Indiana in the win.
IU scored 18 points off of nine Iowa turnovers, which is a huge number. And the Hoosiers made the most of the 11 offensive rebounds they grabbed to finish with 14 second chance points.
For comparison's sake, Iowa scored just seven points off of Indiana's 13 turnovers and just seven second chance points off of 18 offensive rebounds.
· Defense limits Uthoff and Jok: McCaffery said postgame that his team simply didn't make shots, but Indiana's defense had plenty to do with that.
Jarrod Uthoff finished with 18 points, but was just 5-of-17 from the field. Peter Jok didn't get anywhere close to his 18.4 per game average in league games as Ferrell limited him to 3-of-11 shooting for eight points.
The overall points per possession number for Iowa (1.10) was an improvement from the first contest when the Hawkeyes torched the Hoosiers for 1.21 points per trip in Assembly Hall. But a healthy amount of the offensive production was aided by trips to the free throw line as Iowa drew 25 fouls and scored 18 points from the line.
· This team's togetherness was on full display in the aftermath of the win: Indiana hasn't done much talking about where it stands in the league or nationally this season as it has remained focused on improvement.
Given where this team was in early December after an embarrassing loss to Duke at Cameron Indoor Stadium, it finally had a chance to celebrate what it has accomplished since late December.
There were hugs, high fives and plenty of smiles in the immediate aftermath that spilled all the way back to the locker room area and inside of it. And who can blame these Hoosiers for enjoying the moment?
The national media will write that Indiana won the Big Ten with an easy schedule, but the reality is that you can only beat the teams put in front of you. At 14-3 with six road wins in league play, Indiana is the outright regular season champion in the Big Ten, a feat that no one would have thought possible just a few months ago.
(Photo credit: Jeffrey Becker-USA TODAY Sports)
Filed to: Iowa Hawkeyes, Yogi Ferrell