The Minute After: Illinois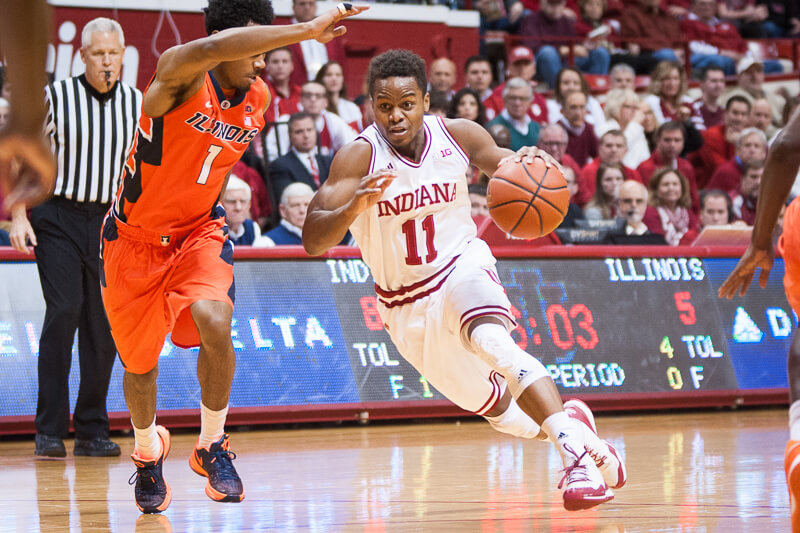 Thoughts on a 74-47 win over the Illini:
The first half at the State Farm Center was one to forget. Not only did the Illini assert their gameplan on Indiana and bust out to a 14-4 lead as the Hoosiers struggled on both sides of the ball, but it was also an ugly half of basketball.
The Hoosiers turned it over 25 percent of their possessions. They shot just 3-of-15 from 3-point distance and scored only .84 points per possession. Nick Zeisloft, starting in place of the injured Robert Johnson, had some issues passing into the post and racked up three turnovers. But despite all that, Indiana trailed by just one point at half (28-27), as the Illini had some turnovers issues (21.9%) of their own after a hot start.
On Indiana's first possession of the second half, it went to Thomas Bryant in the post for a bucket. That possession was the start of the Hoosiers seizing control of the contest and leaving Illinois for dead. From there, Indiana cruised to a 27-point victory by outscoring the Illini by a ridiculous 47-19 over the final 20 minutes of the contest.
Start with Yogi Ferrell. Indiana's senior point guard caught fire. Ferrell scored 19 points in 19 minutes (7-of-9, 5-of-6 from deep) en route to a game-high 27 points. Ferrell also added five rebounds, five assists and a steal to his impressive line. Studly star performance.
"That's what leadership looks like from an upperclassman," Illinois coach John Groce said after the game.
Denzel Valentine is the best player in the conference and Jared Uthoff has had a great season. But Ferrell has been pretty darn good, too. We'll see how things play out the next two contests for Indiana. If Ferrell puts up two more special performances, it could make it a little harder on player of the year voters.
Zeisloft (11 second half points, 14 overall) redeemed himself after a rough first half, joining Ferrell in Indiana's long-range assault with a 3-of-4 performance of his own. Bryant hit his other two field goal attempts and 3-of-3 from the line for a perfect 10 points after the break. In a game with Johnson sidelined due to a sprained ankle and Troy Williams out for a good chunk of the second half with a thigh bruise, Ferrell, Zeisloft and Bryant scored 40 of Indiana's 47 second half points. By the time the final buzzer sounded, Indiana's points per possession had risen to 1.21, while the Illini's flatlined down to .77.
OG Anunoby went scoreless in this one, but his defense on Malcolm Hill was impressive in the post and on the perimeter. Hill came into the game averaging 18.5 points per game. But he didn't score until the 7:37 mark of the second half and had just five points for the game (2-of-7). Outside of Jalen Coleman-Lands (21 points), no one from Illinois scored in double figures.
Indiana could have let the Illini hang around in this one, but Ferrell and company made sure that just wasn't going to happen after halftime en route to the Hoosiers' 13th Big Ten win of the season. After the Maui disappointment and the Duke debacle, no one thought Indiana was going to be a win away from a share of the conference title in late February. The defense was a mess and Indiana looked average.
But Tom Crean preached going back to work and improving. And that his team has. Credit to him. Credit to his players. With March on the horizon, Indiana's close to a Big Ten title — and maybe more.
Filed to: Illinois Fighting Illini