What to Expect: Illinois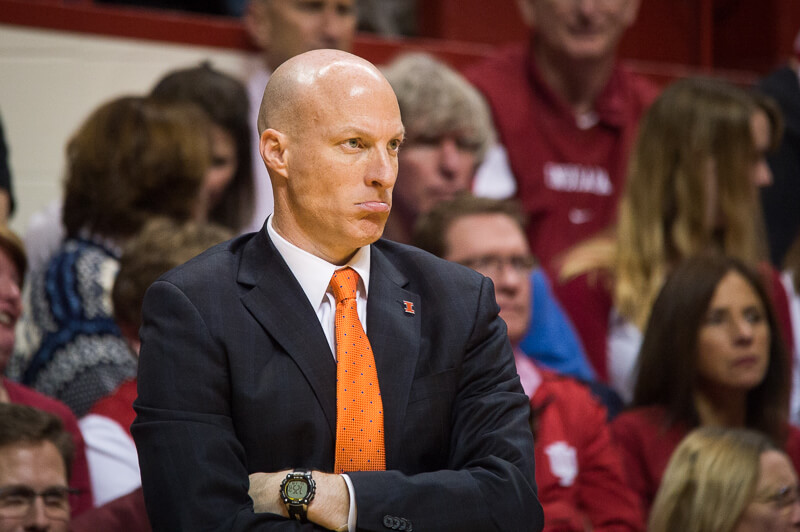 Indiana will aim for its third straight win on Thursday night as it travels to the State Farm Center to take on Illinois. The Fighting Illii are 12-15 overall and 4-10 in Big Ten games.
The game will be broadcast on ESPN at 9 p.m. ET with Rece Davis, Seth Greenburg and Dan Dakich on the call:
One game stands between Indiana playing for a guaranteed share of the Big Ten title on Tuesday in Iowa City: Illinois in Champaign. After starting 3-0 in Big Ten road games, the Hoosiers have dropped three of their last four away from Assembly Hall with the lone win coming at Michigan.
Injuries have made it a challenging and tumultuous fourth season for John Groce. The Illini have only beaten Rutgers (on two occasions) since a Jan. 23 win at Minnesota and two of their four league wins have come in overtime. But after a 103-69 beatdown on Jan. 19 in Bloomington, the Illini will be looking to play spoiler and avenge an embarrassing loss.
At 12-3, an Indiana win in Champaign would set the Hoosiers up for a huge Tuesday matchup in Iowa City with the Hawkeyes that would have major conference title implications. But Indiana, which could be without a key player in Robert Johnson, can't afford to look ahead. The last ranked IU team to enter the State Farm Center, the No. 1 ranked Hoosiers in the 2012-2013 season, left with a stunning defeat. With a Big Ten title, conference tournament seeding and NCAA tournament seeding implications, every game from here on out is huge for Indiana as we enter the season's final stretch.
MEET THE FIGHTING ILLINI (all stats are conference only unless otherwise noted)
Illinois is still without three players that would either be starting or making major contributions on a roster that lacks quality depth. Center Mike Thorne has played in one conference game (at Indiana) and remains out indefinitely with a knee injury. Sophomore forward Leron Black is injured and also suspended indefinitely after pulling a knife on a bouncer at a nightclub last week. Point guard Tracy Abrams is out for the season after suffering a torn Achilles in the offseason.
Given its lack of frontcourt depth, Illinois is very perimeter oriented with all three of its double figure scorers standing 6-foot-6 or smaller.
Malcolm Hill has been a bright spot for Illinois as the junior wing is averaging 18.5 points per game in league play. Hill is using the third highest percentage of possessions of any Big Ten player and is excellent at drawing fouls. Hill's free throw rate (FTA/FGA) is 64.3, the third best mark in the Big Ten. His shooting has been average – 44.1 percent on 2s and 33.3 percent on 2s – but as his shot chart from ShotAnalytics shows, he can score from all over the floor: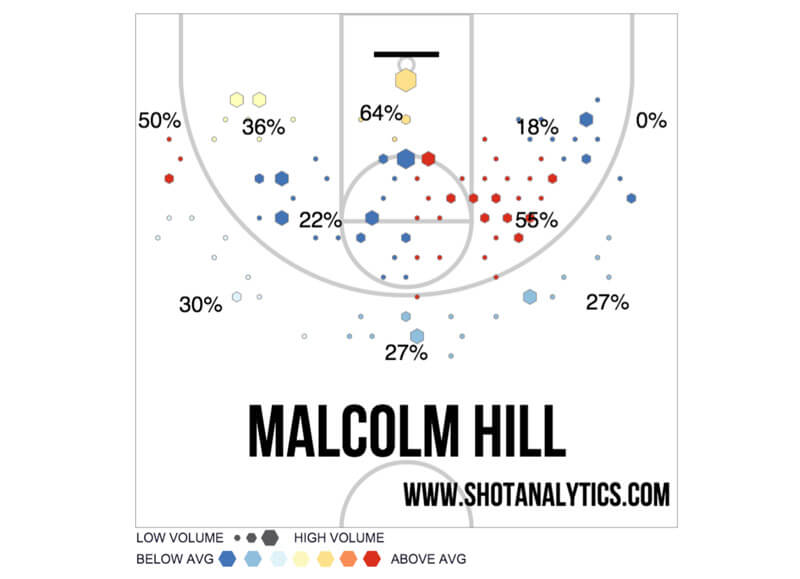 Junior Kendrick Nunn scored 10 points in the first meeting in Bloomington, but shot just 2-of-7 on 3s and was a non-factor for most of the game. Nunn is averaging 15.1 points in league play and while he's streaky, he's capable from distance as he's making 38 percent of his 3s.
Freshman Jalen Coleman-Lands, who received his first scholarship offer from Indiana as a freshman in high school, is hitting 39.1 percent of his 3s in Big Ten games, which ranks 17th in the conference. He's also the Big Ten's second best in terms of taking care of the ball with a turnover percentage of just 6.7. Coleman scored six points in the first IU-Illinois game on a pair of 3s.
Senior point guard Khalil Lewis has started the last five games for the Illini and has an assist rate of 25.4, which ranks ninth best in the Big Ten. Lewis isn't much of a threat to score as he's got the team's lowest effective field goal percentage (33.7), but he will look to set up Hill, Nunn and Coleman-Lands. He's a decent defender as well as he ranks in the 55th percentile nationally in points per possession allowed according to Synergy Sports.
Other perimeter players to keep an eye on include junior point guard Jaylon Tate, freshman guard Aaron Jordan and freshman wing D.J. Williams.
The playing time for Williams has been on the rise as he's averaged 17.6 minutes over the last five games and has scored six or more points in three of those outings.
With Black and Thorne out, junior Maverick Morgan continues to man the post with freshman Michael Finke coming off the bench. Morgan's 9.3 points per game are fourth on the team and he's making 56 percent of his 2s, but he's a poor rebounder on both ends. The 6-foot-10 Finke is fifth on the team in scoring in league play at 6.2 points per game, but he's more of a perimeter-oriented player. Finke is making 34 percent of his 3s in conference play.
TEMPO-FREE PREVIEW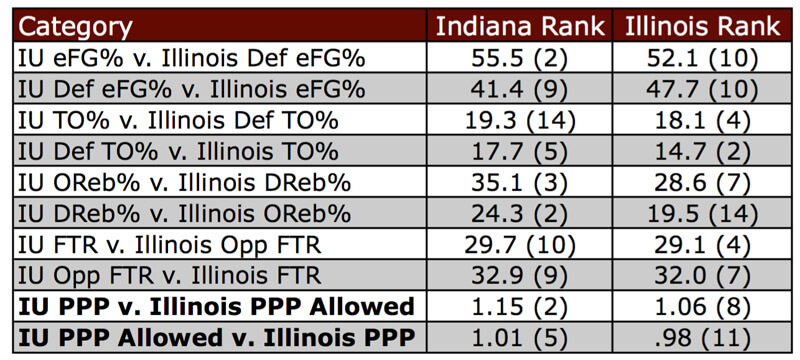 Indiana crushed Illinois in the first meeting thanks to a hot shooting game (72 eFG%, 1.46 points per possession) and a strong offensive rebounding performance (40%). The Hoosiers also took care of the ball very well (16 TO%). Aside from the fact that Illinois did a decent job of getting to the line, it was a nightmare performance for the Illini.
The keys for Illinois to turn things around this time begin with better perimeter defense (IU hit a Big Ten record 19 3s in the first meeting) and a better job on the defensive glass, which is easier said than done against an IU team that can be relentless on the boards.
For the Hoosiers, the keys remain pretty constant: taking care of the ball and playing through the paint first. Thomas Bryant played just 19 minutes in the first game due to foul trouble, but establishing him inside early against Morgan should help open the perimeter as well as the lane for straight line drives.
WHAT IT COMES DOWN TO
The KenPom projection is Indiana by seven with a 73 percent chance of victory and Sagarin likes the Hoosiers by nine. The Vegas line opened with IU as a 6.5-point favorite. This is a game that IU obviously needs to win to remain a viable contender in the Big Ten race and also to continue its trajectory upwards on the NCAA tournament s-curve.
Still, as we've seen in recent weeks, there's no such thing as a guaranteed road win in the Big Ten unless you're playing at Rutgers. Indiana and Iowa both dropped games at Penn State and Maryland lost at Minnesota. Illinois does own a home win over Purdue earlier in league play and as we mentioned earlier, the 2013 Big Ten championship team lost at Illinois, although that was a much better Illini team.
For the most part, Indiana has answered the call for more than two months now. With the stakes high, this is a chance for this group to show that a corner has been turned as the season hits its final stretch.
Filed to: Illinois Fighting Illini