News and notes Tom Crean's radio show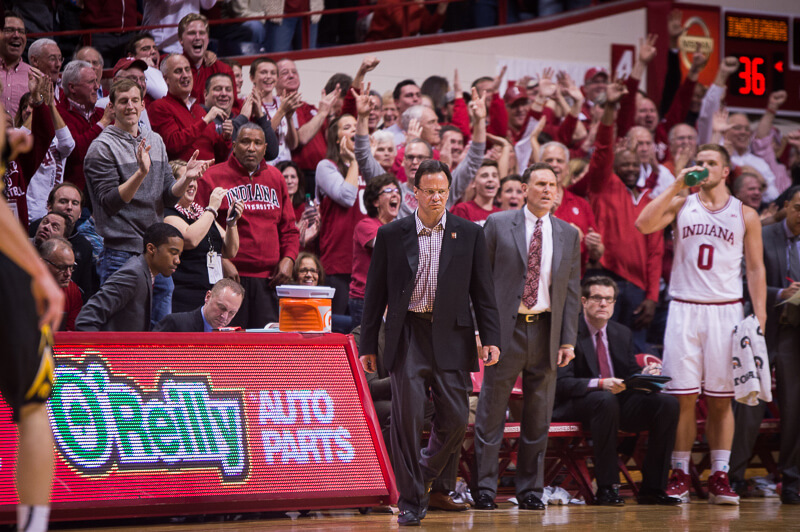 Inside IU basketball with Tom Crean was live from the Holiday Inn in Bloomington on Monday night following wins last week over Nebraska and Purdue.
Below are news and notes from Crean's comments on Monday evening:
On Troy Williams becoming the 7th play under Crean to score 1,000 points
"It's easy to work with people that you really enjoy. You go through a lot of moments, and challenges to get him to that place, but it's a lot of fun when you know that they want it. They just have to learn how to go get it, and that's exactly what happened with Troy and what's happening with the team."
On Nebraska win
"I don't think we ever take anyone lightly. We may not always play as well, but we knew Nebraska was good and our guys are very hungry to achieve right now and get things done. I thought our second half was extraordinary defensively with the switching. We played different lineups, we adjusted and the switching we had the last 10-11 minutes was just fantastic, and it changed the game for us."
"(Troy Williams) responded. Obviously he didn't play very well this past Sunday. We knew it, he knew it. And he did something about it. His focus was really strong for a couple of days, we were very aggressive, I was very aggressive, with how we coached him especially with what he was doing going to the basket. It's not a matter of changing a lot of things, it's just a few corrections and then just really getting him back to doing what he can do. When he plays like that, he's capable of a lot."
On Juwan Morgan
"There's a guy who just keeps getting better and better. He was thrust into a situation because of the switching that he responded to, and he did a very good job on the offensive end as well. That's crucial. We're getting ready to play our 31st game on Thursday night, and as much as they're freshman we're trying to coach them and have them believe that they're not."
He also noted that each of the freshman guys including Harrison Niego have been stepping up and doing more.
On Purdue win
"I think the key word in the entire game was the urgency. We made the decision not to practice on Thursday since we'd been going straight since the previous Monday … They watched a lot of film, they spent time together, they had dinner together, they did a lot of stretching, did their lifting. But they needed to recharge a little bit. There's always a risk of doing that because you're missing another day on the court, but I thought the mental preparation and the refreshing was going to be as important as anything else."
"You better figure out a way to take away their strengths, and our guys were extremely active defensively, extremely committed to the play. I think we lost a little bit of urgency at the end of the game, especially with the transition defense. We didn't take bad shots, we missed good shots. We were not as urgent as we needed to be."
"Troy was playing so hard that we needed to give him a little extra rest in the second half. The adrenaline is flowing, and he's just out there going. He had 13 deflections in the first half, and we've gone at times where we've gone a week and a half where Troy didn't have 13 deflections in three games. That was huge. When you're locked into that urgency you need to have defensively and rebounding, it's amazing how well you play offensively."
Injury update
Crean said James Blackmon Jr. has not resumed any basketball activities as he continues to rehab from a season ending knee injury.
In the case of Robert Johnson, he said "it is a definite ankle sprain."
"We're just going to have to continue to monitor it, it's not like we're going to be able to update it constantly, it's going to be evaluated over time. There's no way to predict injuries, let alone an ankle sprain … He's in a 24/7 mindset of care, but we've got to let him heal."
On Illinois
"It's Indiana-Illinois. We walked square into that back in 2008, so we're well aware of that. We have young men from Illinois, they'll get the other young guys to understand that in a hurry. It's all about going out there and making sure we're defending them the right way. They do some really good things. When they win, Malcolm Hill is shooting 15 free throws a game, and he's averaging 28 points. They have numerous shooters, and we were completely locked in when we played them the first time, there's no way around that. You can't go on the road, or at home, and turn the ball over to the other team."
Filed to: Tom Crean