What to Expect: Nebraska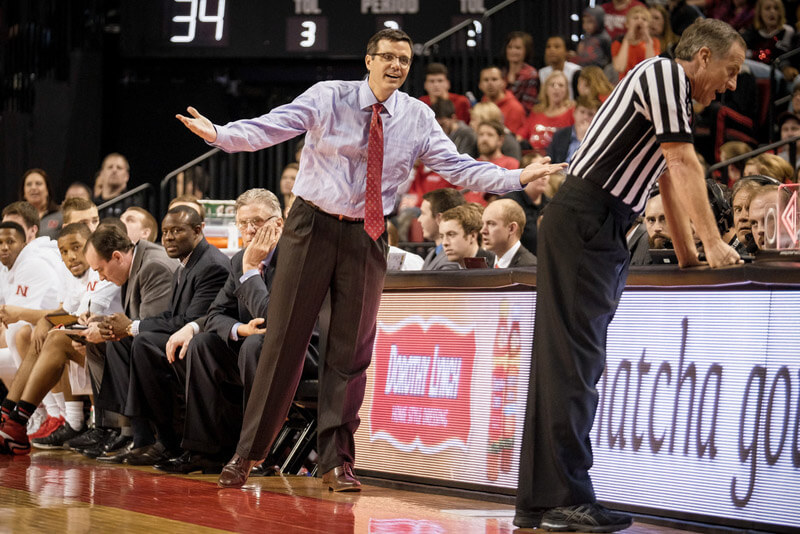 Following a disappointing 88-69 blowout loss on Sunday at Michigan State, Indiana returns home for a meeting with Nebraska at Assembly Hall on Wednesday. The Cornhuskers are 14-12 overall and 6-7 in the Big Ten.
The game will be broadcast on BTN at 8:30 p.m. ET with Dave Revsine and Bob Wenzel on the call:
At 20-6 with five regular season games to play, Indiana appears to be solidly in the NCAA tournament but its chances of winning the Big Ten title have taken a major hit. Iowa is the clear frontrunner to win the Big Ten with a one-game lead and the most favorable schedule of the three viable contenders remaining.
Still, there's plenty for the Hoosiers to play for as the calendar turns to the back half of February.
At the top of the list is seeding for the Big Ten tournament and more importantly, the NCAA tournament. With three more wins, Indiana can lock up a double bye in the conference tournament and can probably solidify its resume as a 6-seed or higher in the NCAA tournament in the process.
IU's next chance to get a win comes Wednesday night in Assembly Hall as the Hoosiers host Nebraska. The teams met previously on Jan. 2 in Lincoln with IU prevailing 79-69, but the Cornhuskers are 6-5 in Big Ten games since including a win at Michigan State.
MEET THE HUSKERS (all stats are conference-only unless otherwise mentioned)
Nebraska will play its third straight game without one of its best players as 6-foot-7 senior forward Shavon Shields did not travel to Bloomington. Shields, who took a nasty fall in a win over Rutgers on Feb. 6, is averaging 14.9 points, 4.9 rebounds and 2.9 assists in Big Ten play.
The Cornhuskers are 1-1 without Shields so far with an 11-point loss at Wisconsin and an easy 16-point win at home over Penn State.
A big reason for the comfortable win over the Nittany Lions was the play of junior wing Andrew White, who torched Penn State for 35 points. White is one of the best scorers in the conference at 18.2 points per game and is also averaging a team-high 6.7 rebounds.
The Kansas transfer is shooting 43.5 percent on 3s in conference play and is a tough cover because he can fill it up from outside and finish at the rim, as his ShotAnalytics chart below shows: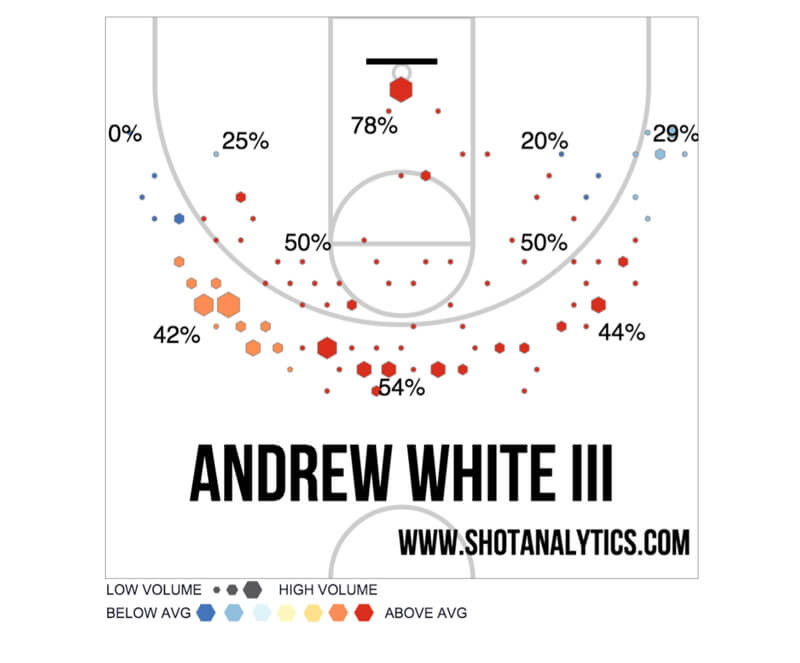 Point guard Glynn Watson is the current freshman of the week in the conference and is the only other Cornhusker averaging in double figures. Watson averages 10.3 points and has an assist-to-turnover ratio of 2.3-to-1. He's also fourth in the conference in steal percentage (3.3).
Senior guard Benny Parker is hitting 36.1 percent from distance in Big Ten games but uses just 12.9 percent of possessions while on the floor and is making just 44.4 percent of his 2s.
Junior guard Tai Webster comes off the bench and is a strong guard who can get to the rim and the foul line. Webster has a team-best 40.4 percent free throw rate (FTA/FGA) and is making 51.4 percent of his 2s.
Two freshmen, Jack McVeigh and Michael Jacobson, have started the last two games in the frontcourt. The 6-foot-8 Jacobson is sixth in the league in offensive rebounding percentage, but averages just 5.6 points per game and shoots 49 percent on his 2s. McVeigh, who is 6-foot-7, can step out and hit the occasional 3 (12-of-40), but provides little on the glass with just 2.5 rebounds per game.
Two other players who will see rotation minutes are 6-foot-10 sophomore Jake Hammond and 6-foot-7 sophomore Nick Fuller. Hammond provides size, but is just 3-of-8 from the field in conference play. He played just five minutes in the first meeting and could have a tough time keeping with the pace.
Fuller has been picking up some of the minutes vacated by the absence of Shields, but has just six points and three rebounds in 31 minutes over the last two games.
TEMPO-FREE PREVIEW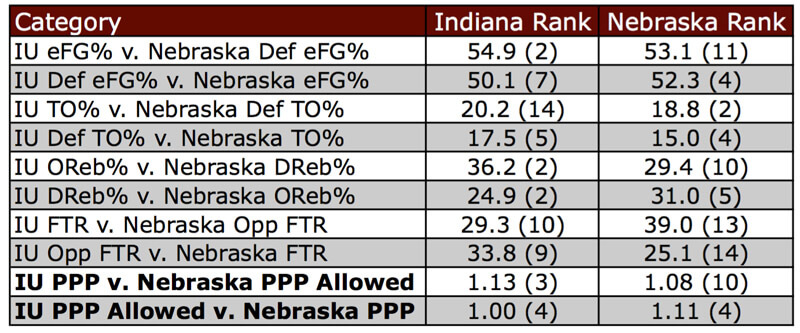 Indiana won the first game in Lincoln on the strength of its shooting (64 eFG%), 15 second half points from Yogi Ferrell and a big game from Thomas Bryant, who had 19 points on 8-of-10 shooting.
Nebraska still won't have an answer in terms of size for Bryant, so look for the Hoosiers to try and establish him early. Given the matchups and the lack of size for the Cornhuskers, it would also appear likely that Collin Hartman will return to the starting lineup.
If White gets going and gets others involved, Nebraska has the firepower to stick with Indiana. But can the Huskers slow down the Hoosiers? Nebraska is 11th in effective field goal percentage defense and 10th in defensive efficiency and really struggles to guard the 3-point line. Big Ten opponents are shooting a blazing 40.2 percent against Nebraska on 3s.
Another area of concern for the Nebraska staff is the defensive glass. The Cornhuskers are allowing opponents to rebound 29.4 percent of their misses. Indiana grabbed a ton of offensive boards on Sunday in East Lansing that didn't turn into second chance points because the Spartans possessed the size and physicality at the rim to deter from the Hoosiers from going right back up and scoring. Nebraska doesn't have that presence, so a big offensive rebounding night from Indiana could be problematic.
WHAT IT COMES DOWN TO
The KenPom prediction is Indiana by 11 with an 85 percent chance of victory and the Sagarin ratings like the Hoosiers by 13. The Vegas line as of Wednesday morning favors IU by 12.5.
With Purdue looming on Saturday, Indiana can't look past tonight's game. Nebraska is down one of its best players, but sometimes wounded teams can be dangerous.
The Hoosiers need to get Yogi Ferrell, who is 4-of-21 on 3s over his last four, back on track and play inside out to open up the 3-point line. They'll also be tested defensively as White, who went for 16 points in the first meeting, is one of the best scorers in the league.
To keep any Big Ten title hopes alive, this is a game Indiana has to have in a building it hasn't been beaten in this season.
(Photo credit: Eric Francis/Getty Images North America)
Filed to: Nebraska Cornhuskers