Tourney Watch: Hoosiers on the rise following Iowa win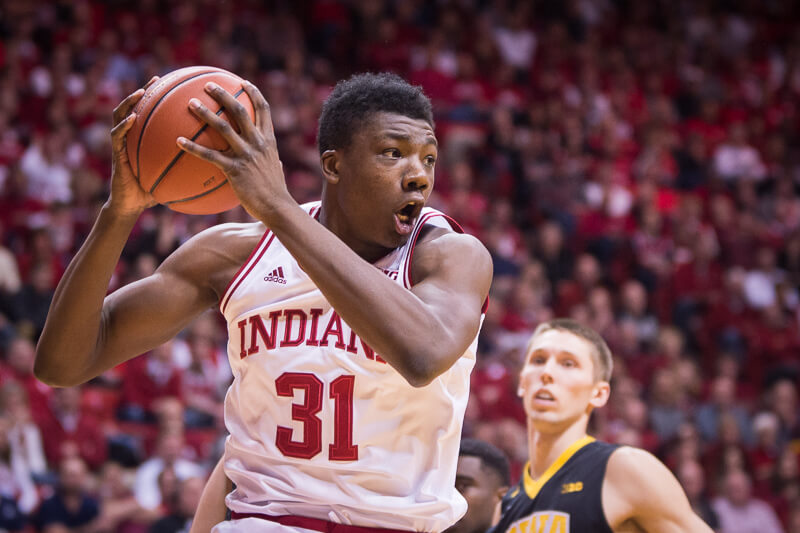 We're back for our fourth installment of "Tourney Watch" as Indiana gets set for games this week at home against Nebraska and Purdue.
In our weekly feature that will continue up until Selection Sunday on March 13, we take a look at IU's current nitty gritty profile, updated bracket projections and much more.
Overview
At 20-6, Indiana split a pair of games last week – an impressive 85-78 win over Iowa at Assembly Hall and then a 88-69 blowout loss to Michigan State in East Lansing. The win on Thursday was significant for the Hoosiers as it provided a major boost in the computers given Iowa's stature nationally. The Hoosiers still have three more chances to pick up resume building wins with games against Purdue, Iowa (road) and Maryland remaining on the schedule.
Nitty Gritty Profile
· Record: 20-6 (10-3 Big Ten)
· RPI: 36
· SOS: 102 (via CBS)
· Home Record: 14-0
· Away Record: 4-4
· Neutral Court Record: 2-2
· vs. RPI Top 50: 3-3 (via Crashing the Dance)
· vs. RPI Top 51-100: 4-0 (via Crashing the Dance)
The biggest change since our last update? IU's RPI went up nearly 20 spots and it now has three RPI top 50 wins with a fourth (Michigan) right on the fringe. Purdue and Maryland at home provide the Hoosiers with two more chances to pick up signature wins inside the friendly confines of Assembly Hall.
Current Projections
· Assembly Call (Andy Bottoms): 6 seed in East Region vs. LSU in Providence (Updated 2/16)
· ESPN Bracketology (Joe Lunardi): 6 seed in West Region vs. Temple in Spokane (Updated 2/15)
· CBS Sports (Jerry Palm): 6 seed in Midwest Region vs. First Four winner in Brooklyn (Updated 2/14)
· Crashing the Dance: No. 24 overall seed
· Bracket Matrix: Top No. 7 seed
The Hoosiers are a No. 6 seed currently in each of the three projections we follow and are the top No. 7 seed on the Bracket Matrix, which tracks nearly every projection on the web. What Indiana needs to avoid is falling down into the 8 or 9-seed range as a second round meeting with a No. 1 seed is a recipe for an early exit.
Final record projections
KenPom.com is sticking with a 23-8 and 13-5 finish from Indiana in the regular season. His model actually projects the Hoosiers to go 4-1 the rest of the way, but with win probability percentages in the low 60s against Purdue and Maryland and a pair of road games, the final record accounts for the potential of an additional slip up. RPIForecast.com has the three most likely final regular season records for IU as: 23-8 (36.7%), 24-7 (32%) and 22-9 (19.1%). In its regular Tuesday update, The Only Colors gives Indiana an 83.8% chance of a top four finish in the Big Ten, which is an increase of 15.9 percent from last week. A top four finish would mean a double bye to Friday in the Big Ten tournament in Indianapolis.
A look at the conference as a whole
· Maryland (21-4, RPI 6): The Terps are a lock for the tournament and while they're now a long shot to win the Big Ten following a home loss to Wisconsin, this is a team that is still in great position and could even climb higher depending on how the rest of the season plays out.
· Iowa (20-5, RPI 10): The Hawkeyes are in the driver's seat for the Big Ten regular season championship and a top three seed in the tournament. Fortunately for Iowa, there's a tournament site this year in Des Moines so they should have a huge advantage in the opening weekend.
· Michigan State (21-5, RPI 17): Surprise, surprise. Here comes Michigan State as March approaches. The Spartans are projected to win out in the regular season by KenPom and a three-seed is the current projection.
· Purdue (20-6, RPI 20): The Boilermakers are another team that is a lock, but they're going to have to earn their seed the rest of the way. Purdue still travels to Indiana and has home games with Maryland and Wisconsin remaining.
· Wisconsin (16-9, RPI 46): The Badgers are the hottest team in the league and are now projected to be in the field by nearly everyone. The schedule is difficult to close with trips to Michigan State, Iowa and Purdue left, but this team appears to be peaking at just the right time.
· Michigan (19-7, RPI 52): Michigan would certainly be in the field if it were selected today, but the Wolverines are far from a lock. Besides a home game against Northwestern, Michigan's schedule is brutal to finish with trips to Ohio State, Maryland and Wisconsin still to come and a home game against Iowa.
2016 Tournament Sites
· First Four: Dayton
· First, second rounds: Brooklyn, Denver, Des Moines, Oklahoma City, Providence, Raleigh, Spokane, St. Louis
· Regional: Anaheim, Chicago, Louisville, Philadelphia
· Final Four: Houston
Filed to: 2016 NCAA tournament