News and notes from Tom Crean's radio show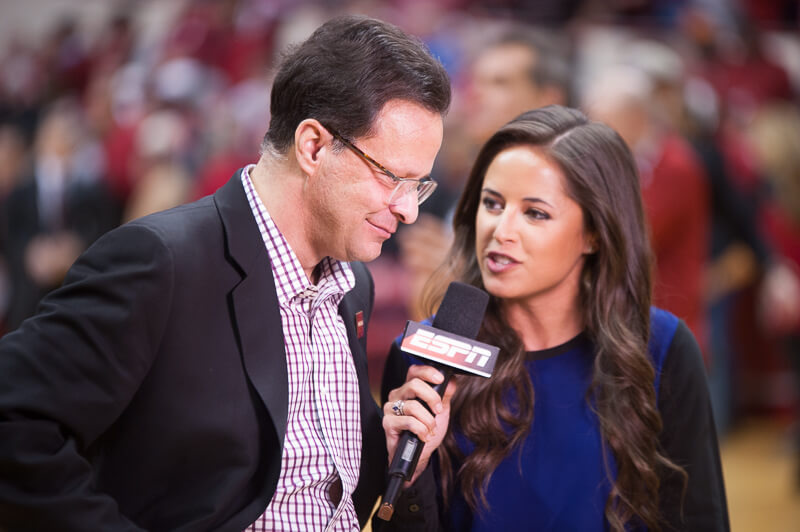 Inside IU basketball with Tom Crean was once again live from the Holiday Inn in Bloomington this week following a win over Iowa and a loss at Michigan State.
Below are news and notes from Crean's comments on Monday evening:
· On Harrison Niego getting into the rotation: "Our guards are playing too many minutes and I have no doubt about that because when you're short like we are with James (Blackmon Jr.) throughout the entire Big Ten, you have to overcome that with guys that can make plays, make shots. But Harrison has really proven that he belongs out there and we need that from him. I thought he did a good job at Michigan State for the most part and he's getting more comfortable, getting more aggressive, but he showed his toughness."
· On Denzel Valentine's play on Sunday: "We let him become far too comfortable, especially in the second half. We never put the pressure on Valentine in the second half the way that we needed to. And then we ended up doing just some ridiculous stepping up in the lane to allow drop offs that we don't do. We just don't do that. That's not any part of our defense."
· On how physical the games are right now: "It's very physical. I don't think there's any question about that. I don't really know what to say other than it is and you're trying to do your best to adjust to it inside of the game. You drive yourself crazy if you spend too much time saying 'well, it should be this or it should be that.'"
· An emailer asked Crean about Robert Johnson's play last week in which he had just three turnovers in 60 minutes with six 3-pointers: "He's getting better all of the time. We've got huge expectations for him. He's got a lot of talent. He's got a tremendous work ethic and needs to keep growing as a player constantly. When you work the way he works, that's a huge, huge thing. We need that consistency, we need him to be ready to shoot, we need him to make simple plays."
· On Cody Zeller's return to Bloomington for the Iowa game: "We talked basketball some and his situation and a couple of different games, but I think he just enjoyed being around. He was in the locker room some and he probably spent more time with the players that way, but I know he was shocked at how short the walk through was. He was wishing he would have had a few of those. It was great to have him there and have his family there."
· Crean noted that Iowa had four players on the floor on Thursday that Zeller, who is in his third season in the NBA, played against during his sophomore season in Bloomington.
· Crean was asked when he first met Tom Izzo and said that it was at a Michigan State practice. Crean said Jud Heathcote was the coach and Scott Skiles was a player at the time.
· Crean on Izzo's Hall of Fame candidacy: "If he's not unanimous, then really, they need to take somebody's credentials off of that group. There's no way he shouldn't make it."
· Crean said that Izzo did an incredible thing for him on Sunday. "He just lost his father and he knows that my mom is not healthy and my mom can't get here. She was able to come to the game at Michigan State with my sister and he got her seats in the box. She's always sat down behind our bench, but she can't do that anymore. He put her in his wife's box and he gave her his parking spot. He's got different parking spots that he's got access to and he gave her his parking spot because it was the closest to the building. That's just how he thinks. I'd do the same for him, but that's how he thinks. I'll be honest, when we only play each other once, then there's really only one hard day."
· Crean on why he doesn't wear a tie and why other coaches aren't wearing them this season: "I'm not sure. I can only speak for me and it's just because I don't feel like it to be honest with you."
Filed to: Tom Crean