Five takeaways from Indiana's loss at Michigan State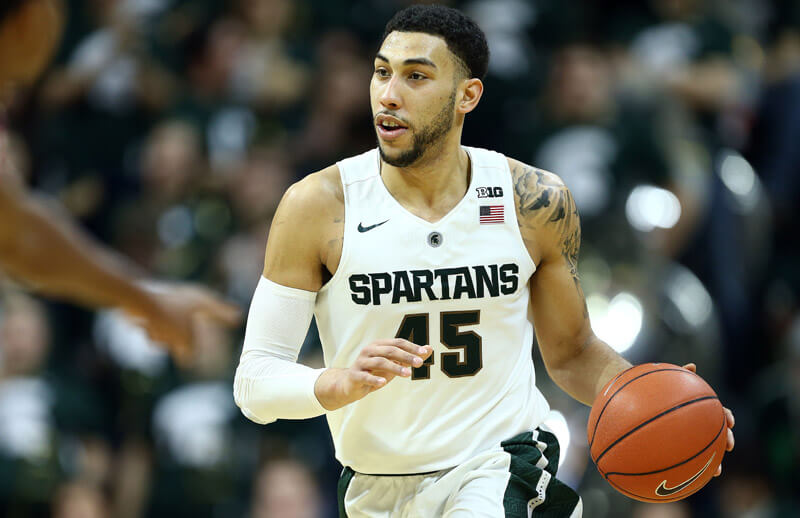 EAST LANSING, Mich. – Indiana played well for about 16 minutes on Sunday afternoon at the Breslin Center, but the success was short lived as Michigan State blitzed the Hoosiers for an 88-69 win. The loss dropped Indiana to 20-6 overall and 10-3 in the Big Ten.
Here's a look at five takeaways from the blowout loss to the Spartans:
· Indiana's defense is regressing to the mean with better competition: The Hoosiers allowed just one of their first 10 Big Ten opponents to score more than a point per possession, but the defense has been on a slide the last three games.
It started in State College when Indiana allowed Penn State, which was averaging just .95 points per possession at the time, to score 1.04 per trip. That lackluster defensive performance resulted in a loss that severely hurt IU's chances at the Big Ten title. On Thursday against Iowa, IU beat Iowa because of a ridiculous offensive performance, but not much was written about the fact that the Hoosiers allowed Iowa to score 1.21 points per possession.
Sunday was the worst performance of the three as Michigan State torched the Hoosiers for 1.28 points per possession, including 1.47 in the second half. Indiana doesn't have to be a great defensive team to win, but it needs to be better than what it has shown over the last three games. After spending a decent chunk of the conference season leading the league in defensive efficiency, the Hoosiers are fourth and are one more shaky performance from seventh.
· Cold shooting from Yogi continues: Tom Crean said following IU's loss that he doesn't buy into the notion that Yogi Ferrell is in a slump, but the numbers say otherwise.
Over his last three games, Ferrell is 4-of-21 on 3s and 4-of-13 on 2s. Here's Ferrell's ShotAnalytics chart from the last three games: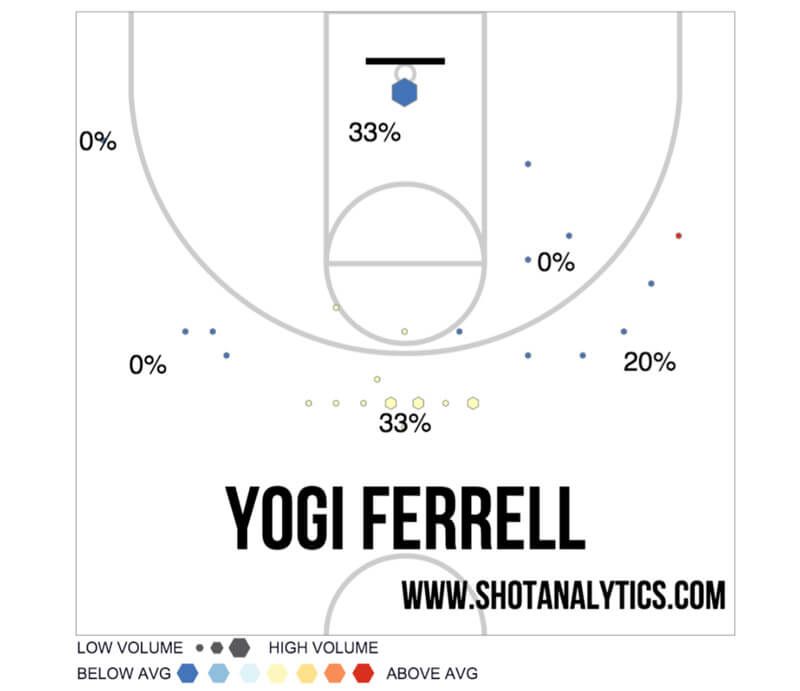 Indiana beat Iowa because it had others step up in the absence of a solid performance from Ferrell. That wasn't the case on Sunday afternoon as IU's senior point guard went just 3-of-10 from the floor and Michigan State's potent offense was just too much for the supporting cast to keep up with.
· Williams' struggles continue away from Assembly Hall: It was an afternoon to forget for Troy Williams as the junior forward went scoreless in 17 minutes.
While some players thrive regardless of environment, it's clear this season that Williams is a different player in true road games. As the graphic below shows, his numbers are down across the board in road games compared to contests played in Bloomington:

· Michigan State dominated the paint: The Spartans uncharacteristically allowed Indiana to grab 16 offensive rebounds, but it didn't matter because the Hoosiers scored just five second chance points. Those numbers represent a huge opportunity missed from Indiana.
From an offensive standpoint, Michigan State completely dominated the Hoosiers in the paint. The Spartans scored 42 points in the paint compared to just 26 for Indiana. Crean mentioned IU not stopping Michigan State's assault from behind the 3-point line in the postgame, but the Spartans shooting 24-of-36 from inside the arc was just as problematic.
Over IU's last three games, opponents are shooting are shooting 53.8 percent on 2s (63-of-117).
· Valentine making his case for Big Ten player of the year and national player of the year consideration: Iowa forward Jarrod Uthoff may still be the favorite for Big Ten player of the year, but Michigan State's Denzel Valentine is going to make it an interesting race.
Valentine was brilliant on Sunday afternoon in scoring 30 points, dishing out 13 assists and grabbing five rebounds. Tom Izzo stopped short of saying that Valentine deserved to be the frontrunner of national player of the year because of how great Oklahoma's Buddy Hield has been, but it's clear he believes his senior belongs in the conversation.
"Everything we've asked that kid to get better at, he's gotten better at," Izzo said. "He's become a better shooter, he's become more disciplined with the ball, but he can guard people. He can guard and rebound on the one end and pass and score on the other end. I don't know anyone that I've had that can do that as thoroughly as he does it.
"I think he deserves to be in the race. I think the guy that's been everyone's favorite deserves to be there too. The first ten minutes, he wasn't playing that well and he was just existing out there and we talked about it in the huddle and then he started to change."
(Photo credit: Mike Carter-USA TODAY Sports)
Filed to: Michigan State Spartans, Troy Williams, Yogi Ferrell