The Minute After: Iowa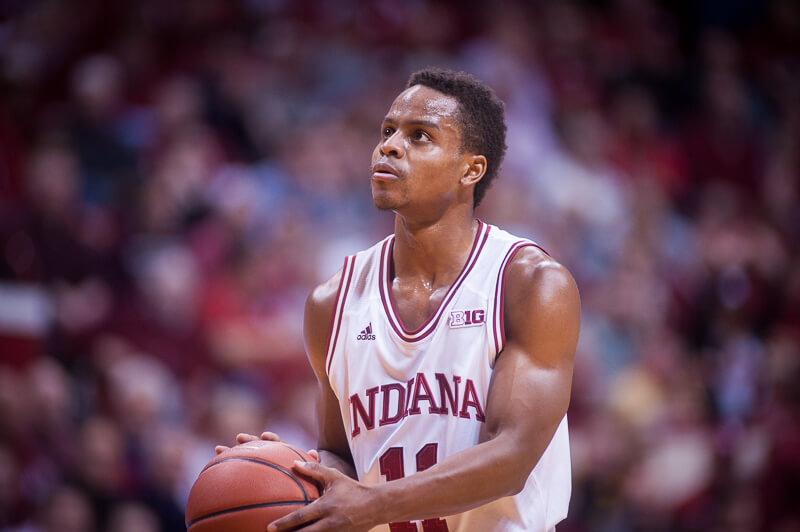 Thoughts on an 85-78 win over the Hawkeyes:
Students lined up hours before tip, eventually wrapping down the whole south side of Assembly Hall in anticipation of this marquee matchup. The stage was set early for an electric atmosphere and the Hoosiers failed to disappoint. They seized the crowd's energy, playing the first half like they'd been shot out of a cannon.
Indiana beasted on the boards for second-chance points. Got into Iowa's airspace on defense. Drove to the basket for buckets and splashed in the 3-ball. The Hoosiers were the more aggressive, more energetic, more physical team through the first 20 minutes of play and built a lead of 16 points with 6:03 to go in the first half.
But this Iowa team is too good and too experienced — and has a precedent of coming back from deficits this season — to roll over and die.
The Hawkeyes chipped away at that 16-point lead. Back-to-back 3-pointers from Peter Jok fell. So did back-to-back layups from Adam Woodbury. Still, Indiana entered half with a seven-point lead, scoring 1.52 points per possession, rebounding a ridiculous 71 percent of its misses and up 16-2 in the second-chance points category.
The second half began and Indiana looked flat. Looked dead. Two early turnovers from Troy Williams. The Hoosiers had no rhythm on offense. The Assembly Hall faithful fell silent. Suddenly, Iowa starting grabbing the momentum and almost nothing looked good for the Hoosiers. The Hawkeyes had seemingly stolen all of the air in the building.
Halfway through the final 20 (9:35), Iowa held a four-point lead at 60-56 after Thomas Bryant's fourth foul had Woodbury hitting 1-of-2 at the line. Bryant went to the bench. Harrison Niego came in during that substitution. He hit a baseline jumper to pull Indiana back within two and the crowd and these Hoosiers sprung to life once again. Max Bielfeldt hit a shot in the paint to the tie the game on Indiana's next possession. After Jared Uthoff hit 1-of-2 at the line, Collin Hartman's bucket right after put the Hoosiers back on top by one.
They never trailed again.
"When adversity hits, you can crumble or rise to the occasion," Hartman said after the game. "I think we've done a good job."
On a night when Yogi Ferrell struggled (2-of-12) — though he hit a key 3-pointer late as well as some free throws to seal the deal — and Bryant played just 14 minutes with his foul trouble, it was the contributions of the rest of the cast that helped Indiana win this one.
Niego had the aforementioned bucket and a steal. Bielfeldt (10 points, four rebounds, two blocks, two steals) stepped in well enough for Bryant. Nick Zeisloft found his footing from distance (3-of-5, nine points). Juwan Morgan had a key putback with 3:09 to go to give Indiana a nine-point lead. Williams, after a poor start to the second half, split Iowa's defense up top and splashed in a pretty left elbow jumper with 44 seconds left to put Indiana back up seven.
By game's end, 10 Hoosiers had scored and five — Ferrell with 14, Williams with 13, Robert Johnson with 13, Bielfeldt and Bryant with 10 a piece — hit double figures.
Another key factor in the W: Indiana excelled at the line (18-of-21, 85.7%), while Iowa (13-of-23, 56.5%), struggled in that regard. It helped keep distance late as did Indiana's ability to take care of the ball tonight (17 TO%).
This was a great win in a game that had you gasping for air at times trying to keep up with the action. The Hoosiers pushed through in the final 10 minutes when they looked like toast and are now 6-1 in their last seven against top 5 teams at home, the loss at Penn State in the past now.
We know Indiana's road gets no easier and that Iowa and Maryland have safer paths to the Big Ten title with each team tied for first at 10-2.
But nights like tonight prove Indiana can play with any team in the country.
Filed to: Iowa Hawkeyes