Five takeaways from Indiana's loss to Penn State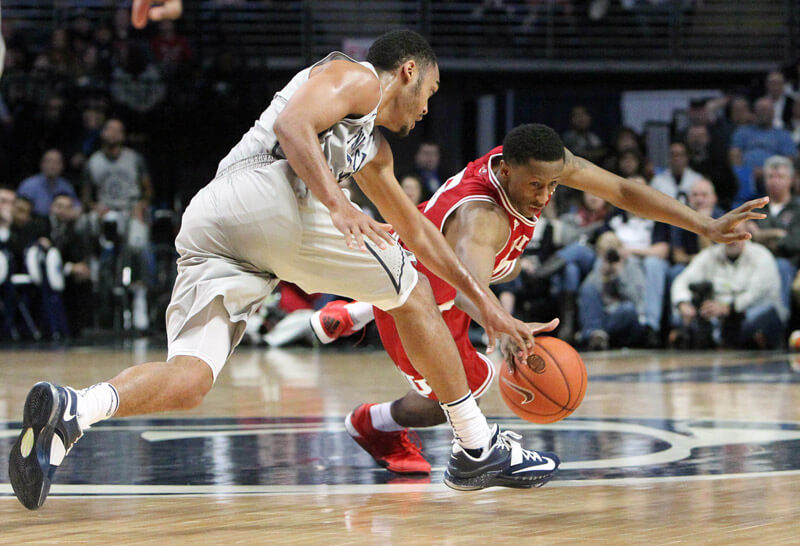 Indiana suffered its most disappointing loss of the season so far on Saturday night as the Hoosiers fell 68-63 to Penn State at the Bryce Jordan Center. It was just the third Big Ten win this season for Penn State and dropped IU to 19-5 overall and 9-2 in the Big Ten.
Here's a look at five takeaways from the loss to the Nittany Lions:
· Indiana's best player struggled, so the Hoosiers struggled: Indiana has one great player on its roster: Yogi Ferrell. There are other good players, guys who are potential pros and other role players who can make an impact on a given night.
But Ferrell is the engine that makes Indiana go. And when he struggles, as he did against Penn State in shooting 3-of-12 and committing five turnovers, Indiana is very beatable. As the chart below shows, Ferrell is scoring 2.1 points less per game in losses and his shooting percentages as well as assists take a dip. This isn't a revelation, nor is it surprising, but it's reality for a team that is highly dependent on its best player to perform in order to win.

· Thomas Bryant didn't impact the game nearly enough and the blame lies in many places: One of the things Indiana will learn when it watches a replay of Saturday's loss is that it didn't do nearly enough to get the ball to its freshman big man.
Bryant never got into the flow of the game early because fouls sent him to the bench. That's on Bryant.
The McDonald's All-American sat for a large stretch of the first half only to return and pick up a third foul just before halftime. With the game close and clearly still within reach, perhaps keeping Bryant on the bench to make sure he didn't pick up a third would have been the better play. But Bryant picked up the third and was on the bench to start the second half.
When he was on the floor for 24 minutes, Bryant took just four shots and hit 4-of-5 free throws, but looked frustrated at the lack of post touches as teammates continued to brick perimeter shots. As we wrote a couple of weeks ago, Indiana had been doing a great job of finding Bryant and playing inside-out, but that wasn't the case on Saturday.
· Early turnovers are killing Indiana's starts: This isn't news to anyone who watches the Hoosiers with regularity, but turnovers early in the game continue to be a major problem.
Indiana's turnover percentage in the first eight minutes at Michigan was over 31 percent. At Penn State, it was nearly 50 percent. The Hoosiers have an elite offense, but those numbers are not sustainable.
The problem for Tom Crean, however, is that the turnovers in conference play aren't just a one-player problem. There isn't one or two players that can be benched and solve the issue. As the numbers below show, it's essentially a roster wide issue. Here's IU's turnover percentage by player in Big Ten games:
– Robert Johnson: 27.4
– Thomas Bryant: 25.8
– Troy Williams: 24.3
– Collin Hartman: 23
– Yogi Ferrell: 19.7
– Juwan Morgan: 18.8
– OG Anunoby: 16.7
– Max Bielfeldt: 15.8
– Nick Zeisloft: 6.7
· Indiana's chances to win the Big Ten diminished significantly with the loss: The Hoosiers were squarely in the Big Ten race coming into Saturday and still technically are, but Iowa is now in the driver's seat.
The Hawkeyes have five Big Ten road games remaining – Illinois, Indiana, Penn State, Ohio State and Michigan. Considering they've already beaten Michigan State and Purdue on the road, that's a favorable road to getting to 15 wins, which should win the league outright.
Indiana still has a say in the race with games remaining against Iowa (twice) and Maryland, the two primary contenders, but the loss to Penn State leaves no margin for error.
· This was a resume damaging loss: Indiana had two bad losses on its resume coming into Saturday night – Wake Forest and UNLV – but losing to Penn State is more damaging to the NCAA tournament resume than both of those setbacks.
At 19-5 overall and with home games against elite competition still to come, Indiana is still in solid position for March. But losing to a team outside the RPI top 100 could potentially hurt seeding and makes it even more important for Indiana to collect wins in the games coming up against the top half of the conference.
(Photo credit: Matthew O'Haren/USA Today Sports Images)
Filed to: Penn State Nittany Lions, Thomas Bryant, Yogi Ferrell