What to Expect: Penn State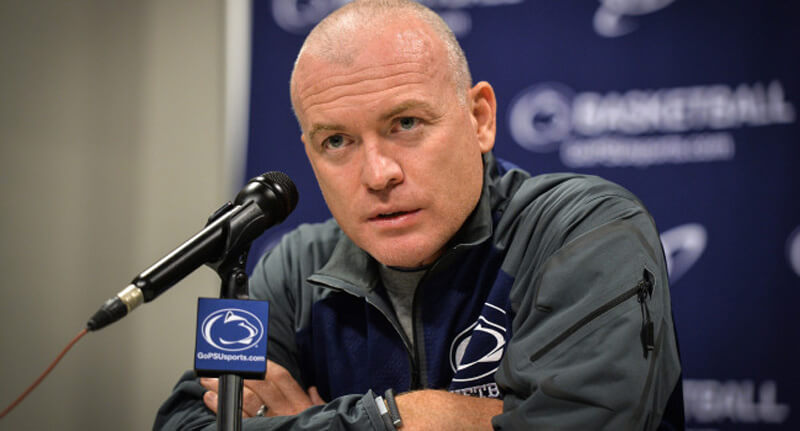 Indiana is back on the road this weekend for a Saturday night primetime matchup with Penn State at the Bryce Jordan Center. The Nittany Lions are 11-12 overall and 2-8 in the Big Ten.
The game will be broadcast on BTN at 8 p.m. ET with Josh Lewin and Shon Morris on the call:
Tuesday's win at Michigan was significant for Indiana for many reasons. First, it kept the Hoosiers on pace with Iowa at the top of the Big Ten standings. Both teams are 9-1 with a potential showdown looming next week at Assembly Hall for first place in the conference.
It was also a top 50 RPI road win, which provided a major boost to IU's NCAA tournament resume. But perhaps most importantly, it was a win that should give Indiana even more confidence. The Hoosiers had three conference road wins going into Tuesday, but winning at Rutgers, Nebraska and Minnesota isn't the same as winning at Michigan. Indiana went on the road against a solid opponent and won going away.
But now is not the time for Indiana to believe the hype or the press clippings. Since the 5-3 start, the Hoosiers have played like a group with something to prove and that trend must continue on Saturday in State College. Penn State, which has lost six of its last seven games, will be hungry for a win and Indiana must avoid looking ahead to the Iowa game on Thursday in Assembly Hall.
MEET THE NITTANY LIONS (all stats are now conference only unless otherwise noted)
Penn State enters Saturday's matchup with the Big Ten's 12th best offense, so it is no surprise that its primary scorers struggle with efficiency. The Nittany Lions are led offensively by senior forward Brandon Taylor and sophomore guard Shep Garner, who has battled an ankle injury recently.
The 6-foot-6 Taylor is using the eighth most possessions of any Big Ten player in conference games and averages team-highs of 16.4 points and 6.2 rebounds. Taylor has been finishing relatively well in the paint and in the midrange, but is just 9-of-36 on 3s over Penn State's last 10 games. As his Shot Analytics chart below shows, Taylor is most effective in the paint and just outside of it in the midrange: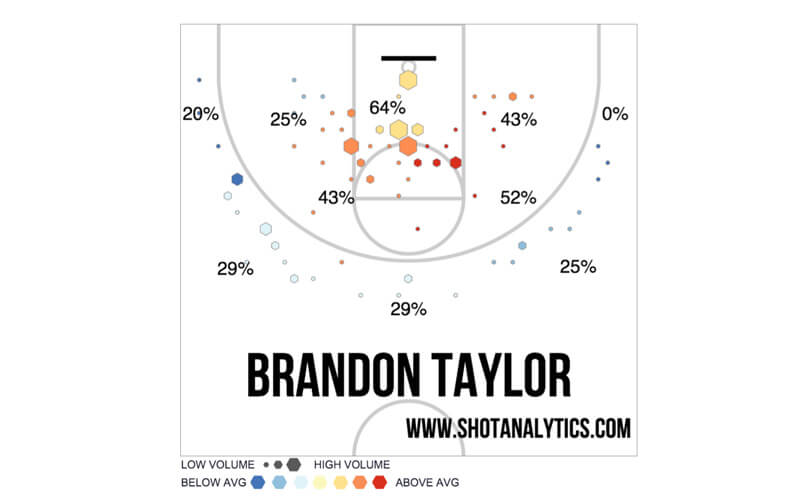 Given his success against Zak Irvin in Ann Arbor and how he guarded Nigel Hayes in Bloomington, it would make sense to see OG Anunoby spend plenty of time on Taylor.
The 6-foot-1 Garner is a strong guard who has really struggled with his shooting this season. His 23.3 percent assist rate ranks 11th in the conference, but Garner (12.6 ppg) is making just 41.2 percent of his 2s and 27 percent of his 3s in conference play.
Freshman guard Josh Reaves, who started the first four league games, has been out for several weeks with mono and it's uncertain when he'll be able to return. Wing Payton Banks, who is 6-foot-6, is hitting just 39.2 percent of his 2s and 28.6 percent of his 3s in Big Ten games and is third on the team in scoring at 8.6 points per game.
Senior guard Devin Foster has started the last three games and is making 40 percent of his 3s over 10 Big Ten games. Freshman forward Deividas Zemgulis is logging close to 20 minutes per game and is making 50 percent of his 2s in league play on limited attempts. Zemgulis played 26 minutes in Wednesday's loss at Iowa and scored six points.
The post minutes are primarily occupied by Jordan Dickerson, Donovan Jack and Julian Moore. The 7-foot-1 Dickerson is a strong shot blocker (7.1 block percentage), but is an extremely low usage offensive player who is also foul prone. Dickerson has yet to score in double figures this season and is averaging 6.8 fouls called per 40 minutes.
The 6-foot-9 Jack can step out and hit the occasional 3, but isn't much of an offensive threat. Moore has started the last five games and is the team's best defensive rebounder (19.3 DR%). He can also block shots (4.3 block percentage), but is shooting just 44.4 percent on 2s.
TEMPO-FREE PREVIEW

Penn State has played the toughest Big Ten schedule so far with losses to Michigan (twice), Maryland, Michigan State, Purdue, Wisconsin, Ohio State and Iowa. Still, there's not a lot of encouraging things to draw from their profile.
The Nittany Lions are the worst shooting team in the conference with an effective field goal percentage of 44.8. They're hitting a putrid 26.4 percent of their 3s in Big Ten play.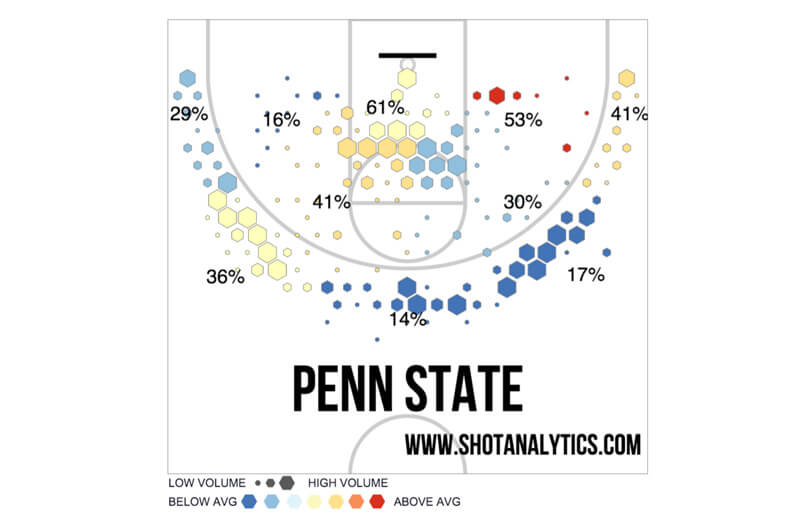 The primary strength of Penn State offensively is its ability to get to the foul line. The Nittany Lions are seventh in the league at getting to the line (35 percent free throw rate). Offensive rebounding is another area where this group has struggled as it has grabbed just 26.1 percent of its missed shots in conference play. Penn State has also been turnover prone (17.4 TO%) against Big Ten opponents.
Defensively, Penn State has the league's 12th best defense and is allowing opponents to rebound over 31 percent of its missed shots. That's not a recipe for slowing down Indiana, which is one of the most dangerous offensive rebounding teams in the country. The Nittany Lions are also very foul prone as Big Ten opponents are getting to the line frequently for a free throw rate over 40 percent.
WHAT IT COMES DOWN TO
Pomeroy has Indiana as an eight-point favorite with a 78 percent chance the Hoosiers leave State College with a victory. Sagarin likes the Hoosiers by 10.5 when adjusted for home court advantage. Indiana also opened as an 8-point favorite in Vegas.
Tom Crean is 4-1 at Penn State as IU's coach with the lone setback coming by three in his first season in Bloomington when the Hoosiers finished 6-25. But this is not a game that Indiana can just expect to show up and win easily. Pat Chambers always has his teams playing hard and physical. With four straight losses, the Nittany Lions will be hungry for a win.
From the IU perspective, there are plenty of matchups to like. Very few teams have an answer for Yogi Ferrell and Penn State is no exception. Penn State has struggled to guard the 3-point line and Indiana has plenty of shooters to throw on the perimeter. If IU takes care of the ball and spreads it around, offense shouldn't be a problem.
In a conference title race, every game is important. At 9-1, Indiana has to take care of business to remain a viable contender in the Big Ten race, especially against a team that has struggled as much as Penn State. The Hoosiers proved on Tuesday that they could put together a strong performance away from Assembly Hall. They'll need another one Saturday to continue the momentum heading into next week when Iowa comes to Bloomington followed by a trip to East Lansing.
(Photo credit: Mark Selders/Penn State)
Filed to: Penn State Nittany Lions