Indiana travels to Penn State looking for 10th Big Ten win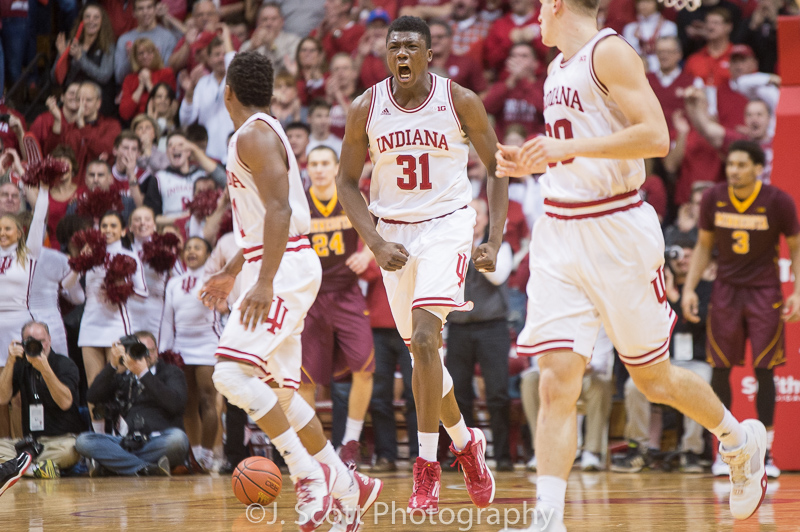 The last time Penn State played at home in the Bryce Jordan Center was January 21 against Wisconsin.
Saturday night, Indiana will visit Penn State in hopes of picking up its 10th conference victory, which would keep them atop the Big Ten standings and surpass last season's conference win total of nine.
No. 22 IU will be coming off of a huge road victory over Michigan that included an incredible 28-0 run. It was a statement win against a top 50 team that could set the Hoosiers up for a run at the Big Ten regular season title.
However, in order to set up a battle for first place with Iowa next week, the Hoosiers (19-4, 9-1) have to take care of business on the road.
The Nittany Lions (11-12, 2-8) have played a very tough schedule, losing only to teams with winning records in conference play. Their two wins came against Minnesota and Northwestern.
"We haven't been home in a long time," Penn State coach Pat Chambers said on Friday. "We're playing on the road a ton, seven out of 10. It would be nice to flip some of the scripts here with some of the teams in the Big Ten, but this is the hand we were dealt. Hopefully being in the Bryce Jordan Center we can see the ball go in the basket a little bit more."
Penn State has already lost twice to Michigan, and has also lost to Maryland, Michigan State, Iowa, Purdue, Wisconsin and Ohio State.
"The kids just have to continue to play with confidence," Chambers said. "I felt we really moved the basketball well (against Iowa). We have sophomores and freshmen that are very inexperienced that are out there. I have to give them the confidence to take that shot, and I'm going to. They know that."
Senior forward Brandon Taylor leads Penn State is scoring, averaging 16.3 points per game. The streaky sophomore Shep Garner is second in scoring at 13.7 points per game.
"I'm a firm believer of repetition," Chambers said. "I'm a firm believer in preparation. Just keep doing what you're doing and it's going to go in."
The Nittany Lions have lost four straight, and are ranked No. 148 according to KenPom. Their offense is at No. 188, and defense at No. 111. They have also played the 27th hardest schedule.
"When you're losing a couple in a row, you start to check into everything," Chambers said. "We're playing really good basketball teams, Iowa's a top five team, Michigan is a really good team, I think Indiana is a terrific basketball team, so we just have to play at our pace and slow it down a little bit."
For comparison, Indiana is ranked No. 20 according to KenPom, with the No. 20 offense and No. 44 defense in the country.
"I'm not making excuses," Chambers said. "But being on the road and between foreign baskets and gymnasiums, I think that plays a little bit with these young kids' minds."
Filed to: Penn State Nittany Lions