The Minute After: Michigan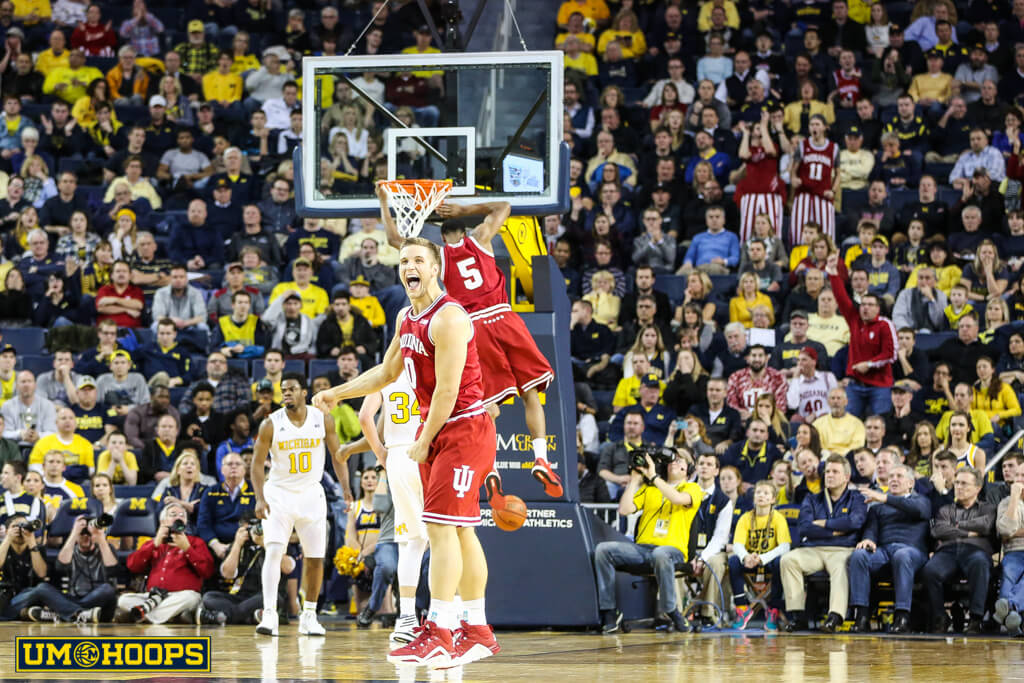 Thoughts on a 80-67 win in Ann Arbor:
Tom Crean was angry.
Yogi Ferrell had just frozen in the lane instead of following Derrick Walton out to the left corner. Walton drilled a 3-pointer in front of the IU bench and Indiana found itself down 15-4 at the 14:31 mark with four turnovers to boot. So Crean called a timeout to right the ship.
His team responded in an enormous way.
The Hoosiers finished the half on a 41-9 run — including a 25-0 blitz over the final 9:05 — to head into the locker room up 45-24. Michigan never seriously challenged in the second half and IU rolled to a 13-point victory in a game that wasn't as close as the final scored had indicated. All game, Indiana simply raced down the floor and got good open looks as Michigan stumbled around helplessly trying to guard.
"That's happened so rarely that it's hard to put it into words, but credit Indiana," John Beilein said after the game. "They're explosive in transition."
They keep saying Indiana hasn't played anyone yet and asking if this team is really as good as the record shows. Those chirps should be a little more quiet after tonight. This Indiana team can play.
Yes, Michigan isn't quite up there with Iowa or Maryland. And it's still without Caris LeVert. But this team beat Maryland in the same building last month and were 7-2 in the conference before tonight's game. The Wolverines are No. 40 on KenPom. And the Hoosiers gave them a beating tonight in their building after falling down by 11 early.
Yogi Ferrell was again brilliant. After the Crean timeout, Ferrell went to work, hitting two straight lay-ups and then assisting on a Nick Zeisloft 3-pointer. He finished with 17 points (6-of-10) and nine assists in 37 minutes of action. Ferrell's leadership and will to win is cresting at the right time. You can't understate how important it is for a college basketball team to have a point guard playing like he has game in and game out.
Troy Williams started out like a hot mess, but was an important part of the 25-0 run. Ferrell found him in transition on a couple occasions, sneaking down the baseline for a reverse lay-in and an alley-oop. Williams also drew a charge during the run. It wasn't his best performance (nine points, four turnovers), but he mattered most when Indiana took control.
OG Anunoby is the fan favorite and such a joy to watch. Another breakaway steal and dunk. Another 3-pointer. Another block. A silky smooth dunk late in the second half. His length and defensive prowess bothered the Wolverines all night. He tied a career high of 11 points (5-of-6) in 19 minutes of action. Fellow Missouri native and freshman Juwan Morgan made some nice plays as well in nine minutes of action (two points, one rebound, one block). Robert Johnson was out there doing well, too. The sophomore had a strong shooting night (16 points on 7-of-13 from the field) and added six rebounds and a steal.
No one saw this one coming, but Indiana continues to prove people wrong in league play. They've now held nine of their 10 opponents under a point per possession. They've destroyed teams at home and set a team record for 3-point makes. And they've just entered their first Big Ten game as an underdog and buried the opponent — on the road.
After Penn State on Saturday, Indiana gets big tests against Iowa and Michigan State next week. Bring 'em on. These Hoosiers are ready.
(Photo credit: Dustin Johnson/UMHoops.com)
Filed to: Michigan Wolverines