The Minute After: Minnesota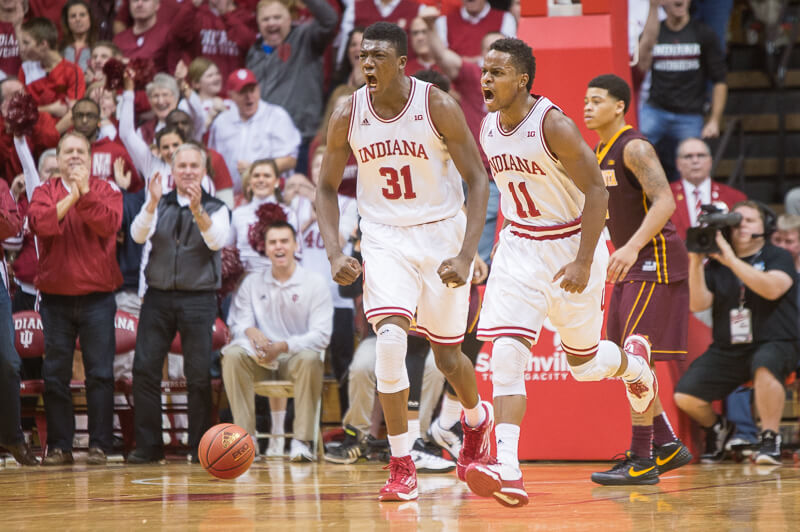 Thoughts on a 74-68 survival against the Golden Gophers: 
After falling in the hole 7-0 out the gate, Indiana crawled out of it and led by 12 at half (39-27). The Hoosiers have been brilliant at home so far in conference play, embarrassing their last three opponents in Assembly Hall on the strength of strong 3-point shooting.
So to be up by double digits after shooting just 1-of-10 from beyond the arc seemed to be a good sign. If the Hoosiers trended more towards makes than the misses in the second half, they figured to comfortably put this one away with plenty of time remaining in the game. As it stood, their zone had completely shut down Minnesota in the first half (.74 points per possession). Simply keep up the solid defense, hit some 3-pointers and cruise to victory.
But it didn't go that way. Far from it. The Hoosiers lost their double-digit lead and even trailed by one with under four minutes to play. But in the end, Indiana found a way to survive late and escape with their eighth conference victory despite a scare of epic proportions.
Start here: Indiana's defense completely reversed course in the second half. Tom Crean moved the Hoosiers out of a zone into man and Minnesota broke them down. It felt like November all over again. The Golden Gophers scored 30 of their 41 second half points in the paint as Nate Mason (21 points) and Kevin Dorsey (21 points) used their quickness against IU's spread out defense to drive and score almost at will. Beyond the half court breakdowns, Indiana also did a poor job in transition in the second half, as the Hoosiers gave up 16 points to Minnesota on the fast break.
While for the game Indiana still held Minnesota to under a point per possession (.97) making it the eighth time in nine conference games it's done that, this performance deserves a bit of an asterisk due to the second half defensive issues.
On offense, Indiana was not itself. After that 1-of-10 performance in the first half from distance, the second half wasn't any kinder (1-of-8). Add it up and the Hoosiers hit just 2-of-18 from beyond the arc (12.5 percent). It's possible this may be their worst performance of the season in that regard.
So with the defense floundering, the 3-pointers not falling and Yogi Ferrell having an off game to boot (2-of-9), Indiana found salvation at the free throw line and in freshman Thomas Bryant. After Wisconsin bested the Hoosiers at the charity stripe by a large margin on Tuesday night, they got to the line more this afternoon. It simply hasn't been a strength of this team, as they currently are 10th in free throw rate (FTA/FGA) in conference at 30 percent. But they bested that number (45.6) today and hit 20-of-26 by drawing fouls.
Despite his rough shooting day, Ferrell hit all eight of his attempts. Williams went 5-of-7. Nick Zeisloft rarely finds himself there, but made both his attempts. OG Anunoby hit 4-of-6. Bryant hit just 1-of-3, but more than made up for it with his career-high 23 points. Bryant went to work early and had 13 points on 6-of-8 shooting in the first half.
Bryant went to the bench with 5:49 to play and Indiana nursing a five-point lead (66-61). When he came back in with 3:11 to go, Indiana found itself down one (68-67). He went right to work again. He snagged an offensive board on a Ferrell miss. Anunoby missed later in the possession. On the other end, Bryant blocked Minnesota and picked up the defensive board. He then got in great position for an offensive rebound on a Williams missed lay-up, scored and was fouled. He missed the free throw, but Indiana was back up for good.
On Minnesota's next possession, Bryant got the defensive board. After an Anunoby turnover trying to to get him the ball, Bryant made his presence felt again. As Minnesota's defense fell asleep on the break when Indiana got the ball back after a Mason missed 3-pointer, Bryant ran the floor and Ferrell found him for a dunk. Four late free throws from Ferrell sealed the deal.
Crisis averted.
This was a lackluster performance from the Hoosiers. But give them credit for the W. Other versions of this team from the last couple years may have blown it completely. But Indiana remains atop the conference standings at 8-1.
But the honeymoon is over in terms of the favorable schedule. And Indiana simply can't play like this if it's to have any chance in Ann Arbor on Tuesday.
Filed to: Minnesota Golden Gophers, Thomas Bryant