The Minute After: Northwestern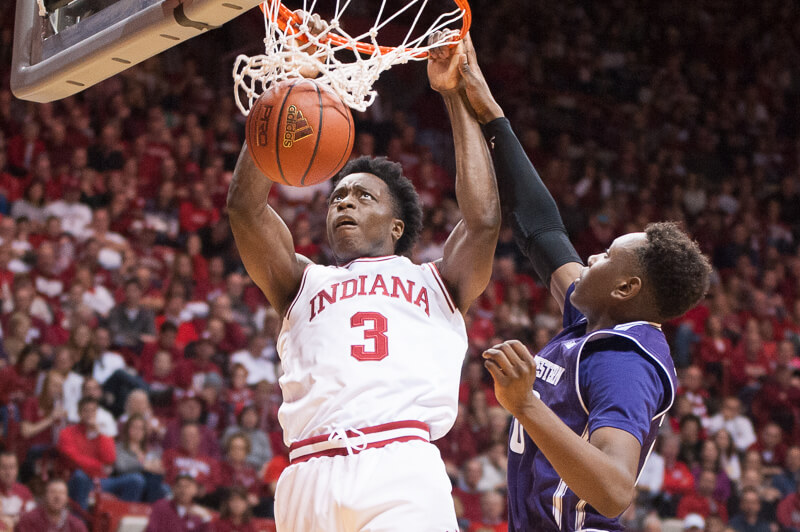 Thoughts on an 89-57 win over the Wildcats:
What is left to say?
At this point, the Hoosiers are playing so well so often we're running out of ways to heap praise on this group. It's another blowout win at home where the opponent stood no chance from the opening tip. Ohio State came and Indiana embarrassed the Buckeyes by 25. Illinois traveled to Bloomington and lost by 34. The Wildcats, try as they might, were just no match for the Hoosiers this afternoon in a 32-point blowout for the home team.
Forget the level of competition so far, there's no denying Indiana is playing at an incredibly high level on both ends of the floor. The Hoosiers are not just winning. They're dominating. This is the team's first seven-game winning streak in Big Ten play in 23 years (1993) and its 12th straight victory overall.
When Indiana went through its struggles in Maui, there was no sign the Hoosiers had given up and tuned out their coach. Far from it. And that's proven more than true. They've simply kept working at it in practice and the hard work and dedication to getting better has shined through.
On defense, this team is night and day from earlier in the season. Sure, they still get beat from time to time. But there is no head-scratching man to zone switching. No repeatedly getting beat off the dribble on the perimeter. The ball screen defense is much improved. Indiana kept its seventh straight conference opponent under a point per possession (.87) and it's maybe the most impressive stat of all during this run. No one would have expected this just one month ago.
On offense, Indiana is coming at the opponent from every angle. It starts with the 3 ball. Over its two blowout wins at home this week, the Hoosiers have hit 50 percent from distance (32-of-64). That's 96 points. A healthy handful of those misses were halfway down and rimmed out. Pretty much everyone on the team that's capable of hitting from distance has. The looks have come from incredible ball movement in the halfcourt or zipping up the court ahead of a set defense for open looks.
When Indiana isn't ending a possession with a 3-point make, it's making sure the most efficient freshman big man in the country is getting looks in the paint. The Hoosiers are making sure to find Troy Williams and reward him for his off-ball movement. They are getting offensive rebounds and putbacks. IU is working till it finds the right look, whenever that comes in the context of a possession.
This team is playing with incredible confidence and chemistry. They are having fun. They have turned a corner. Flipped the narrative. There's no question the Hoosiers are in great position to take on the more challenging part of the Big Ten schedule.
And that's just about here.
KenPom gives the Hoosiers just a two-point edge against the Badgers in Madison on Tuesday. And after getting Minnesota at home a week from today, Michigan, Iowa, Michigan State, Purdue and Maryland are just over the horizon.
Don't expect Indiana to run the table. And it's too premature to call them conference favorites despite the strong start. But this team is about as well prepared as possible heading into the the back half of its schedule.
Its a credit to its coach, its senior leader and a group of kids playing together and for each other on both ends of the floor.
Filed to: Northwestern Wildcats